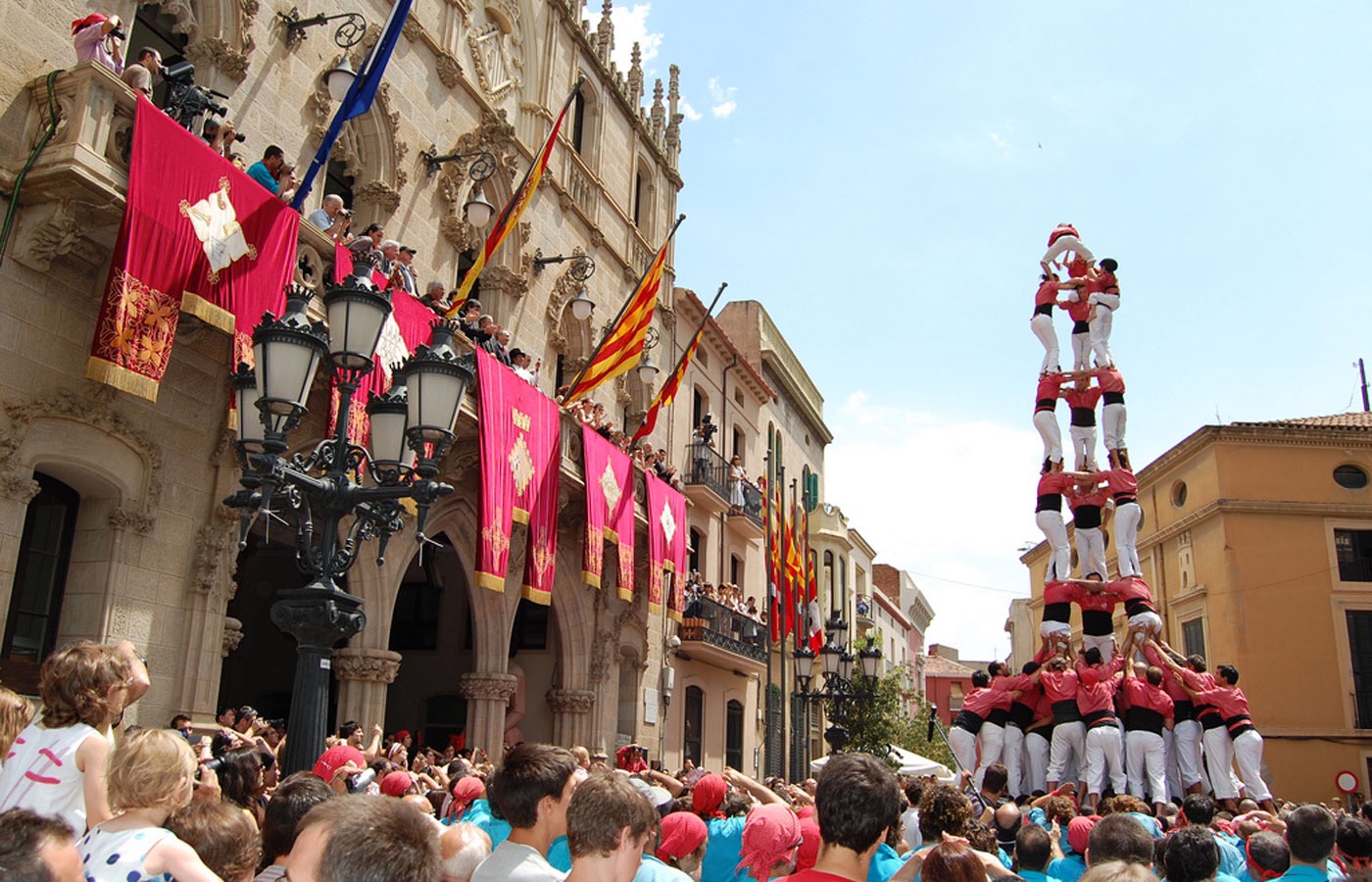 05 Sep 2016
The Mercè: Barcelona's emblematic festival
Each year, the beautiful city of Barcelona ignites upon the sound of drums, shows, treasure hunts and other traditional festivities. This is the time of the Mercè, an important festival celebrated for several centuries in honor of the patron saint of Barcelona, Mare Deu de la Merce, and to welcome the early fall.
If you want to see the city at its best, go to Barcelona between September 22nd to 25th 2016 and join the crowd!
Here is a selection of the most popular and the most traditional events out of the hundreds to choose from during of the Mercè:
The Castellers, star attraction of the Mercè
Since the 18th century, these human towers made of 6 to 10 storeys, are a true part of Barcelona's culture and scenery. While locals can see the Castellers training all year in the streets and the gyms, visitors are amazed when they discover them for the first time:
Listed as a UNESCO World Heritage, the Castellers towers symbolize the transmission of values and culture from one generation to the other; the oldest ones at the bottom are the solid base (the Pinya) and the youngest, sometimes just 6 years old, climb to the top up to 15 meters high.
The Correfocs, inflamed popular races
By nightfall, the atmosphere in Gothic area transforms. Local groups disguised as devils and demons invade the streets (mostly the Laietana street) with pyrotechnic demonstrations, throwing firecrackers and fireworks into the crowd (if you want to be part of the race, be sure to protect yourself with long-sleeved clothes and glasses). Fire-breathers and dragons are following them.
The parade of the giants
A firm favorite amongst children, the giants symbolise different distracts and Catalonian legends, as well as famous Catalan figures, paying homage to Catalan culture in all its splendour. Accompanied by drummers, these colorful characters are several meters in height and are artistically built by locals several months in advance, before their parade throughout the city of Barcelona.
The Place Saint Jaume's light show
To close the Mercè festival, an impressive audiovisual 3D light display is organized on the famous Plaça Sant Jaume. Each year the theme is entrusted to a talented local director, who tells the story of Catalonia.
Don't miss this beautiful immersion into Barcelona and the Catalan culture!
Sagrada familia, casa mila and park guell tour including a ceramic workshop and a lunch/dinner
With: Gregorio
Duration: 1/2 day
See the tour
In the heart of Catalan culture
To make the most of your stay in Barcelona, find our selection of private tours now.
See the tours
During the winter holidays, some cities transform. Markets, decorations, events...Here are 4 cities that are worth a visit during chirstmas...

08 December, 2017

Berlin, capital of Germany, has a history spanning nearly 800 years during which she has always wanted to remain a political and economic power despite many tumults....

17 November, 2017

Modern and dynamic capital, Berlin has a rich cultural diversity thanks to its different communities. The Jews are one of them and contributed significantly to the economic, scientific, and artisti...

23 June, 2017