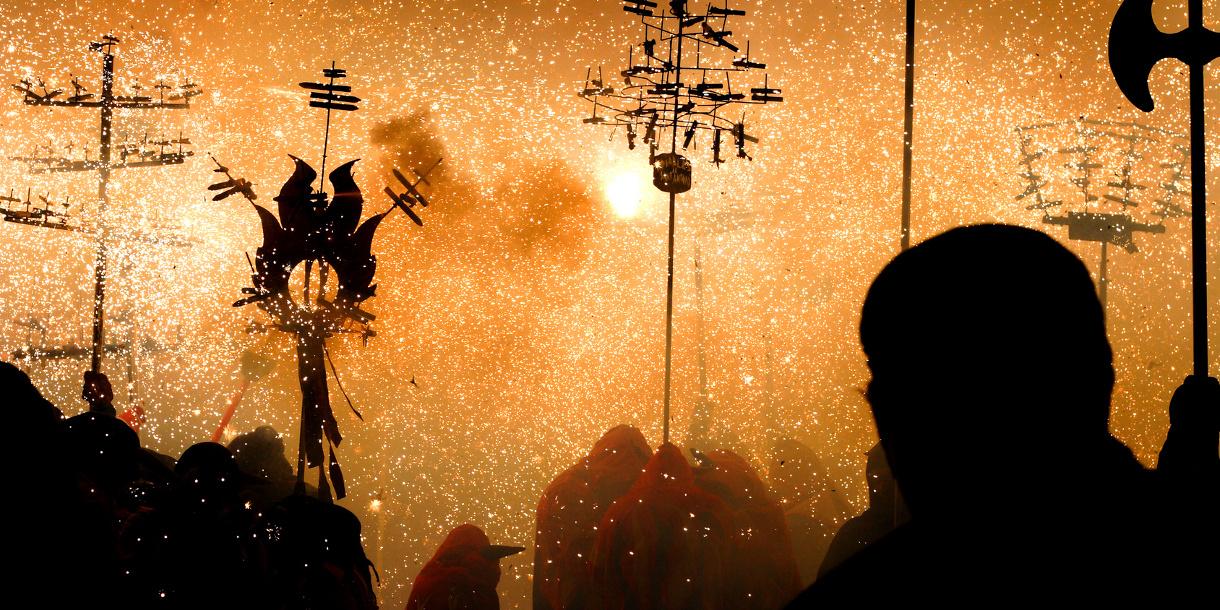 share
Traditional fire-running tour near Barcelona
Enjoy fireworks, devil costumes and beating drums
WITH

Barbara

's TEAM

|

about the guide
PLEASE NOTE: This tour starts at 6pm
In Catalonia, the arrival of summer coincides with traditional open-air celebrations. So, leave the city behind to see a different side to the region with an evening trip from Barcelona to a traditional 'correfoc' (fire running) festival in one of the local villages such as Tarragona, Girona and Vilafranca del Penedès. Watch the villagers dressed as devils dancing to the sound of drums and traditional music, as the village turns into a fiery cauldron of light and fireworks. Fire-running takes place after sunset when the villagers perform an amazing fiery parade representing the fight between Good and Evil. Your experienced native guide will show you the devil outfits worn during the performance and how to light sparklers and firecrackers. As you wander through the center of the village past its key monuments, you'll also chat to locals and uncover the secrets behind this unique centenary tradition, which is strongly connected to the history of region. You can take in the fiery show from the sidelines or get involved like the locals and dance with the devils.
Barcelona


Spain

6 hrs


DURATION

6


MAX. No. ON TOUR
TOUR DETAILS
keywords :

Fire running, Catalonia, Barcelona, traditions, fireworks, Correfoc, devil costumes, summer festivals
transport :

By air-conditioned mini bus and by foot in the village itself
ACTIVITY LEVEL :

Light

ACCESSIBLE TO THE DISABLED :

yes

Kid friendly :

Not recommended for children aged 14 and under.
LANGUAGES:

Anglais/English (Bilingual), Espagnol/Spanish (native)

MAX. No. OF PEOPLE :

6
INCLUDED IN THE TOUR
- Transport in an air-conditioned mini van - Souvenir picture of the fire runners and devils - Hotel pick-up and drop-off - Fire protection clothing
NOT INCLUDED
ITINERARY
Picked up from your hotel in Barcelona by mini bus at 6pm, you'll be driven to a nearby village to take part in the typical fire-running (Correfocs in Catalan) celebrations. Follow your guide as she takes you among the crowds of locals dressed as devils. You can get involved by delving into the action or simply watch from the sidelines.
WHERE AND WHEN?
MEET-UP LOCATION:

Your hotel at 6pm

END OF TOUR LOCATION:

Your hotel around midnight
about
your guide
languages :

Anglais/English, Espagnol/Spanish
I was born and have always lived in Matara, a small city on the north coast of Barcelona. Although I trained as an industrial design engineer, in recent years I have slowly moved into tourism. This change has been influenced by traveling, which is important part of who I am. After completing an around the world trip, I wanted to share hospitality that I enjoyed with others, as well as giving travelers more insight into local Catalan life, so that they can live authentic experiences. I'm a huge fan of Catalan culture and I work on different projects with some of its cultural institutions. My tours focus on the history and traditions of my region through the eyes of a local inhabitant. I am always busy thinking about my next project and how to improve the things that surround us. As well as travel, I also like hiking and swimming in the sea after sunrise. I enjoy teaching whether it is math or languages, for kids or elderly people. I love culture and understanding the history and reasons behind it. I'm currently learning Chinese! Why do I give tours? Because I like sharing my knowledge and culture through real situations and activities. I believe that culture should be lived, rather than just visited.
See all tours of this guide
other tours
on the same location