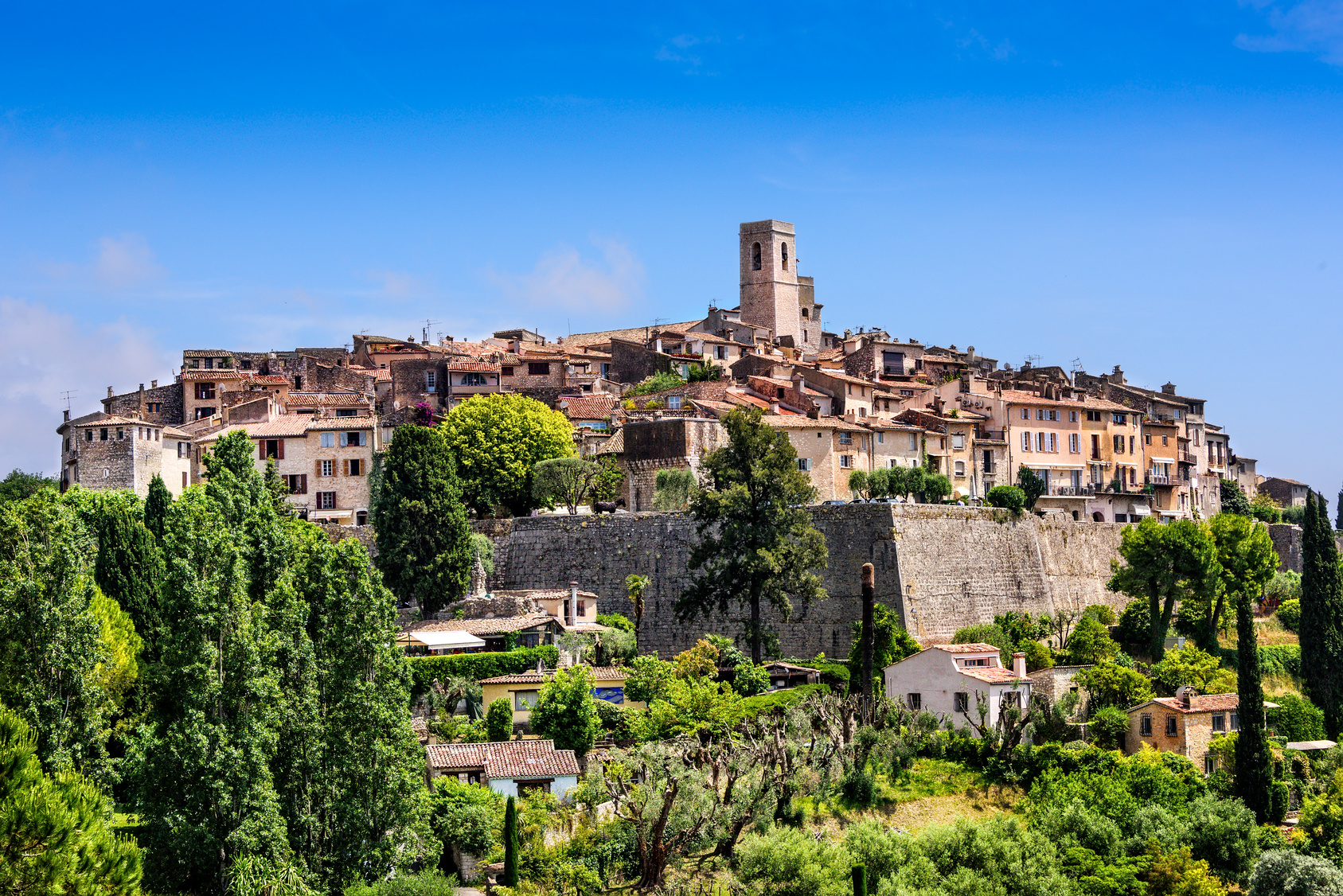 17 Mar 2017
The 4 most beautiful villages in the French Riviera
A small town built on a rocky peak, Saint-Paul de Vence has preserved many buildings from the Middle Ages including the walls that surround it, the maze of cobbled streets and a dozen small chapels. The magnificent view of the countryside in particular attracted several  20th century painters such as Chagall, Léger, Soutine, Braque and many others who lived there and created some of their most beautiful works, inspired by the picturesque charm and colors of the village. Other artists such as Jacques Prévert, James Baldwin and Simone Signoret also spent time there. Today, the Maeght Foundation in Saint-Paul de Vence houses an impressive collection of paintings of the great masters who lived in the village. Many art galleries also line the streets, showcasing local artists' creations.
Haut-de-Cagnes
Ranked as an official historic site since 1948, the medieval village of Haut-de-Cagnes is the historical part of the town of Cagnes-sur-mer. Erected on a hill, the village overlooks the coast from the top of the Grimaldi Castle and Museum. Its flowery streets, vaulted passageways and stone houses are part of the scenery that won the hearts of  many artists such as Renoir, Modigliani, Cocteau and Klein. Haut-de-Cagnes has also many cultural and artistic buildings such as the Solidor, the artists' house and the Grimaldi Castle Museum.
Also perched on a mountain, the beautiful village of Cabris is a haven of peace with a medieval setting. From the castle, you can enjoy stunning views across the French Riviera. Inside the village you will find stone streets lined with colorful houses; smelling of lavender and freshness. In Cabris, you can also find many crafts (decorated stained glass, figurines of Provence and woodworking). While Cabris' little medieval chapels deserve a visit, the history lovers will also enjoy exploring the caves in the Audides prehistoric park.
World perfume capital, the small village of Grasse needs no introduction. Its expertise in perfumery and its flowers have been renowned  ever since the Renaissance. The village has a dozen exquisite perfume manufacturers, creating fragrances for luxury brands such as  Chanel, Dior and Givenchy. The oldest one is Molinard, an artisan perfumer since 1747. Ranked as a "village of art and history", Grasse's architecture dates back from medieval times. Its quiet streets lined with fragrant flowers, its little squares topped with fountains and its ancient white stone buildings give it an authentic and irresistible charm…
Day tour in the french riviera painters' history, including an art class
With: Sylvie
Duration: 1 day
See the tour
A fragrance of provence
To make the most of your stay in Nice or surroundings, find our selection of private tours now.
See the tours
During the winter holidays, some cities transform. Markets, decorations, events...Here are 4 cities that are worth a visit during chirstmas...

08 December, 2017

Berlin, capital of Germany, has a history spanning nearly 800 years during which she has always wanted to remain a political and economic power despite many tumults....

17 November, 2017

Modern and dynamic capital, Berlin has a rich cultural diversity thanks to its different communities. The Jews are one of them and contributed significantly to the economic, scientific, and artisti...

23 June, 2017