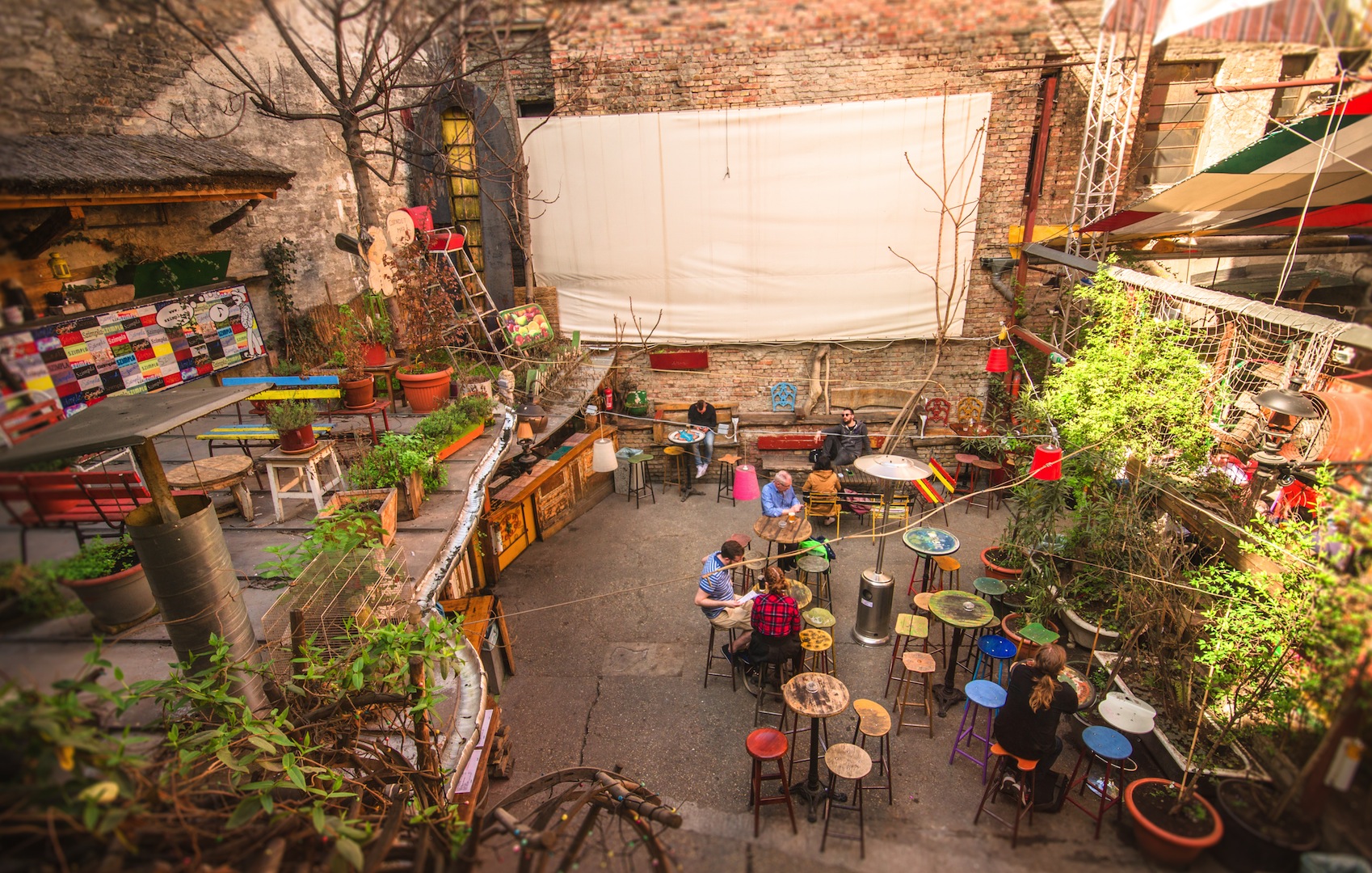 06 May 2016
Ruin bars, new trendy places in Budapest
Hidden in the abandoned buildings of the Budapest's Jewish quarter, the ruin bars (romkocsmák) are an important part of the capital's nightlife. Favorites places for going out, these unique bars – once artists' squats – are the new hubs of the alternative youth.
The ruins bars, places dedicated to art and creativity
Installed in old buildings abandoned during the communist period, the ruin bars are spacious places decorated with local artwork and second hand objects often from the 80s and diverted creatively (cans turned into vases, lamps made of scrap metal, painted chairs etc…)
Inside, you can enjoy a beer for 1 euro (the drinks are cheap in Budapest) or a local drink such as the Unicum, but also attend a live concert or a film projection, discover an exhibition or participate in group classes (yoga, dance, theater etc…)
Hidden and ephemeral institutions to relax and have fun
Today and from a decade, these original places hard to find are becoming increasingly successful but sometimes ephemeral when the building hosting them is supposed to be renovate or demolished only few months after the opening.
If you want to visit the ruin bars, choose your time: during the day, you can enjoy a peaceful atmosphere with a café on the terrace (for those with open roof). The evening is relaxed before 23h but electric and lively after midnight.
The best ruin bars in Budapest
Elected 3rd best bar in the world, Szimpla Kert is one of the best in the city thanks to its incredible decor (which looks more like an art gallery than just a bar) and its many rooms all more original one than the other. With its cozy underground atmosphere, its wine bar and its shisha corner, Szimpla has it all. Going there two years ago, I saw Jude Law enjoying a beer incognito with 2-3 friends.
The other trendy ruin bars of Budapest are Fogas (with its two large dance floors and eclectic decor) Szilvuplé, and Instant.
Half day of hungarian history, architecture and wine
With : Tamas
Duration : 1/2 day 
See the tour
To make the most of your stay in Budapest, find our selection of private tours now.
See the tours
Pendant les fêtes de fin d'année les capitales se transforment et s'illuminent : marchés de Noël, lumieres, animations...Découvrez les 4 plus belles villes d'Europe pour passer Noël....

08 December, 2017

Capitale de l'Allemagne, Berlin possède une histoire de presque 800 ans pendant lesquels elle s'est toujours voulu Puissance politique et économique malgré de nombreux tumultes....

17 November, 2017

Au cœur d'une petite province française à 140 kilomètres de Paris, un liquide d'or coule à flots, ayant hérité du même nom : le champagne!...

13 September, 2017