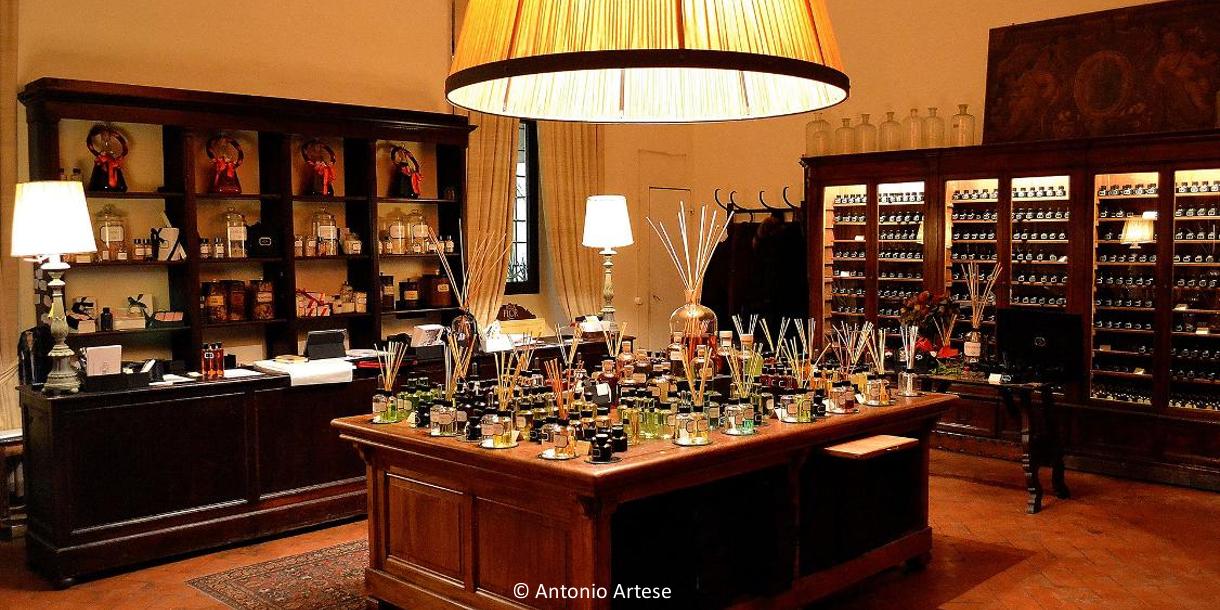 share
Perfume Half-Day Tour
Perfume and scents history tour in Florence with a liqueur tasting experience
WITH

Norie

|

about the guide
Discover the secret and delicate world of perfume in the charming city of Florence. You will visit the oldest pharmacy in Europe in the Church Santa Maria Novella, known for its refined perfumes and beauty products. As you visit the pharmacy, you will smell and look at a large variety of products. Your knowledgeable guide will tell you how the monks changed history in the 16th century by creating a new kind of perfume: the famous Water of the Queen (Acqua della Regina) made of a blend of citrus-based cologne water and bergamot and conceived especially for Catherine de Medici. During your visit to the Santa Maria Novella Pharmacy, you will also have the opportunity to enjoy a unique liqueur tasting experience. The distinctive blends, whose ingredients include the Rosa gallica elixir ("the mother of all roses") and crushed ladybug wings, have been created on site for centuries and are still lauded for their medicinal properties. They also make a great pairing with gelato, or as a typically Florentine aperitivo! Afterwards, passing by famous monuments such as the Cathedral Santa Maria del Fiore or the Palazzo Vecchio, your stroll will end in the 16th century Palace of the Aquaflor store, in the Santa Croce district, owned by Sileno Cheloni, a perfume master inspired by the Renaissance tradition of perfume making.
Florence and Tuscany


Italy

1/2 day


DURATION

10


MAX. No. ON TOUR
TOUR DETAILS
keywords :

Florence Perfume, Florence Tour, Santa Maria Novella Florence, Aquaflor, Santa Croce, the Cathedral Santa Maria del Fiore, Palazzo Vecchio
transport :

On foot
ACTIVITY LEVEL :

ACCESSIBLE TO THE DISABLED :

no

Kid friendly :

Kids are welcome
LANGUAGES:

Italien/Italian (fluent), Anglais/English (fluent), Néerlandais/Dutch (native)

MAX. No. OF PEOPLE :

10
INCLUDED IN THE TOUR
- Visit of the Santa Maria Novella Pharmacy - Exclusive liqueur tasting experience - Visit of Aquaflor shop and laboratory
NOT INCLUDED
- Purchases during the tour - Transport
ITINERARY
Starting from the center of Florence, you will visit the pharmacy of the Santa Maria Novella, the oldest in Europe located near the central station of Santa Maria Novella. Where you will find the traditional products used by the Domenican friars, such as herbal medicines, balms, pomades and perfumes There, you will smell and look at the variety of fragrances. Then, you will continue your stroll passing by famous monuments such as the Cathedral Santa Maria del Fiore and the Palazzo Vecchio, and end up in the Santa Croce district in the laboratory and store Aquaflor of the famous perfume master Sileno Cheloni. Set in an antique 16th century palace, you will enjoy the breathtaking atmosphere of the store.
WHERE AND WHEN?
MEET-UP LOCATION:

Pharmacy of Santa Maria Novella - Via della Scala 16, Florence

END OF TOUR LOCATION:

Aquaflor (in the Santa Croce district), Borgo Santa Croce 6, Florence
about
your guide
languages :

Italien/Italian, Anglais/English, Néerlandais/Dutch
Dutch born, I lived in Haarlem until the age of 19, then I moved to Amsterdam to study art history. During my studies I did an Erasmus exchange program and studied in Florence for a few months. I graduated in 1997 in Amsterdam but I had fallen in love with Florence so I decided to come back in 2001 thanks to a research scholarship from the Dutch University Institute of Art in Florence. In 2005, I married a Florentine and started my tour guide career. I enjoy being an art historian and I believe that as a tour guide, one has to know less about art history, but much more about every aspect of this city such as gastronomy, fashion, and music. So combining the two professions is ideal! I love mixing art with other disciplines of culture and seeing people enjoy themselves. The walking tour combined with literature and Italian gastronomy is one of my favorites!
See all tours of this guide
other tours
on the same location