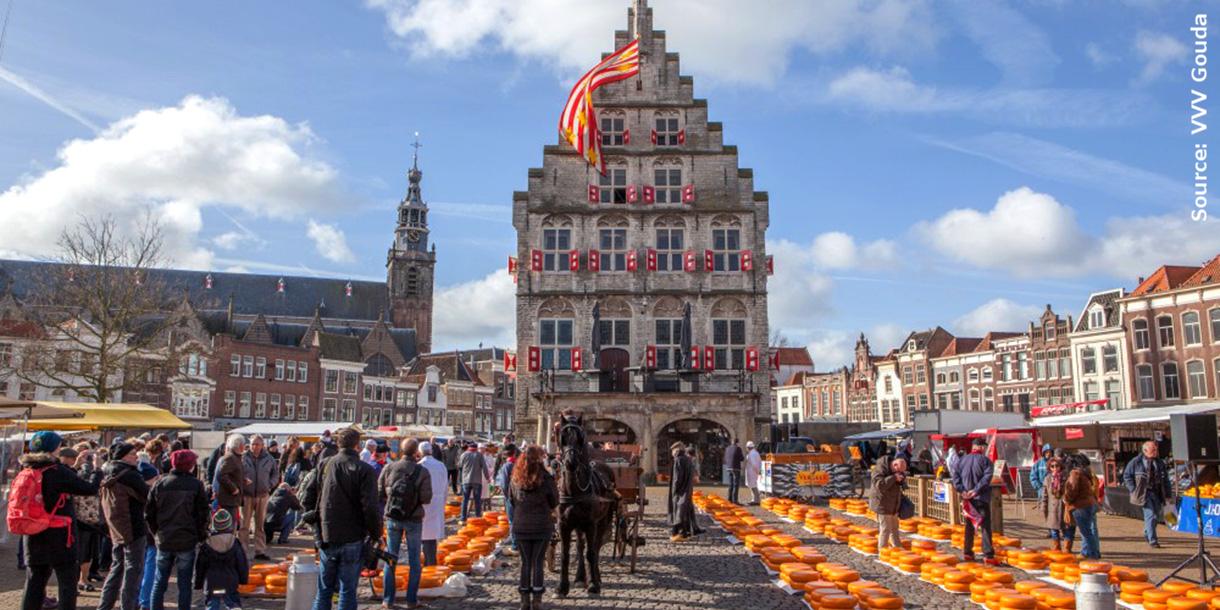 share
Amsterdam Cheese Tour
Cheese farm, cheese market and cheese tasting workshop
WITH

Peter

|

about the guide
Please not: Cheese markets are closed on Mondeys and Tuesdays. In that case, Instead of going to a cheese market you will be taken to an authentic fishermen's village and to windmills village 'Zaanse Schans'. 
If you are a cheese lover, this is the perfect day tour for you. Renowned for its delicious cheeses, Amsterdam and its surroundings preserved the centuries-old tradition of cheesemaking. Your day will start in an old-fashioned cheese farm with dairy cows. Every day these cows are being milked twice, and every morning, the farmer starts the production of cheese using the milk of the previous evening and from the early morning. There, you will watch and learn how the milk turns into some Gouda cheese, then taste some already-made cheese. You will also watch the production of some old-fashioned Dutch wooden clogs. Afterwards, you will head to an old-fashioned cheese market and soak up the atmosphere, watching the farmers selling the cheeses. You will then enjoy a nice lunch (maybe with cheese?). After lunch, you will go back to Amsterdam where you will participate in a 1-hour fun cheese-workshop, tasting different cheeses and learning how to combine them with wine, port and other drinks. A perfect day to satisfy your love of cheese! WARNING, this tour is seasonal and is only available from spring until the 2nd of September 2017.
Amsterdam & The Hague


Netherlands

8 hrs


DURATION

6


MAX. No. ON TOUR
TOUR DETAILS
keywords :

Amsterdam Cheese, Edam, Gouda, Alkmaar, Woerden, cheesemaking, cheese farm, cheese market, cheese workshop, Gouda
transport :

Luxury Mini bus
ACTIVITY LEVEL :

Light

ACCESSIBLE TO THE DISABLED :

no

Kid friendly :

Children are welcome
LANGUAGES:

Anglais/English (fluent), Néerlandais/Dutch (native)

MAX. No. OF PEOPLE :

6
INCLUDED IN THE TOUR
- Transport during the day
NOT INCLUDED
- Lunch and beverages -Tickets for cheese farm -Workshop cheese farm
ITINERARY
Tourdates: May - August. Tourdays: Wednesday, Thursday, Friday, Your guide will come to pick you up at your hotel in Amsterdam, driving you to an old-fashioned cheese farm with dairy cows where you will see how milk turns into Gouda cheese. Leaving the cheese farm, you will drive to an old-fashioned cheese market (depending on the days, you will go to Edam on Wednesday, to Gouda on Thursday, to Alkmaar on Friday). Then you will savor a nice lunch in one of the many nearby restaurants. On the way back to Amsterdam, you will enjoy a scenic drive through the countryside and stop to see old Dutch windmills, and head to a cheese workshop where you will learn how to taste cheese and combine it with various types of drinks.
WHERE AND WHEN?
MEET-UP LOCATION:

Your hotel

END OF TOUR LOCATION:

Your hotel
about
your guide
languages :

Anglais/English, Néerlandais/Dutch
Born in Rotterdam, I lived in Amsterdam with my family between 2 and 12 years old, moving then to Aalsmeer, the flower-capital of Holland where the Floriculture is very developed. As an important part of my family was involved in the flower-industry, it was not a coincidence that I went to horticultural school and horticultural college. After college I left Holland to live in England for 6 months to work in floriculture. I also worked and lived in France for 2 months. When I came back to Holland, I started working at a breeding-company in Gerbera-cut flowers and, as a hobby, I started breeding cut flower-roses. After a few years, I started my own company specializing in Gerbera-cut flowers and developed many well-known new varieties. Many years later, I decided to change my career a little, driving tourists to floricultural destinations amongst other destinations, before I started my own business guiding visitors through Holland's booming floriculture in flower auctions and flower parks such as Keukenhof. I also organise tours to some small old towns like Marken, Volendam, and Edam, and to some cheese markets. I always try to give my guests a good and enjoyable time as most of them are in Holland just for a few days and want to have a memorable experience.
See all tours of this guide
other tours
on the same location