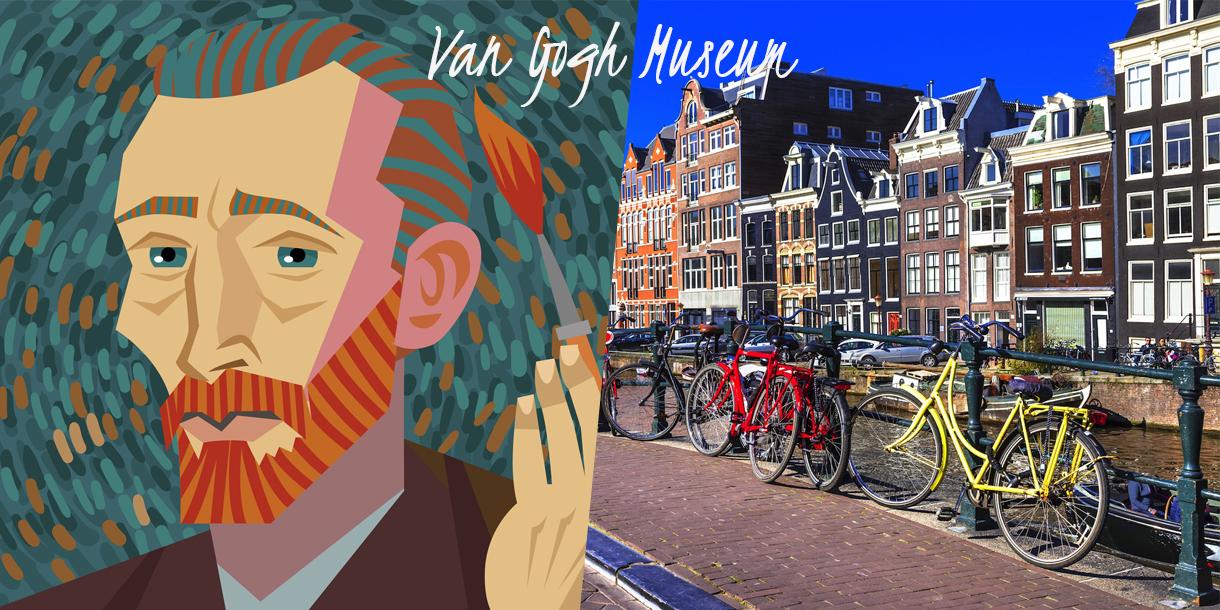 share
Van Gogh Museum Tour in Amsterdam
Discover Van Gogh's masterpieces
WITH

Rolf

|

about the guide
Amsterdam has the largest concentration of museums in the world with over 150 different, ranging from world-famous, to unexpected ones. Created in 1973, the Van Gogh Museum is amongst the world's best galleries with the largest collection of the Dutch painter's masterworks. You will start your day with a 2-hour guided tour of the impressionist painter's artwork including his famous Sunflowers, Bedroom in Arles, Almond Blossoms. As you browse the impressive collection, your private guide will tell you about Van Gogh's life story and secrets. You will also admire great works of his, mainly French, contemporary impressionists such as Claude Monet, Henri de Toulouse-Lautrec, Paul Gauguin and Sisley.
Amsterdam & The Hague


Netherlands

2 hrs


DURATION

10


MAX. No. ON TOUR
TOUR DETAILS
keywords :

Amsterdam museum tour, Amsterdam Van Gogh tour, Van Gogh private tour, Amsterdam art tour
transport :

By walking or tram (street car) or cab
ACTIVITY LEVEL :

Light

ACCESSIBLE TO THE DISABLED :

no

Kid friendly :

There will be special questions for the kids to fuel their interest and imagination.
LANGUAGES:

Allemand/German (fluent), Néerlandais/Dutch (native), Anglais/English (Bilingual)

MAX. No. OF PEOPLE :

10
INCLUDED IN THE TOUR
- Services of a private guide - Skip-the-line entrance tickets for the Van Gogh Museum
NOT INCLUDED
- Lunch, drinks, snacks.
ITINERARY
With your private professional guide, you will leave your Amsterdam hotel and make your way towards the museum quarter where you will enter the Van Gogh Museum, skipping the line and avoiding long queues. Inside the gallery, you will pass through different rooms, discovering the permanent collection of more than 200 artworks.
WHERE AND WHEN?
MEET-UP LOCATION:

At your convenience

END OF TOUR LOCATION:

The museum
about
your guide
languages :

Allemand/German, Néerlandais/Dutch, Anglais/English
Born and raised in Amsterdam, I also lived two years in London, four years in New York City and travelled a lot in Germany. I used to be a professional backgammon and poker player before coming back to my roots and starting my own guiding company, offering tours in English, French, Italian, Spanish, German and Russian. As a professional guide and authentic Amsterdamer, I know my city perfectly and I like to show its hidden gems to visitors. Passionate about architecture and history, I love to organize personalized visits in the Rijksmuseum, bringing to life stories of the past and pointing out the secret details. During my tours, I always try to show the most of Amsterdam's rich art history, which continues to be of great importance to understand the past, and to us, an important theme to study to be inspired for the future. I have a real appetite for knowledge, a strong sense of patriotism and a warm personality to help visitors integrate Amsterdam's authentic atmosphere and culture and enjoy a memorable experience.
See all tours of this guide
other tours
on the same location