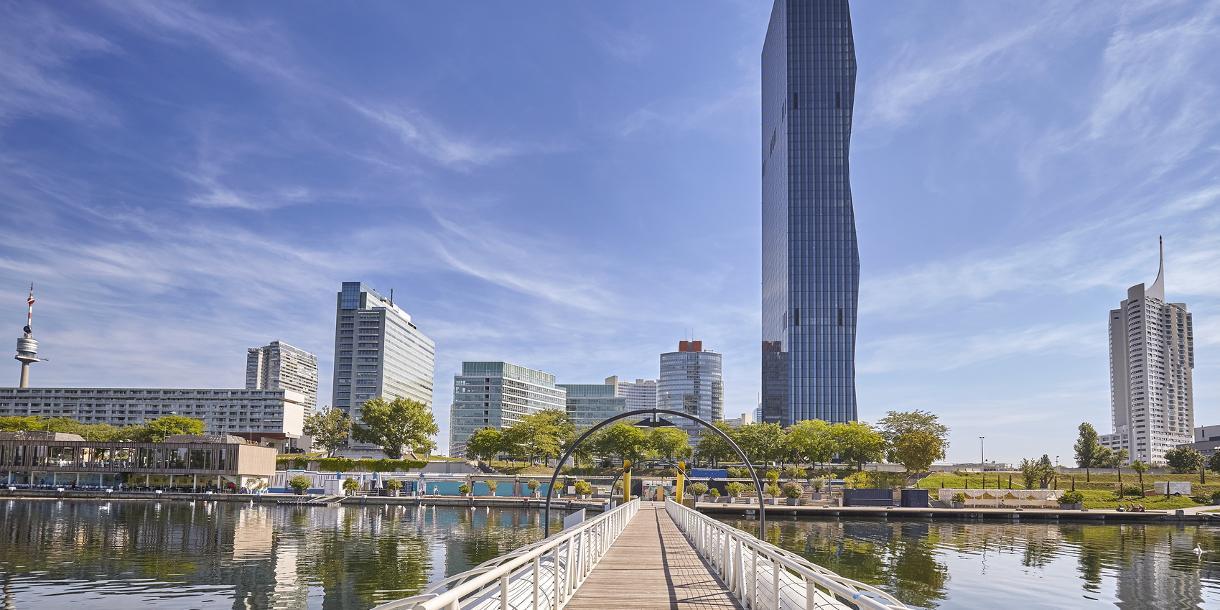 share
Prater area and Danube Tour
An alternative vision of Vienna and its modern architecture with private boat ride
WITH

Marlene

|

about the guide
Looking for an alternative view of the city? Already seen the main monuments in the center? This tour of the Danube and Prater area could be the perfect solution for you. During your private tour, you will take you around one of Vienna's greenest and most modern recreational areas, which is also home to the Wurstelprater amusement park. Admire Vienna's skyline and its modern architecture by talented architects such as Zaha Hadid; explore the city's most recent university campus, WU; hop on the giant Ferris wheel in one of the world's oldest amusement parks; and enjoy traditional Viennese coffee and cake at a local restaurant. The second part of your tour involves a leisurely boat ride along the Danube with a light dinner and prosecco (in summer); or a panoramic dinner and cocktails at the top of the Danube City Tower (in winter).
Vienna


Austria

1/2 day


DURATION

10


MAX. No. ON TOUR
TOUR DETAILS
keywords :

Vienna, walking tour, Danube, Prater, Wurstelprater amusement park, Danube City Tower
transport :

On foot and by public transport
ACTIVITY LEVEL :

Moderate

ACCESSIBLE TO THE DISABLED :

yes

Kid friendly :

Children are welcome, at the parents' discretion
LANGUAGES:

Allemand/German (native), Anglais/English (Bilingual)

MAX. No. OF PEOPLE :

10
INCLUDED IN THE TOUR
- Viennese coffee and cake/ kaiserschmarrn - Ferris wheel ride - EITHER (Summer) Boat ride with light dinner and prosecco OR (Winter) DC Tower Visit with dinner and cocktails) - Transport tickets, if required
NOT INCLUDED
- Other purchases during tour - Refreshments
ITINERARY
During the first part of the tour, your guide will take you around the Danube and Prater, a green recreational area home to one of the world's oldest amusement parks, Wurstelprater. Why not take a whirl on the giant Ferris wheel? You'll also stop for coffee and cake at one of the nearby restaurants and explore the WU university campus. The second part of the tour comprises a boat trip along the Danube with light dinner & prosecco (in summer) or a panoramic dinner & cocktails at the DC Tower (in winter). The boat trip is available April-September/October (weather permitting) In winter or if the weather is bad, you will visit the DC Tower instead. Reservations for the boat ride need to made at least 5 days in advance.
WHERE AND WHEN?
MEET-UP LOCATION:

Metro station Messe-Prater, U2

END OF TOUR LOCATION:

VIC Metro, U1 / Alte Donau Metro, U1
about
your guide
languages :

Allemand/German, Anglais/English
I was born in Graz, Austria's second biggest city, and moved to Vienna 16 years ago for university. After studying Comparative Literature and Scandinavian Studies, I spent two years in Norway training to become an official tour guide. I'm passionate about a job that combines my love of languages, meeting people and Vienna. I enjoy traveling, working with people, telling stories, history and art. I'm also a dog lover, although sadly I can't own one as I travel a lot. At weekends I engage in all kinds of outdoor activities including hiking and mountain walks. My favorite bits of the city? The numerous art galleries especially the Museum of Fine Arts and Albertina Museum; and the modern architecture combining old and new elements. My favorite topics? The Hapsburg dynasty, Mozart, Beethoven, Viennese Waltz, Austrian food (wienerschnitzel, Saache torte, apple strudel) and much, much more!
See all tours of this guide
other tours
on the same location