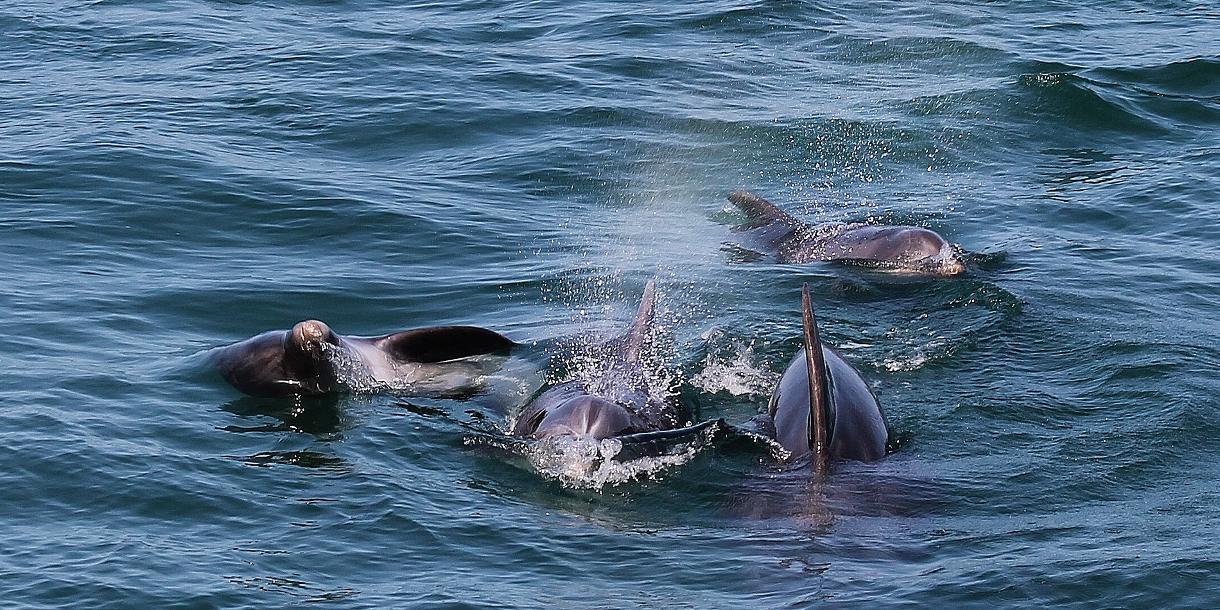 share
Dolphin Watching trip from Lisbon
Sado river boat tour and Arrábida Mountain sightseeing
WITH

Joao

's TEAM

|

about the guide
After being picked up at your hotel in Lisbon, embark on a scenic journey in the beautiful Setúbal marina. You will board an authentic old Salt Galleon boat, used a century ago to pick up the sea salt from the Sado River, or a catamaran (depends on availability; the boat ride is not private but your guide is just for you). As you take the 3-hour cruise, you will enjoy the spectacular views of the Setúbal region and the Sado estuary. In this natural park setting we will search for the playful dolphins and hopefully be able to see them up close. After your boat trip, you will go back to Lisbon passing through the mountain of Arrábida to enjoy the stunning land views and see the natural reserve for the land. You will also sightsee the Arrábida Convent and some important historical sites such as the "Lapa de Santa Margarida" (depending on weather and or travelers physical condition) a chapel hidden in a grotto. During this tour, there is a possibility to enjoy a delicious lunch made with traditional and simple Portuguese specialities, if you are interested, please ask the guide during the booking.

Lisbon


Portugal

6 hrs


DURATION

10


MAX. No. ON TOUR
TOUR DETAILS
keywords :

Lisbon, Dolphin, Dolphin watching, Setúbal boat tour, Lisbon boat tour
transport :

Transportation by air-conditioned car
ACTIVITY LEVEL :

Light

ACCESSIBLE TO THE DISABLED :

no

Kid friendly :

The tour is appropriate for children. But please note there is a 3-4 hours boat tour
LANGUAGES:

Espagnol/Spanish (fluent), Portuguais/Portuguese (fluent), Allemand/German (fluent), Anglais/English (fluent)

MAX. No. OF PEOPLE :

10
INCLUDED IN THE TOUR
- Pickup and drop off from your Lisbon hotel - Transportation by air-conditioned car - Entrance fees - Boat cruise with dolphin watching - Bottled water
NOT INCLUDED
- Lunch - Any other items not mentioned in the programme
ITINERARY
Leaving the Lisbon docks with your guide on a comfortable air-conditioned car, you will head to the Sado river near the Setúbal region, where you will board for a 3-hours cruise on a boat, an eco-friendly 100-years old Salt Galleon or a catamaran. While marvelling at the beautiful landscape around, you will try to encounter the resident dolphins. On your way, you will pass by the Arrábida Mountain range and enjoy the breathtaking views of its landscape and historical sites. IMPORTANT NOTE: Please note that this tour is not available for solo travelers.
WHERE AND WHEN?
MEET-UP LOCATION:

Your hotel in Lisbon

END OF TOUR LOCATION:

Your hotel in Lisbon
about
your guide
languages :

Espagnol/Spanish, Portuguais/Portuguese, Allemand/German, Anglais/English
A German born in Portugal, I was raised in England, Spain and Germany before coming back to Portugal, my adopted country. Working in finance for 20 years allowed me to visit most of Portugal, and decide I wanted to live out my passion: travel. Passionate about the road and eager for new experiences and encounters, I like to get lost in a new place and find my way by making new friends and getting to know their culture. As I wanted to share my excitement for travel and discovery of remote places, I started to organise some trips for my friends, family and colleagues, focusing on the important things in life. The decision of changing career came then naturally so I created a little travel company showing the wild and unseen parts of Portugal. With my customized tours and trips, I try to give another image of Portugal, a beautiful and tolerant country opened to languages, cultures and religions, but with a strong identity and history. With my fantastic team of tour guides, I organise and polish up quality tours in Portugal, which focus on nature and culture, always far from crowded touristic paths. During my tours, you will stimulate your senses learning local tips and lifestyles: seeing wildlife, catching wild fish, going to fresh markets, eating in traditional restaurants, making your own jam, enjoying tasting liqueur and learning about its 450 years old recipe, as well as many more exclusive experiences. PS : my tours could also be guided by Paulo or Rodrigo.
See all tours of this guide
UTF

France -

29.03.2016
"Excellent and knowledgeable tour guide" "Joao is that perfect combination of knowledgeable tour guide and beautiful human being who cares about the people he shows around Portugal. It was a delight getting to know the Setubal region and Joao. Nothing was too difficult or inconvenient for him. I recommend Joao (John) highly for his professionalism, courtesy and wide knowledge of Portugal. Thank you, Joao." Written before the UTF site launch
other tours
on the same location
Dolphin Watching trip from Lisbon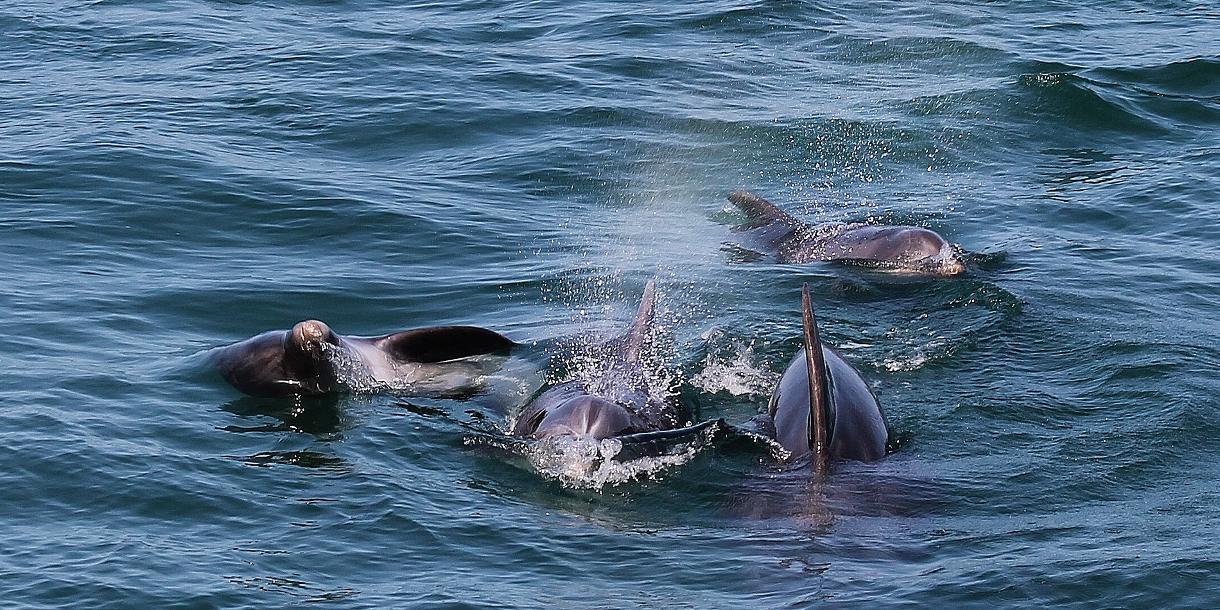 Rated
5.0
/
5
stars based on
1
customer reviews
Product description:
After being picked up at your hotel in Lisbon, embark on a scenic journey in the beautiful Setúbal marina. You will board an authentic old Salt Galleon boat, used a century ago to pick up the sea salt from the Sado River, or a catamaran (depends on availability; the boat ride is not private but your guide is just for you). As you take the 3-hour cruise, you will enjoy the spectacular views of the Setúbal region and the Sado estuary. In this natural park setting we will search for the playful dolphins and hopefully be able to see them up close. After your boat trip, you will go back to Lisbon passing through the mountain of Arrábida to enjoy the stunning land views and see the natural reserve for the land. You will also sightsee the Arrábida Convent and some important historical sites such as the "Lapa de Santa Margarida" (depending on weather and or travelers physical condition) a chapel hidden in a grotto. During this tour, there is a possibility to enjoy a delicious lunch made with traditional and simple Portuguese specialities, if you are interested, please ask the guide during the booking.<br>
Customer reviews:
Dolphin Watching trip from Lisbon
UTF
,
"Excellent and knowledgeable tour guide" "Joao is that perfect combination of knowledgeable tour guide and beautiful human being who cares about the people he shows around Portugal. It was a delight getting to know the Setubal region and Joao. Nothing was too difficult or inconvenient for him. I recommend Joao (John) highly for his professionalism, courtesy and wide knowledge of Portugal. Thank you, Joao." Written before the UTF site launch