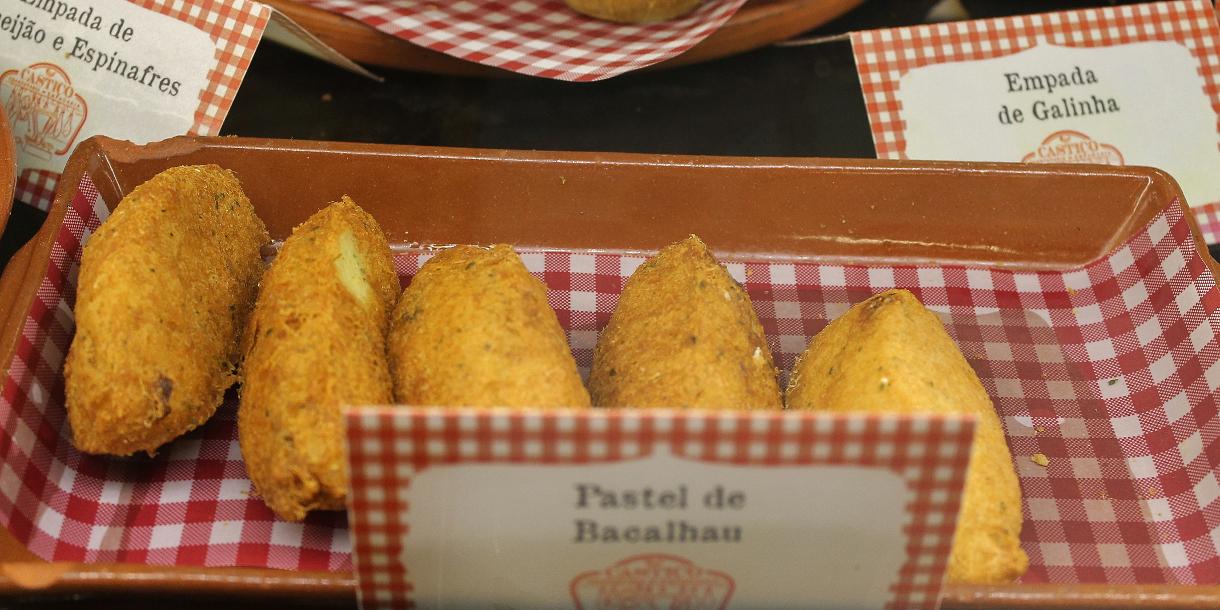 share
Culinary experience in Lisbon
Half a day discovering Portuguese delicacies in Campo de Ourique
WITH

Joao

's TEAM

|

about the guide
Get ready to plunge into the culinary heart of Lisbon to sample an array of traditional Portuguese dishes and learn more about the secrets behind the recipes. During your private food tour, you'll explore the off-the-beaten track neighborhood of Campo de Ourique: Taste traditional Portuguese starters, main and desserts. Learn about the flavors, traditions and history of each dish. Explore a fully restored marketplace and get top tips for the rest of your stay in Lisbon along the way. Examples of dishes you may sample: Starters like Carapaus Fritos (Fried Mackerels), Chouriço Assado (roasted chorizo), Peixinhos da Horta (vegetable fish), and Ovos Mexidos com Farinheira (scrambled eggs with a special spicy sausage) at an authentic local restaurant. More "refined" experiences at a completely refurbished marketplace e.g. Porco Preto (Iberian Black Pork), Bife de Atum (grilled tuna steak) and Sandes de Leitão (suckling pig sandwich). Let's not forget, Pastel de Nata at an award-winning bakery, roasted almonds and the Ginjinha (cherry liqueur). This tour ideal for food lovers curious to discover typical Portuguese cuisine. PLEASE NOTE that: If you have any dietary restriction (Kosher, Halal, Vegetarian, etc.), there will be a few dishes that you will not be able to taste. ALSO, please advise if you have any type of allergies! This is very important so we can know what you will be able to taste or not.
Lisbon


Portugal

4 hrs


DURATION

8


MAX. No. ON TOUR
TOUR DETAILS
keywords :

Culinary experience in Lisbon, Campo de Ourique, Portuguese specialities
transport :

Walking tour
ACTIVITY LEVEL :

Moderate

ACCESSIBLE TO THE DISABLED :

no

Kid friendly :

Families are welcome
LANGUAGES:

Allemand/German (fluent), Espagnol/Spanish (fluent), Anglais/English (fluent), Portuguais/Portuguese (fluent)

MAX. No. OF PEOPLE :

8
INCLUDED IN THE TOUR
-3-4 hour guided food tour in a calm Lisbon neighborhood -Service of a private local guide for about 3-4 hours -5 tasting stops to try traditional Portuguese delicacies (14 samples in total) -Hotel pick up and drop off
NOT INCLUDED
-Drinks -Any other items not mentioned in the description -Personal shopping
ITINERARY
During this half-day private walking tour, you'll explore Campo de Ourique, one of Lisbon's less touristy neighbourhood with 5 stops – including a fully restored marketplace - to taste traditional Portuguese delicacies. NB. This is not a sightseeing tour, it is dedicated to savouring and sampling Portuguese flavours.
WHERE AND WHEN?
MEET-UP LOCATION:

Hotel pick up

END OF TOUR LOCATION:

Hotel drop off
about
your guide
languages :

Allemand/German, Espagnol/Spanish, Anglais/English, Portuguais/Portuguese
A German born in Portugal, I was raised in England, Spain and Germany before coming back to Portugal, my adopted country. Working in finance for 20 years allowed me to visit most of Portugal, and decide I wanted to live out my passion: travel. Passionate about the road and eager for new experiences and encounters, I like to get lost in a new place and find my way by making new friends and getting to know their culture. As I wanted to share my excitement for travel and discovery of remote places, I started to organise some trips for my friends, family and colleagues, focusing on the important things in life. The decision of changing career came then naturally so I created a little travel company showing the wild and unseen parts of Portugal. With my customized tours and trips, I try to give another image of Portugal, a beautiful and tolerant country opened to languages, cultures and religions, but with a strong identity and history. With my fantastic team of tour guides, I organise and polish up quality tours in Portugal, which focus on nature and culture, always far from crowded touristic paths. During my tours, you will stimulate your senses learning local tips and lifestyles: seeing wildlife, catching wild fish, going to fresh markets, eating in traditional restaurants, making your own jam, enjoying tasting liqueur and learning about its 450 years old recipe, as well as many more exclusive experiences. PS : my tours could also be guided by Paulo or Rodrigo.
See all tours of this guide
other tours
on the same location