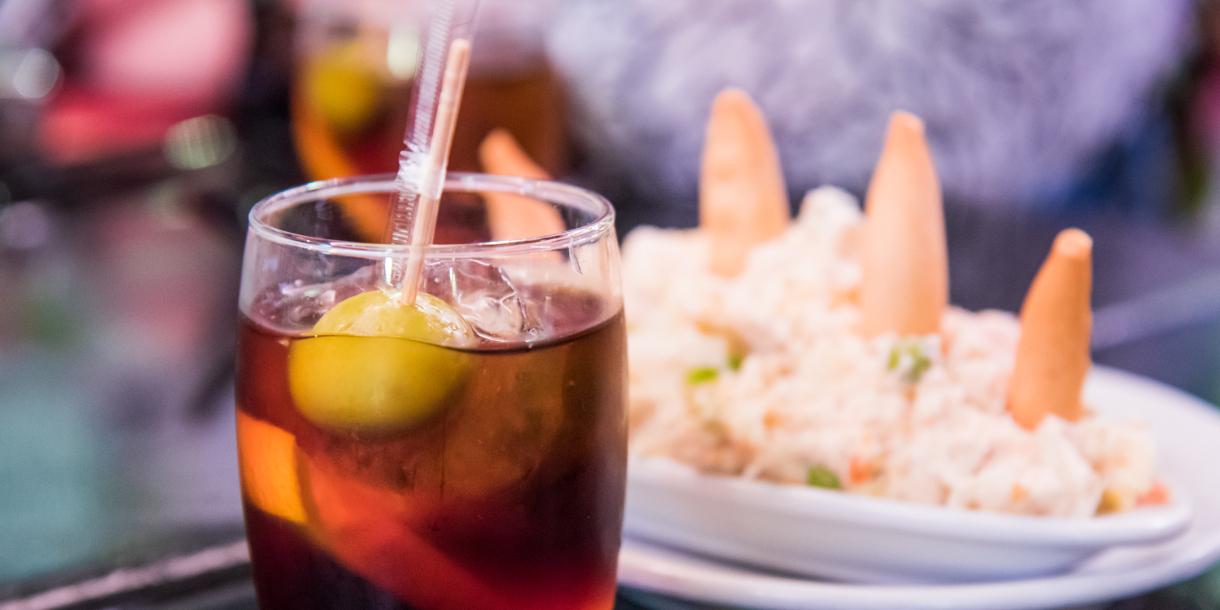 share
Barcelona Food Tour in Sant Antoni & Poble-Sec
A unique 3-hour walking and tasting tour in Barcelona's iconic culinary districts
WITH

Marina

|

about the guide
NOTE: the tour starts at 12:00. All the tastings included in the tour are a true lunch
On this exclusive 3-hour tour, get ready to experience Barcelona's most authentic flavours that will truly tempt your taste buds! Together with your private gourmet guide, you will escape the tourist path and stroll along the charming streets of Sant Antoni and Poble-sec districts, eating your way from one place to another. You will experience the world renowned Mediterranean diet, a healthy lifestyle. At Sant Antoni food market, browse the colorful stalls filled with fresh produce. Meet with the proud artisans and taste a variety of fresh fish tapas, cava and vermouth while learning about local gourmet recipes with 1000 years history. In an old family-own bodega, become a cava-tasting expert by learning how to spot a good one and walk away with essential food pairing techniques while talking to a local wine expert. In a trendy bar, you will celebrate the ancient "fer vermut" local tradition with delicious food pairing. In a modernist restaurant, you will prepare your own "Pan con tomate" and eat the best "patatas bravas" in town while learning historical facts about tapas.
Barcelona


Spain

3 hrs


DURATION

10


MAX. No. ON TOUR
TOUR DETAILS
keywords :

Barcelona food tour, Barcelona, tapas barcelona, Sant Antoni, Poble-Sec, cava, vermut, tapas, tapas bar, cava tasting, stroll, Barcelona tasting
transport :

On foot
ACTIVITY LEVEL :

Light

ACCESSIBLE TO THE DISABLED :

no

Kid friendly :

Children of all ages, whether walking or in a stroller, are welcome to join. If they are not participating in the food tastings just let us know once you purchase your ticket and there is no cost associated, otherwise please make sure that you purchase a discounted children's ticket.
LANGUAGES:

Anglais/English (Bilingual)

MAX. No. OF PEOPLE :

10
INCLUDED IN THE TOUR
- Service of a private local foodie guide for 3 hours - 9+ food tastings of différent type of fish, cava, cheeses, Tapas, vermouth and pastries
NOT INCLUDED
- Personal shopping - Other tastings not mentioned above
ITINERARY
NOTE: the tour starts at 11:20am Greet your expert foodie guide in Sant Antoni and embark on a journey into the authentic Barcelona. You will visit 5 family-owned eateries, starting at the ancient Sant Antoni Market where you will please your palate with freshly made fish tapas. Then, you will head to traditional bars where you will enjoy more delicious cava, cheese and vermouth tastings. Your last stop will be in a fancy local restaurant where you will savour some handmade crema catalana. Your tour will end in Poble-sec.
WHERE AND WHEN?
MEET-UP LOCATION:

We meet Outside Els Tres Tombs bar in front of the Sant Antoni Market at 11:20am

END OF TOUR LOCATION:

The food tour finishes in Poble-sec
about
your guide
languages :

Anglais/English
Born in Armenia, I fell in love with Barcelona where I have been living for the past 10 years. A true foodie, I love every aspect of Barcelona culinary culture. And working as a tour guide in this incredible city reminds me how special and unique it is. This is why I decided to create a company offering guided food tours where visitors can experience the local lifestyle and gastronomy in a sustainable way. With my team of qualified guides, we try to explore the senses with food tastings combined with other experiences. I always remember how I used to pick up blueberries in my grandma's garden in old Yerevan and how we would turn them into delicious pastries while exchanging life stories. This is how I perceive food : something simple and authentic that can be shared and be part of special moments.
See all tours of this guide
other tours
on the same location