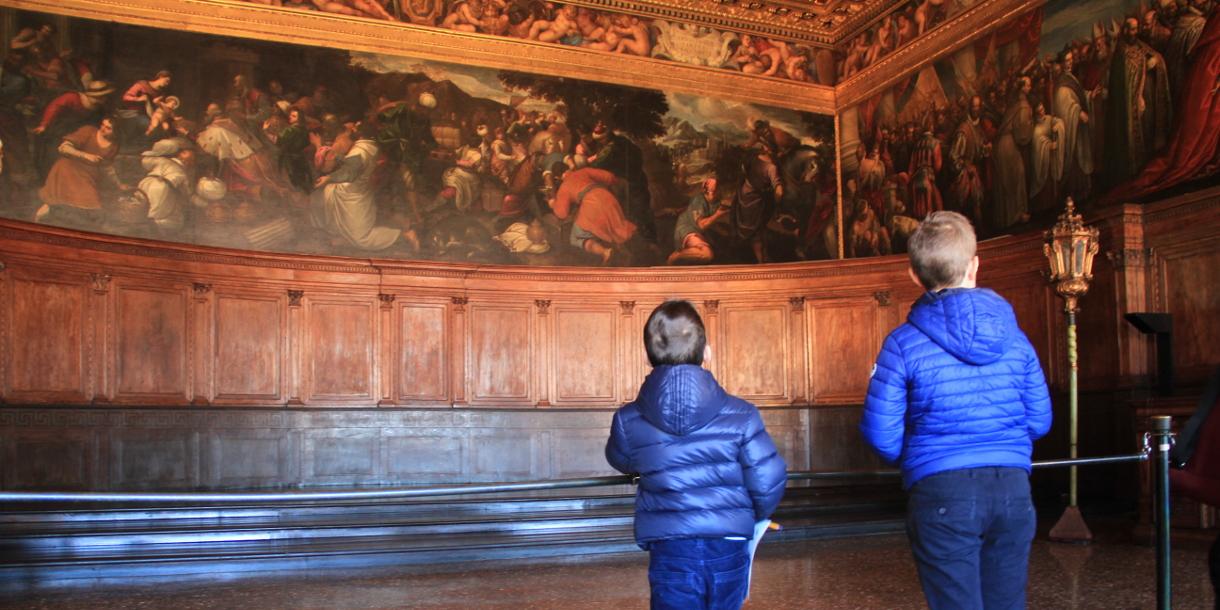 share
Venice Treasures of St.Mark's Square Family Tour
A skip-the-line and interactive visit in the Doge's Palace, Saint Mark's Basilica, and the Bell Towe
WITH

Magali

's TEAM

|

about the guide
With its multicolored buildings, charming boats and labyrinthine streets surrounded by waters, Venice is a truly enchanting place for children. Especially St. Mark's Square and its treasures - the Doge's Palace, the Bell Tower and St. Mark's Basilica - that always blow the little ones' minds. This private tour specially designed for families will surely leave lasting memories. With your professional guide, you will skip the long lines to enter the Doge's Palace, former heart of Venetian politics and today one of the most iconic monuments in Venice. To keep the youngest entertained, game booklets, secrets and fun facts will be part of this interactive visit from the Place's Courtyard to the Chamber of the Great Council.Afterwards, you will visit Saint Mark's Basilica, avoiding the queue again. The stunning facade and the 43,000 square feet of mosaic will blow both little ones and grown-up's minds. Inside, your guide will uncover the secrets and history of this 9th-century architectural gem, keeping the whole family engaged. Your family tour will end with a visit of St. Mark's square and the other beautiful buildings that surround it, including the Clock Tower and the Campanile. Your tour ends at the bottom of the Campanile, which you can visit at leisure (skip-the-line tickets included) to enjoy the view.
Venice and the Veneto Region


Italy

2 hrs


DURATION

6


MAX. No. ON TOUR
TOUR DETAILS
keywords :

St. Mark's Basilica, Doge's Palace, Bell Tower, St Mark's Square, Family tour, Venice Tour, Private tour, walking Tour
transport :

By walk
ACTIVITY LEVEL :

Moderate

ACCESSIBLE TO THE DISABLED :

no

Kid friendly :

Children are welcome from 6 years old
LANGUAGES:

Espagnol/Spanish (Bilingual), Français/French (Bilingual), Anglais/English (Bilingual)

MAX. No. OF PEOPLE :

6
INCLUDED IN THE TOUR
-Service of a private, fully licensed guide for 2 hours -Skip-the-line tickets to the Doge's Palace and Saint Mark's Basilica -A game booklet for each child
NOT INCLUDED
- Hotel pick-up - Personal shopping - Food and drinks - Please note the Bell Tower (Campanile) visit is not included in the tour but only in the skip-the-line ticket. You can visit it at leisure.
ITINERARY
Greet your guide in Saint Mark's Square and start your family tour with the magnificent Doge's Palace. You will enjoy a skip-the-line access and a complete guided tour full of entertainment for the little ones. The second part of the tour will take place in the Saint Mark Basilica where again, you will avoid the long queues and enjoy a commented tour learning about the secrets and history of this holy place. You will then walk to the Bell Tower located near the Basilica and discover this 98.6 metres (323 ft) tall iconic monument and its amazing view on the city and the lagoon. NOTE : this tour is only available at 9AM, 11AM or after 2PM
WHERE AND WHEN?
MEET-UP LOCATION:

Under the lion column near the entrance of the Doges Palace

END OF TOUR LOCATION:

At the Campanile
about
your guide
languages :

Espagnol/Spanish, Français/French, Anglais/English
After my business studies at HEC interspersed with abroad experiences in the luxury and fashion sector, I worked for 4 years in a consulting firm before launching my dream concept: high-end tourism for families, following a request customers had, looking for activities to do in Paris with their children. By creating my own company, I could serve all my passions at once: cooking, culture and my adopted city of Paris, whose secrets I all know. London was also part of the adventure because it is one of my host cities. Having the attention for detail and quality, I offer tailor-made tours in various European destinations such as of Paris, Loire Valley, and London, Rome and Florence for families wishing to explore these places with their children in an original way and without having to worry about logistics. With my small team of passionate professionals, we developed themed itineraries in the best places, adding for each of them some high-quality activities suitable for children of all ages and interests. Visit the Louvre Museum during a treasure hunt followed by a painting course, relapse in the novel and film The Da Vinci Code with an orientation game, discover French tradition while making the iconic baguette, visit the artistic village of Montmartre while learning french, explore Rome and learn about its history through specially-designed stories, quizzes and games or discover the life of Galileo the famous astronomer and his inventions through a visit to his museum. These are few examples of our organized family tours which allow parents to spend quality time with their children.
See all tours of this guide
other tours
on the same location