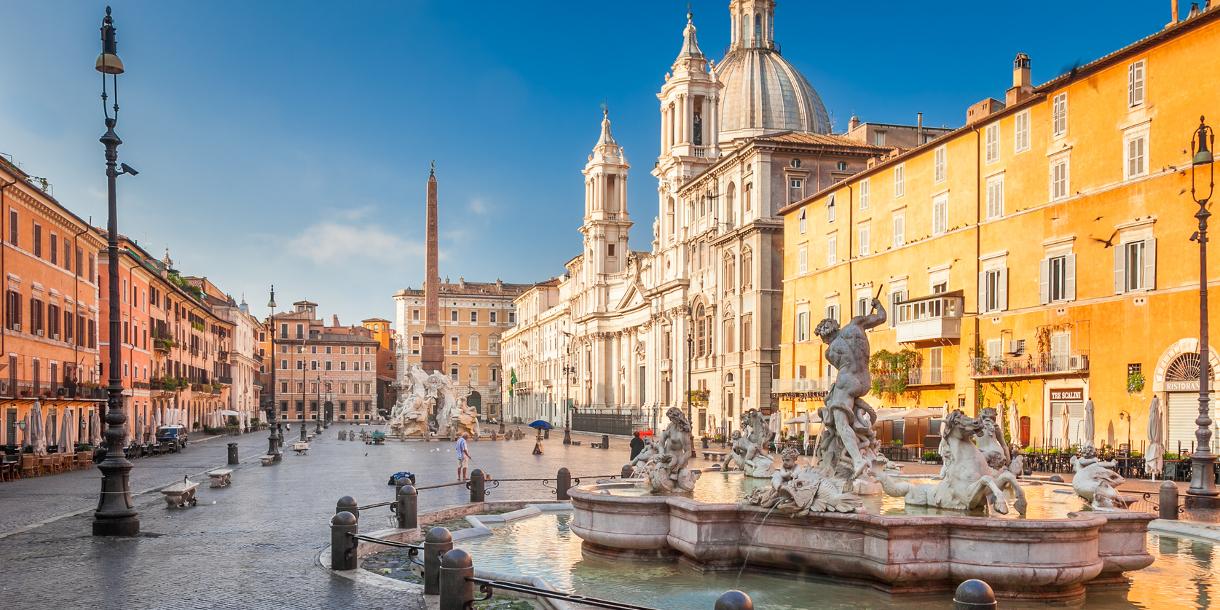 share
Historic Center Rome Tour
Half a day of fountains, churches and Roman ruins
WITH

Tiziana

|

about the guide
Rome is vibrant modern city filled with centuries of history, from its Roman origins to its Renaissance glory and avant-garde futurism. Every street and hilltop leads you to a beautiful monument, church or square. However, if it's your first time in the city, the bustle and labyrinthine layout can be rather overwhelming. The best way to get your bearings in the Centro Storico is with a private local tour guide at your side. Not only will you discover famous sights like the Trevi Fountain and the Pantheon, but you'll also learn more about the city's history and hidden secrets. Are you ready to climb the iconic Spanish Steps, sample authentic gelato in Piazza Navona and admire ancient Roman Castel Sant'angelo?
Rome


Italy

3 hrs


DURATION

6


MAX. No. ON TOUR
TOUR DETAILS
keywords :

Historic center of Rome, Piazza Navona, Fontaine de Trevi, Trevi Fountain, Castel Sant'angelo
transport :

On foot
ACTIVITY LEVEL :

Light

ACCESSIBLE TO THE DISABLED :

no

Kid friendly :

Children are welcome, ideally from 5 years old
LANGUAGES:

Italien/Italian (native), Anglais/English (fluent), Espagnol/Spanish (fluent)

MAX. No. OF PEOPLE :

6
INCLUDED IN THE TOUR
- Services of a private guide
NOT INCLUDED
- Lunch - Personal shopping
ITINERARY
Your 3-hour private walking tour will take you around some of the key monuments in the center of Rome including the Spanish Steps, Trevi Fountain, Pantheon, Church of Sant'ignazio, Navona Square, Via dei Coronari and Ponte Sant'Angelo. You'll also admire Castel Sant'angelo from the outside. The exact itinerary can be adapted to fit your interests and requirements.
WHERE AND WHEN?
MEET-UP LOCATION:

Your hotel (if centrally located or historic center)

END OF TOUR LOCATION:

Historic center
about
your guide
languages :

Italien/Italian, Anglais/English, Espagnol/Spanish
Born and raised in Rome, I have been working in the tourism industry for 11 years now, first leading tours throughout Italy and later qualifying for my license as an official guide for Rome, the surrounding province and Vatican City. Before being a tour guide, I already knew a bit about Rome art and history, but when some of my foreign friends were coming to Rome, I was unable to explain them the whole history of my own city. I felt ashamed and decided to improve it, so I started to follow special courses which led me to the wonderful job of being a tour guide. I enjoy sharing my love for my beautiful city with my guests. My job allows me to meet people from all over the world, and many of them are special. Second, among the special persons I guided Jimmy Fallon, the American Comedian, and I did not know how he was ! My specialty is the archeological area of Rome and all the main sights (Coliseum, the Roman Forum...) but also Rome's underground (ancient roman city) with its catacombs, crypts, and churches. I love it because it shows the past of the city and let us see the connections between the ancient city and the modern one.
See all tours of this guide
other tours
on the same location