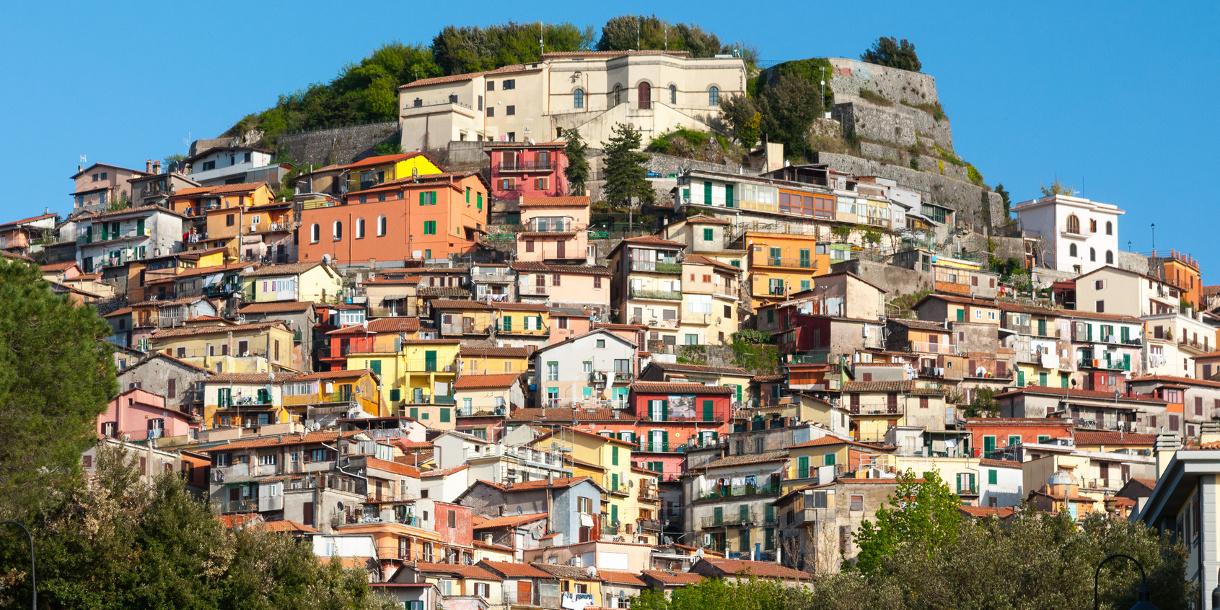 share
Castelli Romani Food and Wine Tour
Day tour in Rome's countryside's villages with food and wine tasting
WITH

Tiziana

|

about the guide
Enjoy the slower pace, the clean air, the wonderful landscapes and the delicious food and wine of the Castelli Romani area and discover a different way of living - 'La dolce vita'. After a short drive, you will find yourself surrounded by gentle hills covered in woods, vineyards, vegetable gardens, orchards and olive trees in the famous "campagna romana". The Colli Albani, also known as the Castelli Romani, are a group of small towns normally perched on top of hills. Led by your professional guide, you will visit Frascati and Nemi, a little village wrapped around its ancient castle, famous for its strawberries and flowers growing all year round, and perched on a hill dominating a tiny lake. Then, you will go to Albano and Ariccia, famous for its porchetta meat, its large bridge and its Ducal palace, a unique example of a baroque home which has remained virtually unchanged in its environment and with its original furnishings. Your tour will continue with a visit of the private gardens in Castel Gandolfo, located on the Alban Hills with a beautiful view on the lake Albano and considered one of Italy's most scenic towns. This is where the Apostolic Palace of Castel Gandolfo is situated, which serves as a summer residence and vacation retreat for the pope. Afterwards, you will visit Grottaferrata and the San Nilo Abbey, both renowned for their delicious food and wine as well as for their historic and artistic heritage and landscape. At the end of the day, you will go back to Rome with your guide.
Rome


Italy

5 hrs


DURATION

6


MAX. No. ON TOUR
TOUR DETAILS
keywords :

Rome, excursion, countryside, Castelli romani, Frascati, wine, vineyards, gastronomy, Castel Gandolfo.
transport :

Private car or minivan
ACTIVITY LEVEL :

Moderate

ACCESSIBLE TO THE DISABLED :

no

Kid friendly :

Children are welcome! Better from 5 years old to be interested in the tour.
LANGUAGES:

Anglais/English (fluent), Espagnol/Spanish (fluent), Italien/Italian (native)

MAX. No. OF PEOPLE :

6
INCLUDED IN THE TOUR
- English Speaking guide - Pick up and drop off - Car transportation during the tour - Tasting of local products (strawberries, porchetta, wine etc...)
NOT INCLUDED
- Personal shopping
ITINERARY
On this private tour, let your knowledgeable guide drive you to the Castelli Romani area, located 40 minutes South-East of Rome, in the Old Latium. You will head to Castel Gandolfo a small town perched on the top of the hills and its beautiful lake. The small town is famous for the Palazzo Pontificio where the Popes spent their summers since the 17th century. Then you will visit a small & family-run winery .. At the end of the day, your guide will drive you back home.
WHERE AND WHEN?
MEET-UP LOCATION:

Your hotel in Rome

END OF TOUR LOCATION:

Your hotel in Rome
about
your guide
languages :

Anglais/English, Espagnol/Spanish, Italien/Italian
Born and raised in Rome, I have been working in the tourism industry for 11 years now, first leading tours throughout Italy and later qualifying for my license as an official guide for Rome, the surrounding province and Vatican City. Before being a tour guide, I already knew a bit about Rome art and history, but when some of my foreign friends were coming to Rome, I was unable to explain them the whole history of my own city. I felt ashamed and decided to improve it, so I started to follow special courses which led me to the wonderful job of being a tour guide. I enjoy sharing my love for my beautiful city with my guests. My job allows me to meet people from all over the world, and many of them are special. Second, among the special persons I guided Jimmy Fallon, the American Comedian, and I did not know how he was ! My specialty is the archeological area of Rome and all the main sights (Coliseum, the Roman Forum...) but also Rome's underground (ancient roman city) with its catacombs, crypts, and churches. I love it because it shows the past of the city and let us see the connections between the ancient city and the modern one.
See all tours of this guide
other tours
on the same location