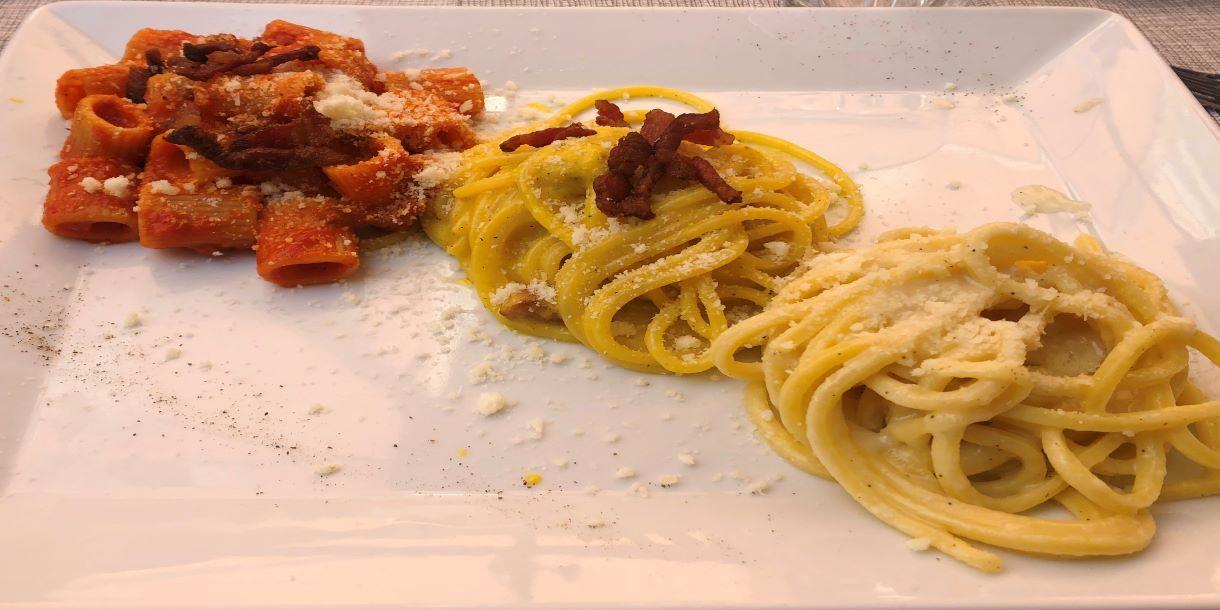 share
Rome Afternoon Food Tour
Walking Tour in the heart of Rome with lunch and food tasting
WITH

Carlo

's TEAM

|

about the guide
NOTE: Please note that this tour is available every day at 12:30pm

On this unique walking tour, you will enjoy the very best of the Roman cuisine in two of the most beautiful neighborhoods of the city, both charming and authentic areas with a lively atmosphere and a strong gastronomic culture. Lead by your food guide, your tour will start in a charming local restaurant near the iconic Campo de' Fiori, where you'll taste the three most famous Roman pasta dishes. Then, you will enjoy some tastings of pizza, pastry, caffè. prosciutto and other local specialties from some of the top bakeries, butcheries and restaurants in Rome. Your gastronomic journey ends with an ice cream stop at an artisanal gelateria in the picturesque neighborhood of Trastevere.
Rome


Italy

3 hrs


DURATION

8


MAX. No. ON TOUR
TOUR DETAILS
keywords :

Gastronomy, Food tour, Trastevere, Roman cuisine, Pasta, Pizza, Rome
transport :

On foot
ACTIVITY LEVEL :

Moderate

ACCESSIBLE TO THE DISABLED :

no

Kid friendly :

Children are welcome
LANGUAGES:

Français/French (fluent), Anglais/English (native), Espagnol/Spanish (fluent)

MAX. No. OF PEOPLE :

8
INCLUDED IN THE TOUR
- Food tastings
NOT INCLUDED
- Other drinks and snacks during the tour - Lunch
ITINERARY
Meet your food guide at 12:30 am at the iconic Campo de' Fiori and start the tour with a typical Roman lunch in a charming Italian trattoria. After tasting the three most famous local pasta dishes explore the oldest open air market of the Eternal City and enjoy the most exquisite Italian flavors in a family-run butchery and an authentic Roman bakery. Taste delicacies such as Italian prosciutto, handmade fresh pizza, earthy wine, local cheese specialties and more. After crossing over a 500+ years old bridge the gastronomic journey ends with an ice cream stop at an artisanal gelateria in the picturesque neighborhood of Trastevere.
WHERE AND WHEN?
MEET-UP LOCATION:

Piazza Campo de' Fiori at 12:30 or your hotel

END OF TOUR LOCATION:

Trastevere
about
your guide
languages :

Français/French, Anglais/English, Espagnol/Spanish
Native of Italy, I lived, studied and travelled in the US for many years before coming back to Rome twenty years ago to start a high quality tourism and guiding company. With my team of accredited guides in Rome including several of our family members, we have a combined guiding experience of over 80 years. We know and love our city inside and out, and we are happy to share our passion for Rome and Italy with visitors. Besides English, we also speak Spanish, French, German and can make guide arrangements in all the other major languages. My goal today is to make your travel experience in Rome and Italy even more special and unforgettable. Follow us through the Colosseum, the Vatican, the Ancient Rome, the Trevi fountain and the Roman Forum. In Rome and throughout Italy, we will ensure that you are in the best and most professional hands in order to make you feel comfortable and at home in our beautiful country. PS : my tours could also be guided by another member of my team.
See all tours of this guide
other tours
on the same location