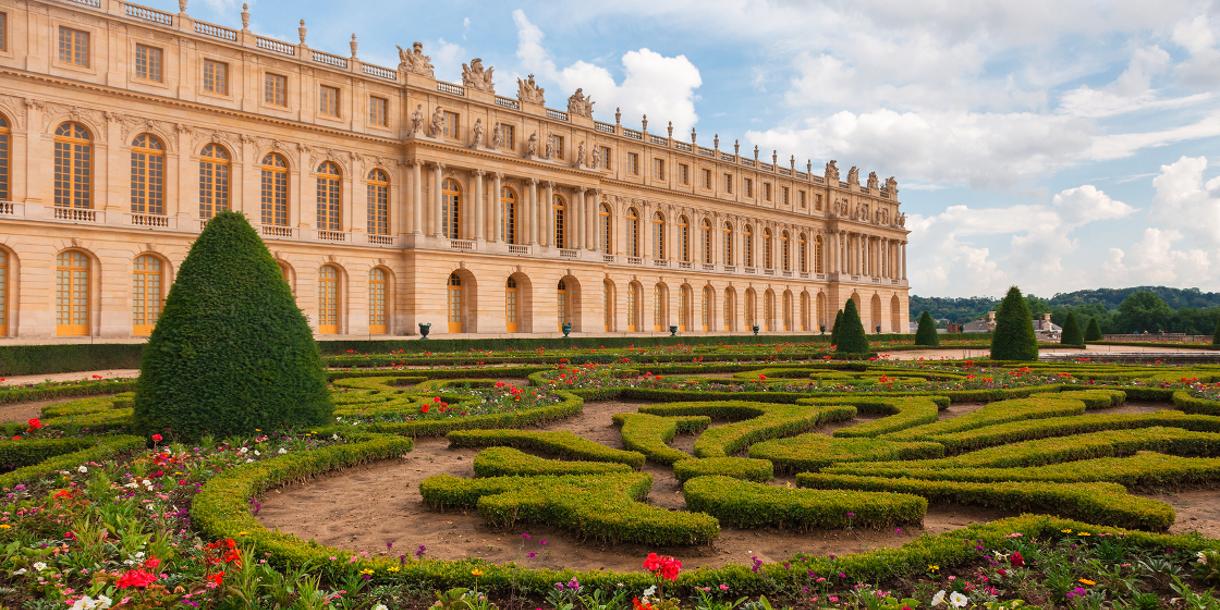 share
Versailles History Tour
Discover the Château de Versailles, city center and local market with tastings of local products
WITH

Marie-Bénédicte

's TEAM

|

about the guide
History has left its fascinating traces in every building and street in France. And, Versailles and its château are no exception offering you exceptional insights into the architecture and daily life of 17th and 18th century France. This tour will enable you to discover both the splendid palace of the "Sun King" and also the charming city surrounding it. From your hotel, your guide will take you to Versailles either by train or taxi, based on your preference. The skip-the-line ticket will give you instant access to the palace for your guided tour including the royal apartments, hall of mirrors, splendid furniture and the vast gardens dotted with ornate fountains. Next stop? The city center, just a short walk away. Versailles is rich and vibrant city filled with beautiful architecture, elaborate sculptures and trompe-l'oeil building facades. During your tour, you will visit the beautiful St Louis cathedral, the market and a selection of gourmet shops where you will sample a whole array of local products. This tour can be customized to your interests depending on whether you would rather spend longer looking around the castle or in the city center. NB: a child enters the Palace for free when they are accompanied by an adult. When there are more children than adults in a group, the additional children will incur a full-price entry fee.
Paris - Normandy - Champagne - Loire Valley


France

7 hrs


DURATION

10


MAX. No. ON TOUR
TOUR DETAILS
keywords :

Château de Versailles, St Louis Cathedral, guided visit, history tour, food tastings, local products
transport :

Taxi or public transport from Paris to Versailles, on foot in Versailles
ACTIVITY LEVEL :

High

ACCESSIBLE TO THE DISABLED :

yes

Kid friendly :

No age limit, at the discretion of the parents
LANGUAGES:

Anglais/English (Bilingual), Espagnol/Spanish (fluent), Français/French (native)

MAX. No. OF PEOPLE :

10
INCLUDED IN THE TOUR
- Service of a private professional bilingual English speaking guide for the duration of seven hours (from Paris) - Skip-the-queue tickets for the château and gardens - Tastings: macaroons, chocolate and local products - Guided visit of the historical center of Versailles with beatiful architecture and a cathedral
NOT INCLUDED
- Transport (taxi or public transport) to reach the Château - Entrance tickets to gardens of musical fountains between April 1st and October 31st (everyday except Wednesdays and Thirsdays). To pay on site (7.5€ or 9.5€ per person). - Lunch - Personal shopping
ITINERARY
This seven-hour tour is the ideal way to discover the Château de Versailles, as well as the nearby city of Versailles with an expert guide. From your hotel, you will be taken to Versailles - you can decide whether to take public transport or a taxi. The skip-the-queue tickets mean that you will enter the palace directly to begin your guided tour. After exploring the magnificent royal suits and dining rooms, it is time to wander around the vast French-style gardens. The second part of the tour will take place in the center of Versailles, within walking distance of the palace. You will discover the market, cathedral and gourmet shops with the opportunity to sample local produce. This tour can be customized depending on how long you would like to spend at the chateau and in the city center.
WHERE AND WHEN?
MEET-UP LOCATION:

Your hotel or apartment in Paris

END OF TOUR LOCATION:

Return to Paris with your guide, unless you decide to spend longer in Versailles
about
your guide
languages :

Anglais/English, Espagnol/Spanish, Français/French
After 12 years spent in sales and trade marketing, the birth of my 4th child gave me the impulse to change careers in order to fully devote myself to my passion: organizing guided tours in my beautiful city of Paris. In 2006, I created my own company with a small team of professional polyglot guides (Emanuela, Françoise, Xenia...), offering visitors the opportunity to discover Paris in a different way. While many cities are becoming standardized in their offer with the development of numerous chains of all kinds, the French capital retains its authenticity and its unique shops, thus preserving its peculiar charm. This is the concept of my visits which have been increasingly successful over the years. Through my special relationship with partners, merchants and artisans, I offer my visitors a unique sensory immersion punctuated by cultural stops in different symbolic places and neighborhoods of Paris. During my tours, visitors are led in confidential boutiques, carefully selected and conducive for the stimulation of the senses: perfumes, groceries, wines, chocolates and local workshops. My experts and passionate guides love to share their stories and offer fun activities to bring a playful dimension to the tours. Whether you are a gourmet, fashionista, fine nose, or wine lover, I create a customized itinerary to awake your senses: mysterious wine-cellars discovery in the Saint-Germain-des-Prés chic neighborhood, culinary traditions, and french Art of living in a prestigious restaurant, or meeting with fashion designers in the Marais during a show-room. PS : my tours are usually guided by Emanuela, Françoise or Xenia
See all tours of this guide
other tours
on the same location