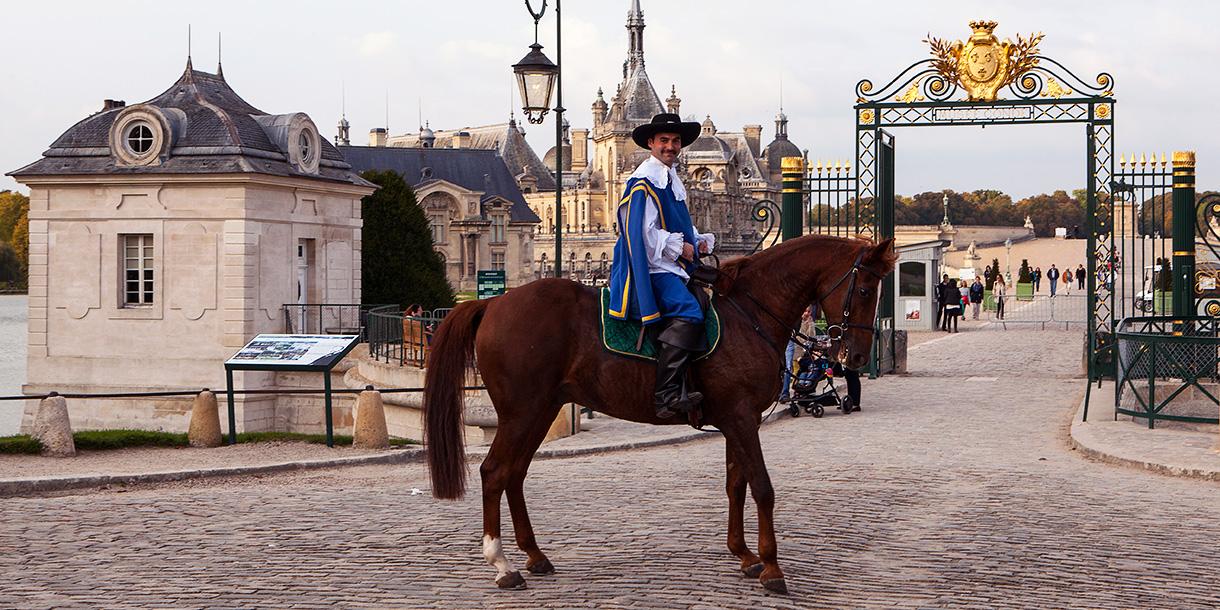 share
Tour and Polo in Château de Chantilly
Equestrian day from Chantilly including the visit of the Château and a Polo initiation
WITH

Camille

's TEAM

|

about the guide
The city of Chantilly is known worldwide as the capital of the horse. During this special day, you will learn about the history of this tradition and the variety of equestrian activities present in the city. You will start with the visit of the Château de Chantilly and its stables. Accompanied by a qualified guide, you will discover the history of the Louis XIV century in Chantilly and learn anecdotes about the VIP guests (including La Fontaine, La Bruyere, and Moliere) who came to enjoy the Château's parks and surroundings, pursuing various equestrian practices such as the famous hunt with hounds.. After your morning at the Castle, enjoy a delicious lunch at the Polo Club of Chantilly, notable establishment located in the courtyard of the Apremont farm. You will appreciate the friendly and warm atmosphere and the creative menu prepared by chef Lydia Tardy. You will then enjoy a private lesson with a professional polo player from the Europe's largest club. You will learn the basics of polo and you will ride on a horse to experience the game' sensations.
Paris - Normandy - Champagne - Loire Valley


France

1 day


DURATION

10


MAX. No. ON TOUR
TOUR DETAILS
keywords :

Chantilly, Paris, Royal, Polo, Club, horse
transport :

By car and by walk
ACTIVITY LEVEL :

Moderate

ACCESSIBLE TO THE DISABLED :

no

Kid friendly :

For the visit, the tour is open to all without any age limit Polo Initiation is from 6 years old only Activities on the horse theme for children from 4 to 6 years old
LANGUAGES:

Espagnol/Spanish (fluent), Anglais/English (fluent)

MAX. No. OF PEOPLE :

10
INCLUDED IN THE TOUR
Château de Chantilly entrance ticket and guided tour
NOT INCLUDED
Lunch Taxis and other Transports to the Château de Chantilly
ITINERARY
Your day will begin at the Château de Chantilly where you will enjoy a full tour with a professional guide. You will learn the secrets of the Louis XIV century during which the domain of Chantilly was the most beautiful and prestigious in France. Then you will head to the Chantilly Polo Club located in a farm where you will enjoy a quality lunch. Your afternoon will be rhythmed by a dynamic activity: an introduction to polo done by a professional player, and during which you will learn the basics of this stately sport.
WHERE AND WHEN?
MEET-UP LOCATION:

At the entrance of the Château de Chantilly. Ideally, you would reach Fontaine-Chaalis with your own vehicle. However, you can also come using the RER from Paris, and get a lift with your guide (maximum 4 passengers).

END OF TOUR LOCATION:

Polo Club
about
your guide
languages :

Espagnol/Spanish, Anglais/English
In my family, the horse world is a passion. It is therefore natural that we founded our company, a great entrepreneurial mother and daughter adventure offering unique services in the beautiful and royal city of Chantilly, close to Paris. Chantilly is known as the Horse Capital of France and detains an important historical heritage which its royal Château and famous Chaalis Abbey. Thanks to special contacts and a perfect knowledge of the equestrian environment, we organize princely events such as guided tours and dramatized visits with horseback riding in unusual and historic Chantilly sites, always with great care and attention to detail. Our goal is to transport visitors to another time and make their experience memorable. Retrace the history of King Louis XIV by taking part in a fox hunt; attend an equestrian show, animated by stuntmen; visit the royal stables; marvel at period costumes and experience the game of polo on horseback. Whether you are confirmed riders or complete beginners, our horses suit your needs and desires. We also organize gourmet dinners in castles around Chantilly to immerse yourself in the atmosphere of yesteryear. PS: My tours are usually guided by Virginie
See all tours of this guide
other tours
on the same location