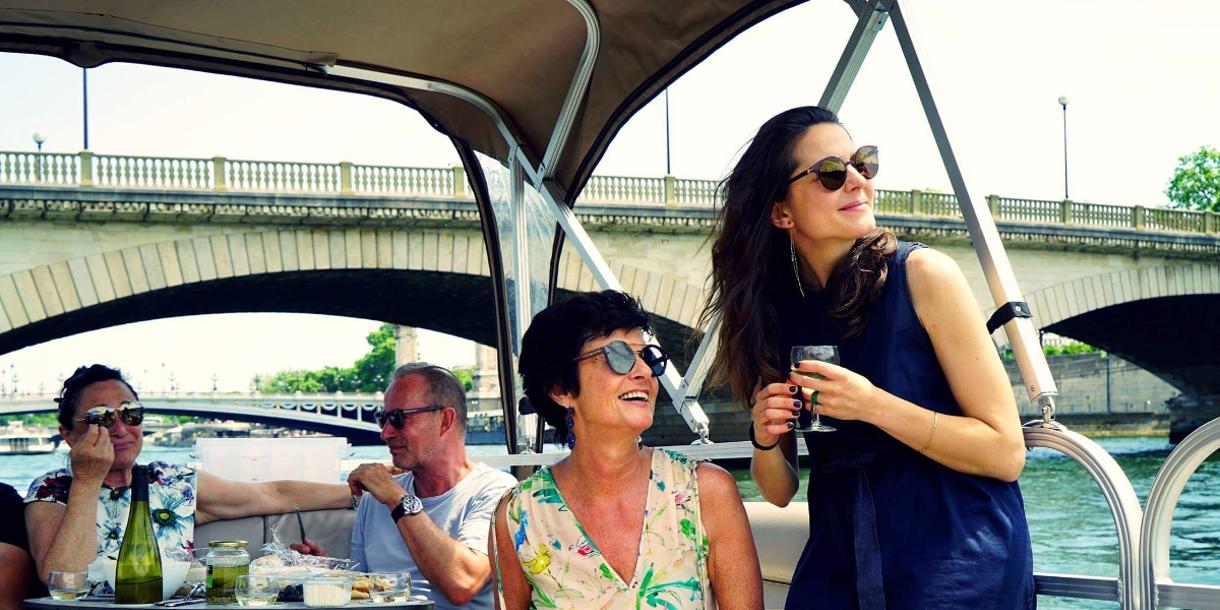 share
Private cruise on the Seine from the Musée d'Orsay or Pont des Arts (up to 6 people)
Discover the most beautiful monuments of Paris in a small group on a panoramic 1,5-hour boat tour
WITH

Benjamin

's TEAM

|

about the guide
Want to visit Paris from another angle? Our private cruise is the perfect experience! Away from the crowds and the bustle, you will discover the capital from its most beautiful avenue: the Seine! Aboard a comfortable boat living on water, let yourself be lulled by the waves and anecdotes of your expert skipper while the most beautiful bridges and monuments of Paris unfold before your eyes. You will enjoy breathtaking views over the Grand Palace, the Notre Dame Cathedral, the Pont des Arts, the Eiffel Tower, the Conciergerie and many more historical sights... Your local captain will answer all your questions in order to fully immerse yourself in the Parisian life and history. On board, you will be free to consume your own drinks and foods. You will also be able to bring your own music and your own guide.

NOTE: supplements can be added aboard:
Champagne Sohet or George Henry + Champagne Deutz;
1 bottle of Champagne Deutz + 1 box of macarons Dalloyau;
1 bouquet of red roses;
Cocktail appetizer;
Birthday Cake.
Paris - Normandy - Champagne - Loire Valley


France

1.5 hr


DURATION

6


MAX. No. ON TOUR
TOUR DETAILS
keywords :

Paris Cruise, Cruise Seine, Notre Dame, Eiffel Tower, Concierge, Orsay Museum, stroll the Seine, Paris private boat, private cruise Paris, Seine
transport :

Private boat
ACTIVITY LEVEL :

Moderate

ACCESSIBLE TO THE DISABLED :

no

Kid friendly :

Passengers of all ages are welcome
LANGUAGES:

Français/French (native), Anglais/English (Bilingual), Espagnol/Spanish (Middle)

MAX. No. OF PEOPLE :

6
INCLUDED IN THE TOUR
- Services of a professional skipper guide during 1,5-hour - Luxury and customizable boat tour on the Seine
NOT INCLUDED
-Meals and drinks -Personal shopping
ITINERARY
Join your skipperguide at Pont des Arts or at Orsay Museum and embark on an unforgettable 1,5-hour cruise along the banks of the Seine. You will discover the most beautiful monuments and bridges of Paris from the comfort of your "saloon". Throughout your boat tour, you will also enjoy livly comments and anecdotes from your professional capitaine. Your tour will end at the point of departure or any other place of your choice.
WHERE AND WHEN?
MEET-UP LOCATION:

Departure from Pont des Arts or Orsay Museum

END OF TOUR LOCATION:

The starting point is usually the same as the arrival one but it's not an obligation. We can start and finish wherever you want.
about
your guide
languages :

Français/French, Anglais/English, Espagnol/Spanish
Born in Paris, I studied tourism then moved abroad to live many experiences. After a year in Australia, and several months as a Hotel Manager in Venezuela, I acted in a film in India and traveled to China, Ghana and the United States. I also traveled to Budapest by bike from Paris, then continued in Egypt, Jordan and Turkey. Throughout these adventures, I worked in various fields such as catering, plumbing, communication and sales. Following these experiences, I decided to go back to Paris to share my passion for ! A childhood friend and his wife joined me in this adventure and we specialized in boat tours on the Seine to show the monuments of Paris from the water. I especially like the bridge of Bir Hakeim and, overnight, the Pont Neuf, which has a beautiful lighting. I like to tell about the origin of the names "Pont Neuf" and "Vert-Galant". I am more a teller of anecdotes rather than dates and architectural styles, although history also fascinates me. During my tours, you will discover many fun facts - Why do we say "paying in monkey money," "lasting 107 years" or why in France we call police officers, "the chickens". The Grand Palace is also one of my favorite sights in Paris. Did you know its canopy is heavier than the whole Eiffel Tower ? (9500 tons against 7500 for the Eiffel Tower)? The happiness of my clients gives me great satisfaction and rewards. I sometimes come across passengers who feel sorry to ask me a thousand questions about Paris and France, while in fact, this exchange with them is precisely the essence of my work on board; the reason why I love my job, and what makes each cruise unique. Although, of course, some passengers want to enjoy the boat tour with a driver who is happy to just drive, my pleasure (and my quality, I think) is to adapt to each group and deliver the hospitality and attention they want.
See all tours of this guide
other tours
on the same location