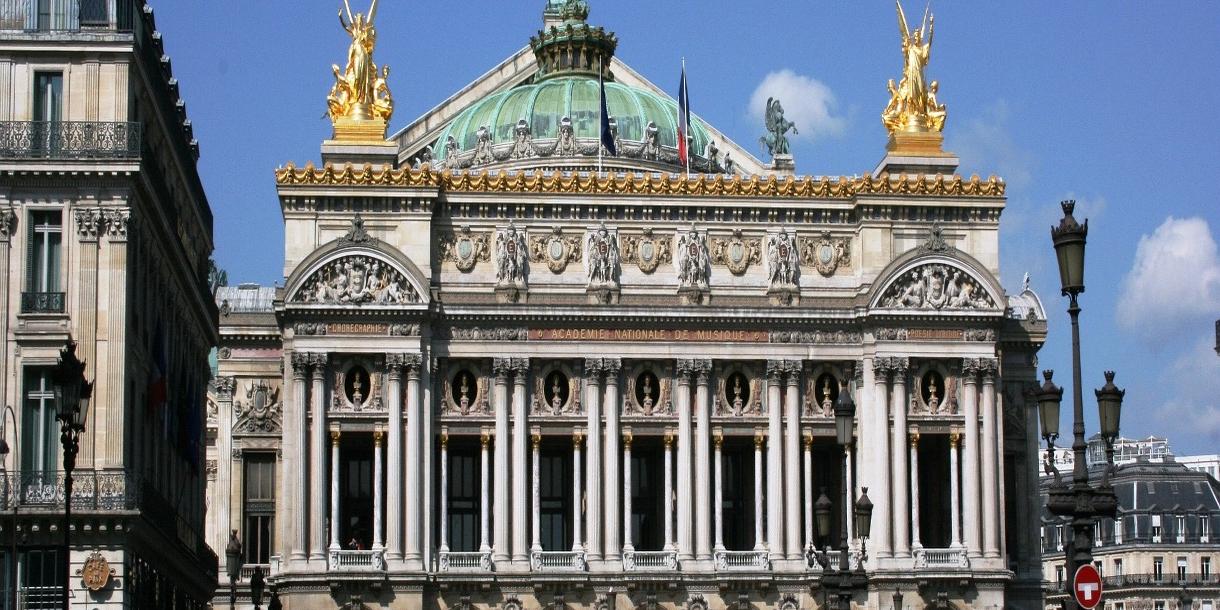 share
Opera Garnier Tour
Discover the architectural and artistic highlights of one of Paris' most iconic buildings
WITH

Elisa

|

about the guide
Built by Charles Garnier between 1861 and 1875, the Opéra Garnier is one of the best examples of Haussmanian architecture.
As you discover the facade, Grand Staircase, loggia, Grand Foyer and views over the stage, you'll be plunged into the Paris of Napoleon III and the 19th century. The stage for numerous prestigious lyrical and choreographic performances, the opera house treats you with artistic and architectural treasures including the dreamy ceiling painted by Chagall.
After exploring the opera house, you'll have the opportunity to discover another iconic Paris landmark, the Galeries Lafayette. Admire the colorful cupola of this department store and climb up to the rooftop to take in the breathtaking views over the city (by elevator or escalator).

Paris - Normandy - Champagne - Loire Valley


France

2 hrs


DURATION

6


MAX. No. ON TOUR
TOUR DETAILS
keywords :

Opera Garnier, Haussmann, Galeries Lafayette
transport :

By foot
ACTIVITY LEVEL :

Moderate

ACCESSIBLE TO THE DISABLED :

no

Kid friendly :

Adapted for children
LANGUAGES:

Anglais/English (Bilingual), Français/French (native), Espagnol/Spanish (Bilingual)

MAX. No. OF PEOPLE :

6
INCLUDED IN THE TOUR
- Services of a private professional guide for 2 hours; - Entrance tickets and guide authorization for the Opéra Garnier
NOT INCLUDED
- Personal Shopping; - Transport tickets
ITINERARY
This private 2-hour tour will give you unique insights into the Opera Garnier, built by Charles Garnier between 1861 and 1875: the facade, Grand Staircase, loggia, Grand Foyer and view over the stage from one of the loggia. The visit will finish with a short stroll to the Galeries Lafayette to admire the cupola and views over Paris from the rooftop. NOTE: Please reserve at least one week in advance to enable the guide to get authorization for the visit.
WHERE AND WHEN?
MEET-UP LOCATION:

The steps in front of the opera house, on the right-hand side (when looking at the opera house). Your guide will have a sign with your name to recognize her easily

END OF TOUR LOCATION:

Galeries Lafayette
about
your guide
languages :

Anglais/English, Français/French, Espagnol/Spanish
Born and brought up in Rennes (Brittany), I decided to move to Paris because of the city's amazing architecture, history and dynamism. I wanted to combine my passion for history, art history and modern languages. So, after finishing my art history and modern language degree, I prepared and obtained my professional guiding license in Saumur. I like meeting people from different backgrounds, talking about architecture and taking visitors on a journey through French history, as well as giving insights into modern French life. One of my favorite places to take you is the Basilica of Saint-Denis because of the incredible mix of architecture, stained glass, sculptures and history. My passions? Argentine tango, impro, accompanying young people on language stays, history and architecture.
See all tours of this guide
other tours
on the same location