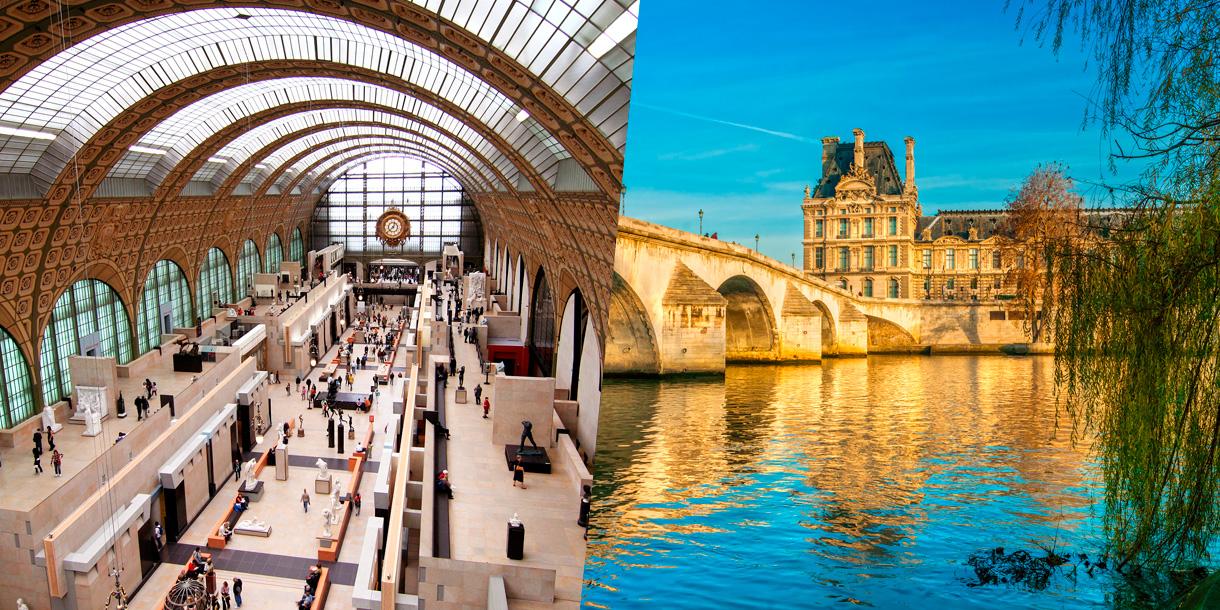 share
Louvre & Orsay Art Tour
Discover masterpieces in Paris, from ancient Greece to French impressionism
WITH

Elisa

|

about the guide
Please note:
- This tour is available from Wednesday to Saturday (Orsay is closed on Mondays, The Louvre on Tuesdays and guided tours are not accepted on Sundays at Orsay)
- Kids under 18 must be considered as 'children' when you book the tour (entrance is free for people under 18).

The city of Paris is spilling with museums, galleries and iconic monuments.

This private tour offers you the opportunity to discover two of its most beautiful museums as you travel through art history from Ancient Greece to the Impressionists and beyond.

A former medieval fortress and royal palace, the Louvre museum is now home to numerous ancient artefacts and French and Italian paintings to discover with your professional guide including the Venus de Milo, the Winged Victory of Samothrace, the Galerie d'Apollon, the Mona Lisa, The Coronation of Napoleon and The Slaves by Michel Angelo.

Housed in a former station, the Orsay museum pays homage to neoclassical, realist, impressionist and post-impressionist painters like Millet, Couture, Courbet, Manet, Monet, Renoir, Caillebotte, Cézanne, Van Gogh, Gauguin and Seurat.

Are you ready to embark on an exceptional artistic journey?

Paris - Normandy - Champagne - Loire Valley


France

5 hrs


DURATION

6


MAX. No. ON TOUR
TOUR DETAILS
keywords :

Louvre, Orsay museum, impressionism, ancient Greece and Rome, French and international masterpieces
transport :

By foot
ACTIVITY LEVEL :

Moderate

ACCESSIBLE TO THE DISABLED :

no

Kid friendly :

Adapted for children
LANGUAGES:

Espagnol/Spanish (Bilingual), Français/French (native), Anglais/English (Bilingual)

MAX. No. OF PEOPLE :

6
INCLUDED IN THE TOUR
- Services of a private professional guide for 6 hours; - Skip-the-line entrance tickets to the Louvre and Orsay museum.
NOT INCLUDED
- Snacks / boissons; - Achats personnels; - Transport
ITINERARY
This 5-hour private tour covers a selection of world-class masterpieces at the Louvre and Orsay museum. At the Louvre, you'll discover the architecture of this former medieval fortress, ancient Greek and Rome sculptures and Italian and French Renaissance paintings. Some of the highlights includes : the Venus de Milo, the victory of Samothrace, the Apollo Gallery, the Mona Lisa, the Liberty leading the people... After the visit, you'll enjoy a short break for a drink or snack in the carrousel du Louvre, before heading over to the musée d'Orsay through the Tuileries Gardens. At the Orsay museum, your guide will tell you more about the neoclassical, realist, impressionist and post-impressionist artists including Manet, Monet, Renoir, Cézanne, Van Gogh, Gauguin and Seurat. NOTE: This tour is available every day except Monday (Orsay museum closed) and Tuesday ( Louvre museum closed).On Wednesdays, Thursdays and Fridays, you can also visit in the late afternoon and evening since the museums are opened until 9:30pm (Louvre museum on Wednesday and Fridays, and Orsay museum on Thursdays)
WHERE AND WHEN?
MEET-UP LOCATION:

Louis XIV statue in front of the Louvre pyramid

END OF TOUR LOCATION:

Orsay museum
about
your guide
languages :

Espagnol/Spanish, Français/French, Anglais/English
Born and brought up in Rennes (Brittany), I decided to move to Paris because of the city's amazing architecture, history and dynamism. I wanted to combine my passion for history, art history and modern languages. So, after finishing my art history and modern language degree, I prepared and obtained my professional guiding license in Saumur. I like meeting people from different backgrounds, talking about architecture and taking visitors on a journey through French history, as well as giving insights into modern French life. One of my favorite places to take you is the Basilica of Saint-Denis because of the incredible mix of architecture, stained glass, sculptures and history. My passions? Argentine tango, impro, accompanying young people on language stays, history and architecture.
See all tours of this guide
other tours
on the same location