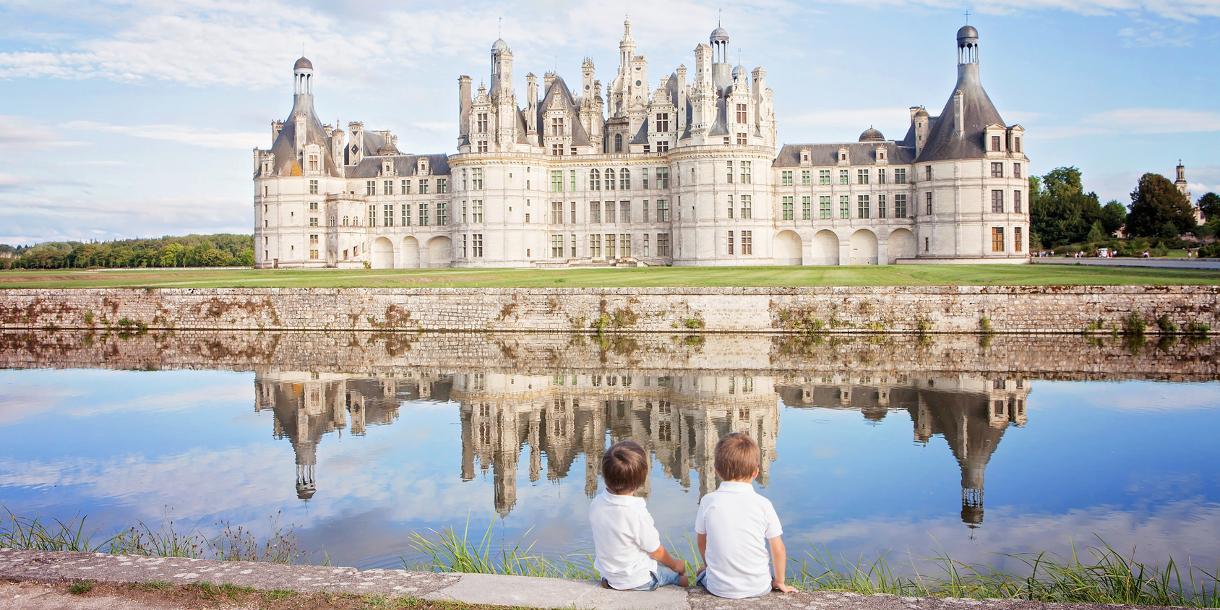 share
Family Château de Chambord Tour
Discover Renaissance art and architecture in a fun and interactive way
WITH

Magali

's TEAM

|

about the guide
Amazingly, the Château de Chambord and its 440 rooms, 282 fireplaces and 84 staircases were originally used as … a hunting lodge. The Château de Chambord is one of the major highlights of the Loire Valley and our Chambord Family Tour is the ideal way to enjoy its beautiful architecture and fascinating history with all the family. Your highly knowledgeable and fully licensed guide will share with you the history of Chambord and its creator, King François I - who only spent a total of 72 nights in the château in his entire lifetime! You'll discover the famous double-helix staircase designed by Leonardo da Vinci, admire the vast fireplaces and wander along the beautiful terraces. You'll even find out how the Mona Lisa ended up being hidden here during World War II. Specially adapted for children and led by an experienced guide, this interactive tour will make learning about Renaissance art, architecture and history fun for all the family.
Please note: Children must be accompanied by an adult. If needed, an accompanying person can be arranged for an additional fee

Paris - Normandy - Champagne - Loire Valley


France

2 hrs


DURATION

6


MAX. No. ON TOUR
TOUR DETAILS
keywords :

Château de Chambord, interactive family tour, French history, Renaissance art and architecture
transport :

On foot
ACTIVITY LEVEL :

Moderate

ACCESSIBLE TO THE DISABLED :

yes

Kid friendly :

From 6 years
LANGUAGES:

Anglais/English (Bilingual), Espagnol/Spanish (Bilingual), Français/French (Bilingual)

MAX. No. OF PEOPLE :

6
INCLUDED IN THE TOUR
- Tickets and guided tour of the château - Services of an experienced, fully licensed guide for a duration of 2 hours - Children's activity booklet
NOT INCLUDED
- Transport - Personal shopping
ITINERARY
Your 2-hour family guided tour of the Château de Chambord will take you around the magnificent buildings and grounds as you discover Renaissance art, giant fireplaces, beautiful terraces and the famous double helix staircase designed by Leonardo da Vinci.
WHERE AND WHEN?
MEET-UP LOCATION:

Château ticket office

END OF TOUR LOCATION:

Château exit
about
your guide
languages :

Anglais/English, Espagnol/Spanish, Français/French
After my business studies at HEC interspersed with abroad experiences in the luxury and fashion sector, I worked for 4 years in a consulting firm before launching my dream concept: high-end tourism for families, following a request customers had, looking for activities to do in Paris with their children. By creating my own company, I could serve all my passions at once: cooking, culture and my adopted city of Paris, whose secrets I all know. London was also part of the adventure because it is one of my host cities. Having the attention for detail and quality, I offer tailor-made tours in various European destinations such as of Paris, Loire Valley, and London, Rome and Florence for families wishing to explore these places with their children in an original way and without having to worry about logistics. With my small team of passionate professionals, we developed themed itineraries in the best places, adding for each of them some high-quality activities suitable for children of all ages and interests. Visit the Louvre Museum during a treasure hunt followed by a painting course, relapse in the novel and film The Da Vinci Code with an orientation game, discover French tradition while making the iconic baguette, visit the artistic village of Montmartre while learning french, explore Rome and learn about its history through specially-designed stories, quizzes and games or discover the life of Galileo the famous astronomer and his inventions through a visit to his museum. These are few examples of our organized family tours which allow parents to spend quality time with their children.
See all tours of this guide
other tours
on the same location