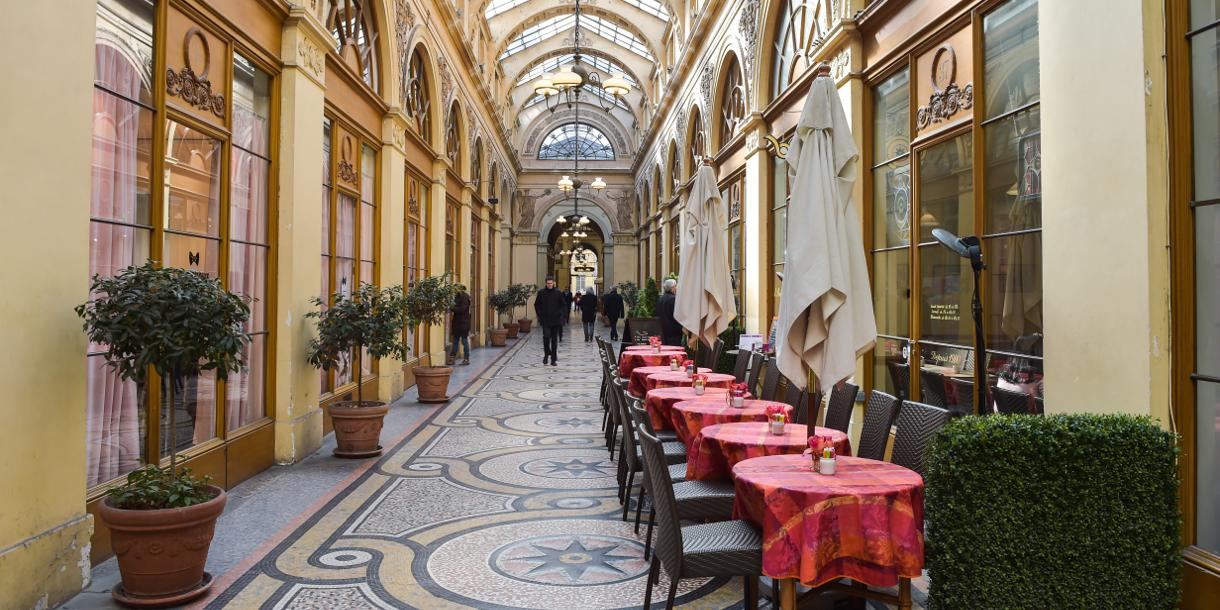 share
Covered Passages of Paris Tour
Discover magnificent covered shopping arcades in the French capital
WITH

Elisa

|

about the guide
Interested in French history and architecture? Keen to learn more French wine? Make the most of this 2-hour private tour to discover the covered passages and shopping galleries of Paris, as well as some of France's most prestigious grape varieties. Built during the 19th century to protect wealthy shoppers from the rain, the network of more than 150 shop-lined passageways saw its heyday in the 1850s. Today, only a dozen or so passages remain. Starting from the Louvre and finishing at Place des Victoires, your guided visit will include the Galerie Véro-Dodat, Galerie Colbert, Galerie Vivienne and the Palais Royal. It is possible to end the tour on convivial note with a wine tasting session at a reputed local wine cellar located in one of the passages.
Paris - Normandy - Champagne - Loire Valley


France

2.5 hrs


DURATION

10


MAX. No. ON TOUR
TOUR DETAILS
keywords :

Private tour, covered passages, wine tasting, Palais Royal, Paris architecture, French wine
transport :

By foot
ACTIVITY LEVEL :

Light

ACCESSIBLE TO THE DISABLED :

yes

Kid friendly :

Not adapted for children
LANGUAGES:

Français/French (native), Anglais/English (Bilingual), Espagnol/Spanish (Bilingual)

MAX. No. OF PEOPLE :

10
INCLUDED IN THE TOUR
- Service of a proferssional private guide for 2 hours
NOT INCLUDED
- Personal shopping - Lunch - wine tasting
ITINERARY
Your private tour will begin with a guided visit of Paris' covered passages starting at the Louvre and ending at Place des Victoires, stopping by the Palais Royal. The tour will finish with a an optional wine tasting session in a highly reputed local wine cellar, located in one of the passages. The details: The tour can be run in English, French or Spanish. At the end of the tour, you will be given a booklet (with map) about the passages visited. The tour is handicap friendly. However, you should check with your guide to make sure that there are rooms available on the ground floor for the wine-tasting.
WHERE AND WHEN?
MEET-UP LOCATION:

Louvre Rivoli Metro

END OF TOUR LOCATION:

Galerie Vivienne
about
your guide
languages :

Français/French, Anglais/English, Espagnol/Spanish
Born and brought up in Rennes (Brittany), I decided to move to Paris because of the city's amazing architecture, history and dynamism. I wanted to combine my passion for history, art history and modern languages. So, after finishing my art history and modern language degree, I prepared and obtained my professional guiding license in Saumur. I like meeting people from different backgrounds, talking about architecture and taking visitors on a journey through French history, as well as giving insights into modern French life. One of my favorite places to take you is the Basilica of Saint-Denis because of the incredible mix of architecture, stained glass, sculptures and history. My passions? Argentine tango, impro, accompanying young people on language stays, history and architecture.
See all tours of this guide
other tours
on the same location