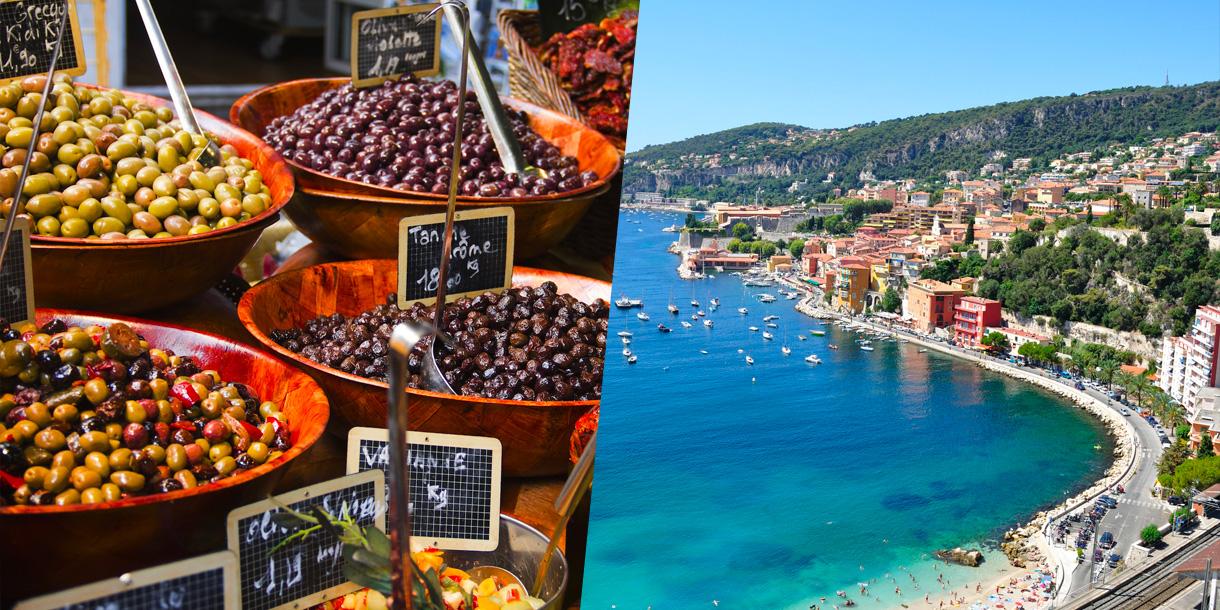 share
Day tour in Antibes, Cannes and Mougins
The best of gastronomy, art and cinema in the French Riviera
WITH

Yvonne

|

about the guide
On this exclusive day tour led by a professional guide, journey into the heart of the French Riviera to experience some quaint cities and their rich cultures. Famous for its provencal markets filled with fresh regional products and handicrafts, Antibes Juan-Les-Pins is a charming town where you will discover the real Mediterranean gastronomy. Your guide will take you to a local food market where you will browse the colorful stalls and try many specialties such as the Socca and the Tapenade. Afterwards, you will head to the glittering city of Cannes where you will visit the iconic Palais des Festivals et des Congres that host the Cannes Film festival since 1980. There you will enjoy the luxury atmosphere of the worldly renowned cinematic event that brings all the stars to the little French Riviera town once a year, including Angelina Jolie, Johnny Depp and Catherine Deneuve. Afterwards, you will take a stroll in the emblematic Croisette avenue along the beach, marvelling at the beautiful panorama of the city and its port filled with yachts. You will also walk up to the Suquet, a little hill from where you will enjoy some stunning views of the city and the mediterranean sea. Your day will continue in the beautiful city of Mougins, a prestigious artistic and culinary spot where you will relax with a sumptuous lunch and wine tasting. Last but not least, you will discover the old town with its numerous art galleries, as well as a pond covered with flowers and the Chapel of Notre-Dame-de-Vie who influenced the works of Picasso and Cocteau.
Nice - French Riviera


France

1 day


DURATION

8


MAX. No. ON TOUR
TOUR DETAILS
keywords :

Antibes, gastronomie, Cannes, cinéma,Mougins
transport :

Private minivan
ACTIVITY LEVEL :

Light

ACCESSIBLE TO THE DISABLED :

yes

Kid friendly :

Children are welcome
LANGUAGES:

Français/French (native), Allemand/German (native), Anglais/English (Bilingual)

MAX. No. OF PEOPLE :

8
INCLUDED IN THE TOUR
- Private guide service - Transportation on a private minivan - Food and wine tasting - Bottled water
NOT INCLUDED
- Lunch - Personal expenses - Tips (optional)
ITINERARY
Departing from Nice or any city nearby, you will discover three of the French Riviera's most iconic towns such as Antibes Juan-Les-Pins with its provencal markets, Cannes with its luxury atmosphere, and Mougins with its exquisite gastronomy. Traveling in a comfortable vehicle, you will stop first in Antibes Juan-Les-Pins and take a stroll in a traditional provencal market in the beautiful city center. Your tour will continue to the famous city of Cannes where you will dive into the cinema world and its stars. Visiting the Palais des Festivals et des Conges, you will follow in Grace Kelly, Brigitte Bardot and Brad Pitt's footsteps. You will then enjoy a scenic promenade on the Croisette avenue, and go up to the Suquet hill from where you will enjoy a fabulous view over the city. Your tour will continue to the third city, Mougins, a true gastronomic hub filled with art galleries and museums. There, you will savor a delicious lunch in a refined restaurant followed by a guided tour in a relaxing pond surrounded by flowers, and in the chapel of Notre-Dame-de-Vie. At the end of the day, your guide will drive you back to the departure point.
WHERE AND WHEN?
MEET-UP LOCATION:

Pick up and drop off at your hotel in Nice, Antibes, Cannes or surroundings

END OF TOUR LOCATION:

Pick up and drop off at your hotel in Nice, Cannes, Antibes or surroundings
about
your guide
languages :

Français/French, Allemand/German, Anglais/English
German born in Munich, I always loved french culture and I studied it before deciding 26 years ago to move abroad, first to Turkey for a short stay, and then in France, in Nice, where I worked at Nice International Airport as a ground handling agent and where I was in contact with many people and cultures. I really liked this human dimension and I always wanted to help travellers enjoying their stay in the region by giving them local tips and advices. Knowing that, I decided to change my professional direction and went back to study Art (especially 19th-century art) and architecture at the University of Nice-Sophia Antipolis to become a licensed tour guide, leading in go back to study to become a certified tour guide, leading in German, French and English. Moving to the French Riviera, I immediately felt in love with this region, with its golden light, beautiful beaches and picturesque villages filled with history and art; my favorite are Cannes, Antibes, Aix en Provence, Monaco and Saint-Paul de Vence, where I have been guiding the last few years now, always trying to create tailor-made itineraries out of the beaten path with unique details and interesting anecdotes. My job is my true passion and I love to share it with my guests, while rediscovering the region each time with their eyes. Something curious about me: when I am not guiding, I love dancing and horse-riding!
See all tours of this guide
other tours
on the same location