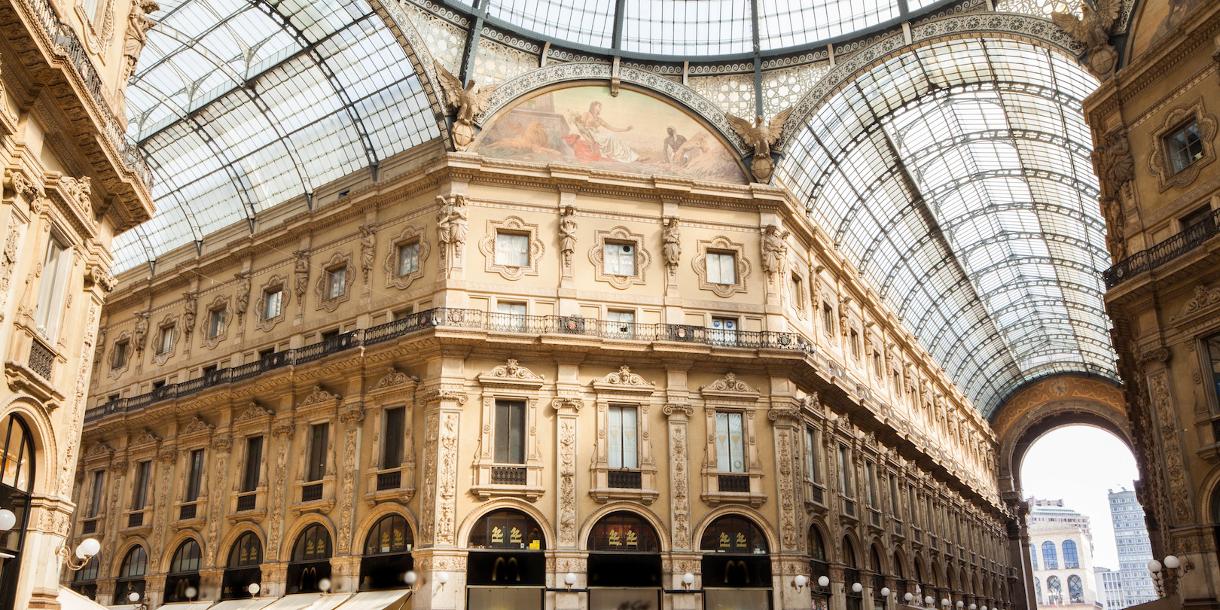 share
Milan Highlights Tour
Italian history and culture with Teatro della Scala visit
WITH

Morena

|

about the guide
Focusing on the history of the city and its famous inhabitants, this walking tour is the ideal opportunity to discover all the must-see monuments in Milan. Your expert guide will tell you more about the artists, intellectuals, politicians and musicians of the past and present who have shaped the city, from Leonardo da Vinci to Giuseppe Verdi and Giorgio Armani. As you stroll around the courtyards of the imposing Castello Sforzesco citadel, you will find out more about Sforza family (who lived there during the Renaissance) and Leonardo da Vinci (who worked there for many years). Your guide will take you around the squares, streets and courtyards of city center to explore some of its most fascinating buildings, while telling you stories about its past and giving you tips to make the most of your stay. Admire the Duomo cathedral, one of the largest churches in the world and the elegant Galleria Vittorio Emanuele II before taking a guided tour of the prestigious Teatro della Scala, an amazing temple to Italian opera and ballet. The museum is home to portraits of some of the best sopranos, tenors, maestros and composers of all time including Bellini, Rossini, Giuditta Pasta, Isabella Colbran and Rosina Storchio.
Milan


Italy

2.5 hrs


DURATION

6


MAX. No. ON TOUR
TOUR DETAILS
keywords :

Milan, walking tour, Italian history, Castello Sforzesco, Teatro della Scala, Leonardo da Vinci, Giuseppe Verdi
transport :

On foot
ACTIVITY LEVEL :

Moderate

ACCESSIBLE TO THE DISABLED :

no

Kid friendly :

Children are welcome, from 10 years old
LANGUAGES:

Français/French (fluent), Portuguais/Portuguese (fluent), Anglais/English (fluent)

MAX. No. OF PEOPLE :

6
INCLUDED IN THE TOUR
- Guiding services - Scala entrance tickets
NOT INCLUDED
- Pick-up and drop-off - Personal shopping - Tickets for other museums
ITINERARY
This half-day walking tour will take you around the magnificent courtyards of the Castello Sforzesco and into the city center. Passing by the Duomo cathedral and the Galleria Vittorio Emanuele II, you will then be taken on a guided tour of the prestigious Teatro della Scala opera house and museum.
WHERE AND WHEN?
MEET-UP LOCATION:

Next to the Castello Sforzesco clock tower

END OF TOUR LOCATION:

Duomo Square
about
your guide
languages :

Français/French, Portuguais/Portuguese, Anglais/English
Born near Lake Como, I lived abroad with my family until the age of 10 before coming back to Italy. In the meantime, I had discovered other cultures and lifestyles, leading me to study foreign languages at high school. Later, I obtained my Masters degree in History of Art at the University of Parma and won an academic prize to spend a year in Lisbon where I learned Portuguese. I moved then to Milan where I worked as an art curator for several collectors, art galleries and foundations. But I was eager for more challenges and I wanted to combine my job experience with my love for my city, far from corporate obligations. I came back to study and obtained my guiding license. Since then, I have been organising guided tours in Italian, English, Portuguese and French, showing the hidden gems of Milan and Como and giving a true local experience to my guests while adapting to their needs and wishes. I love meeting people from other parts of the world and leading them to the little churches, museums, shops, old streets and the architectural heritage of Milan. There is so much that deserves to be seen in this beautiful city!
See all tours of this guide
other tours
on the same location