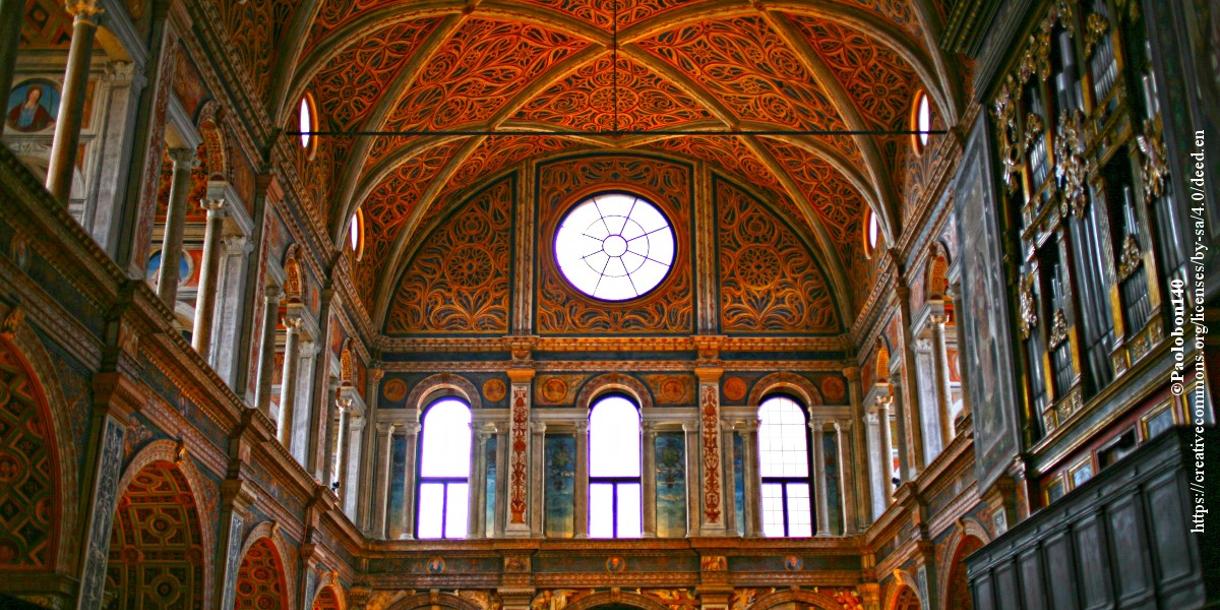 share
The Dark Side of Milan
Walking tour through Milan's most emblematic churches and their dark legends...
WITH

Morena

|

about the guide
Dive into Milan's dark side on this unique walking tour led by a professional art historian and guide. Strolling around the historical center, you will discover three churches illustrating the dark side of the city. First, you will visit the church of San Bernardino alle Ossa, whose origins date back to the year 1100. The church is famous for its little ossuary chapel made with human bones and skulls. Your guide will tell you about the church's legends such as the halloween night one when a girl comes out from the bones to recompose the skeletons who then dance together. Then, you will head to the Santa Maria presso San Satiro Church, a Renaissance masterpiece lying on the site of the former place of worship. There you will marvel at the beautiful trompe l'oeil fresco painted by the artist Donato Bramante. Your walking tour will end with the visit of the San Maurizio al Monastero Maggiore Church, known as the Milan's Sistine Chapel because of its remarquable pictorial cycles created by the artist Bernardino Luini, most talented pupil of Leonardo Da Vinci. The church used to belong to the adjacent female cloistered convent of the Benedictines.
Milan


Italy

2.5 hrs


DURATION

6


MAX. No. ON TOUR
TOUR DETAILS
keywords :

Milan, dark Milan, Milan walking tour, San Maurizio al Monastero Maggiore, Milan legends, mysteries, San Bernardino alle Ossa, Maria presso San Satiro, Milan sightseeing, Milan historical center
transport :

On foot
ACTIVITY LEVEL :

Moderate

ACCESSIBLE TO THE DISABLED :

no

Kid friendly :

Children are welcome if they are not afraid of human bones...
LANGUAGES:

Portuguais/Portuguese (fluent), Anglais/English (fluent), Français/French (fluent)

MAX. No. OF PEOPLE :

6
INCLUDED IN THE TOUR
- Guiding service
NOT INCLUDED
- Entrance to the churches is free but a small « donation » is highly appreciated (not included) - Personal shopping - Drinks and snacks
ITINERARY
Departing from the Duomo Square, you will follow your guide through the narrow streets of Milan historical center, heading to the remains of the previous city. As you walk, you will learn about the mysteries, legends and dark stories of the area. You will visit the San Bernardino alle Ossa, a Baroque Church made of human bones. Then, you will sneak through the medieval area of Milan to get to church Santa Maria presso San Satiro, a well-hidden gem located in via Torino. You will continue in the same district to visit the amazing San Maurizio al Monastero Maggiore Church, located near the Castello Sforzesco where your tour will end up. NOTE: Please be sure to be properly dressed to be able to enter the churches (cover shoulders and legs down to the knees)
WHERE AND WHEN?
MEET-UP LOCATION:

Duomo square

END OF TOUR LOCATION:

Castello Sforzesco or San Maurizio church
about
your guide
languages :

Portuguais/Portuguese, Anglais/English, Français/French
Born near Lake Como, I lived abroad with my family until the age of 10 before coming back to Italy. In the meantime, I had discovered other cultures and lifestyles, leading me to study foreign languages at high school. Later, I obtained my Masters degree in History of Art at the University of Parma and won an academic prize to spend a year in Lisbon where I learned Portuguese. I moved then to Milan where I worked as an art curator for several collectors, art galleries and foundations. But I was eager for more challenges and I wanted to combine my job experience with my love for my city, far from corporate obligations. I came back to study and obtained my guiding license. Since then, I have been organising guided tours in Italian, English, Portuguese and French, showing the hidden gems of Milan and Como and giving a true local experience to my guests while adapting to their needs and wishes. I love meeting people from other parts of the world and leading them to the little churches, museums, shops, old streets and the architectural heritage of Milan. There is so much that deserves to be seen in this beautiful city!
See all tours of this guide
other tours
on the same location