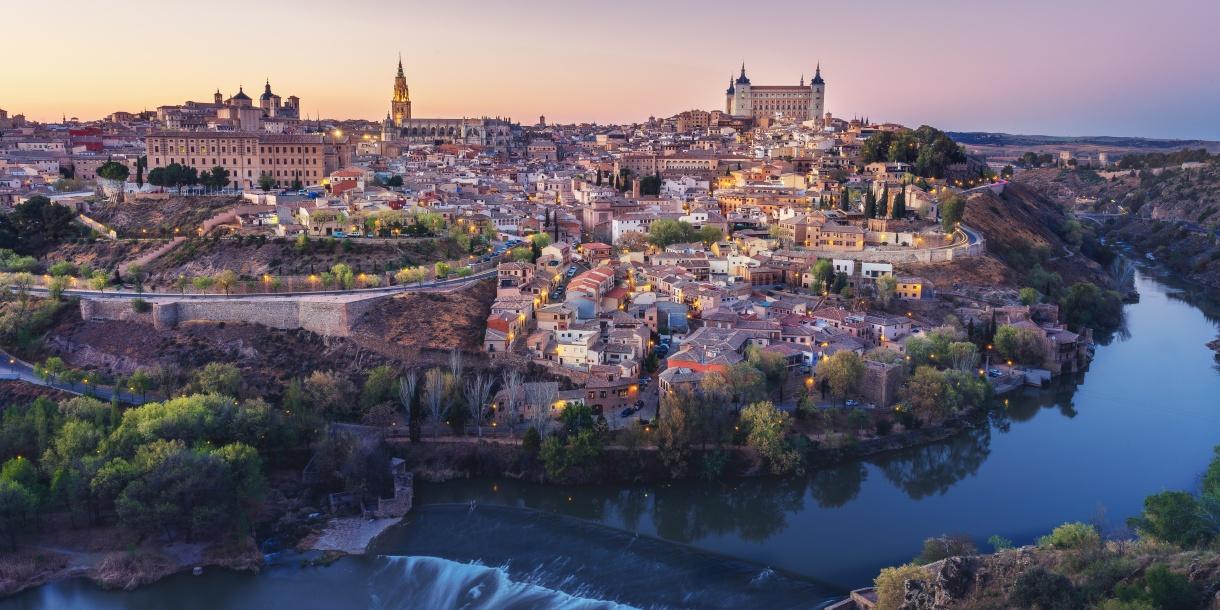 share
Private tour to Toledo by highspeed train
A daytrip to Spain's old capital
WITH

Marta

|

about the guide
Toledo is located 70 km / 55 ml south from Madrid and with the high-speed train it takes only 35 minutes to arrive from Madrid. The city is placed on the riverbank of Tajo's river, Spain's longest one, on a rocky hill at the feet of Toledo Mountains. Spread over the neighbor hills there are olive trees, almond trees, cypress, and very impressive country houses called "Cigarrales".  From these hills, the views over the city are breathtaking.
Toledo is known as the city of the Three Cultures because, during Middle Ages Muslims, Christians and Jews lived together there. In addition, Toledo was the capital of Spain until 1561 when it was moved to Madrid by King Philip II. Most of its inhabitants left the city with the king and the royal court, that's why they say that time was stopped in Toledo in the 16th century.  
A walk in Toledo is like traveling to Spain in the Middle Ages and still, nowadays we can visit its really well preserved Jewish Quarter with its two medieval synagogues, the gothic cathedral inspired by Notre Dame or the 10th-century little mosque of Al-Mardum. 
Toledo is also known as the city where the Greek painter Domenikos Theotokopoulos, best known as El Greco, lived for 35 years and where we can visit his museum and many of his masterpieces.
A day trip to Toledo is a must-do if you're visiting the central part of Spain and a city that will exceed your expectations.
Madrid


Spain

8 hrs


DURATION

8


MAX. No. ON TOUR
TOUR DETAILS
keywords :

private, Toledo, daytrip, tour, train
transport :

Highspeed train
ACTIVITY LEVEL :

Moderate

ACCESSIBLE TO THE DISABLED :

yes

Kid friendly :

Kids friendly
LANGUAGES:

Italien/Italian (fluent), Espagnol/Spanish (native), Anglais/English (fluent)

MAX. No. OF PEOPLE :

8
INCLUDED IN THE TOUR
- Guiding services - My train ticket
NOT INCLUDED
- Train tickets (22 € p.p.) - Tickets to monuments (optional) - Taxi in Toledo
ITINERARY
We'll meet at 9:00 am at Atocha Railway Station (other meeting point can be arranged as well) and we'll take the high speed train to Toledo. We'll arrive in only 35 minutes and once in Toledo we'll take a taxi and go for a panoramic tour in order to enjoy the amazing views over the city. Afterwards, the taxi will take us to Zocodover square from which we'll start our walking tour in the city, visiting its more remarkable monuments depending on your interests (The Cathedral, the synagogues, El Creco's museum...) . During our visit we'll have time for shopping and lunch. We'll go back to Madrid together in the afternoon train that arrives to Atocha Railway Station by 17:00.
WHERE AND WHEN?
MEET-UP LOCATION:

Madrid's railway station (Atocha)

END OF TOUR LOCATION:

Madrid's railway station (Atocha)
about
your guide
languages :

Italien/Italian, Espagnol/Spanish, Anglais/English
Hola, welcome to Madrid! My name is Marta, and I was born and raised in Madrid, so this is my hometown. I hold a University Degree in Archaeology & History, and I'm a licensed tour guide. Why coming? Because I think it's the best way to share and promote my love and interest in our History and Heritage with visitors coming from all over the world. I've worked as an independent tour guide for more than 15 years, meeting people from all kinds of cultures, countries and backgrounds. I've also lived abroad in the US, England, and Italy to improve the languages, but all these stays have also brought me closer to their people and culture. Madrid has lots to offer to visitors. It's a place where you can experience art, history, gastronomy, shopping, nightlife… Come over and join me in one of my private tours where you'll feel like a local and discover a city that will exceed your expectations. Madrid also has amazing surroundings like Toledo, San Lorenzo del Escorial or Segovia. All of them are reachable by train, and because they're close, they are perfect for spending some time out of the city. Come with me to this fantastic UNESCO places and visit locations where time seems to have stopped. All my tours are private and customizable, so if you have any particular preference or request, just let me know.
See all tours of this guide
other tours
on the same location