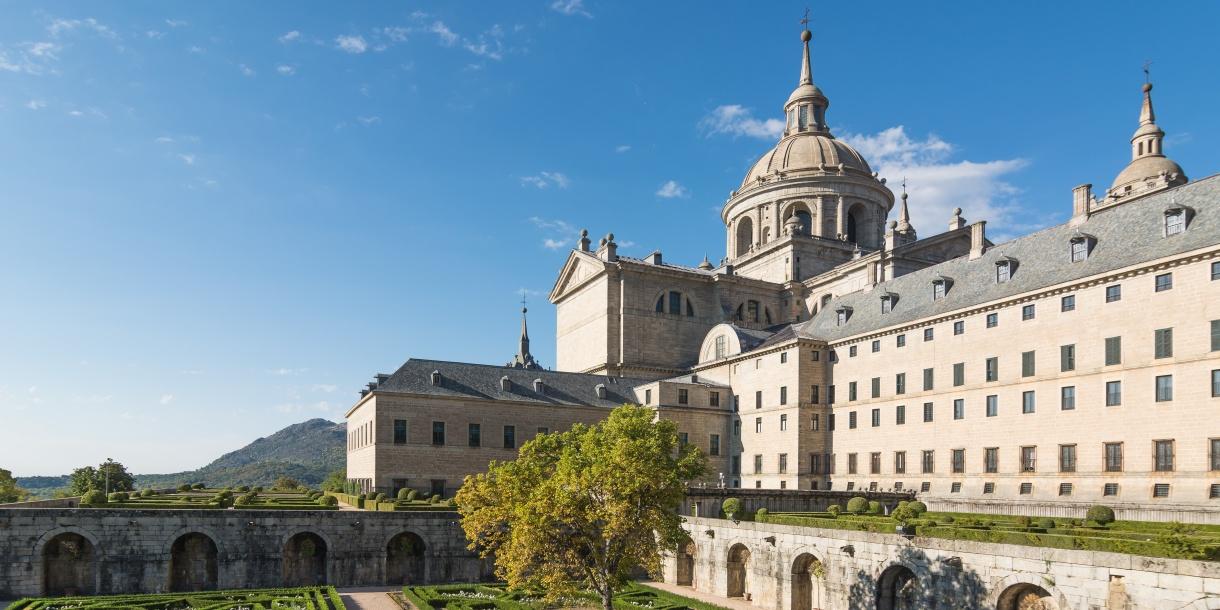 share
Private tour to The Royal Monastery of El Escorial
A journey into Spain's 16th Century
WITH

Marta

|

about the guide
Please note that his tour is not available on Mondays because the monument is closed.
The Royal Monastery of San Lorenzo de El Escorial is located at the feet of Guadarrama mountains, 70 km / 55 ml north from Madrid. The Monastery was commissioned by King Philip II in the 16th century when Spain was at the top of its Empire. The building is surrounded by beautiful landscapes in a peaceful and natural environment.
The visit to the Monastery is a journey into the past due to the excellent degree of preservation of the building.  In this monastery, the Spanish Kings used to spent long periods, especially during Fall. During those months,  the Monastery became the headquarters of the Spanish Royal Court. 
Once there, we'll visit the Monastery, still active nowadays, the magnificent Church, the spectacular Library, and the Royal Pantheon, where most of the kings of Spain are buried since the building of the Monastery.  The monument also houses a very rich art collection of great European masters like Tiziano, El Greco, or Velázquez.
Also very remarkable are its gardens, with spectacular views over the mountains.
Madrid


Spain

3 hrs


DURATION

8


MAX. No. ON TOUR
TOUR DETAILS
keywords :

private, tour, Monastery, Escorial, history
transport :

Train / bus / car
ACTIVITY LEVEL :

Moderate

ACCESSIBLE TO THE DISABLED :

no

Kid friendly :

Kids Friendly
LANGUAGES:

Anglais/English (fluent), Espagnol/Spanish (native), Italien/Italian (fluent)

MAX. No. OF PEOPLE :

8
INCLUDED IN THE TOUR
- Guiding Services
NOT INCLUDED
- Tickets: 10 € p.p. - Transport. The Monastery of El Escorial is located in San Lorenzo de El Escorial, a town 70 km / 55 ml away from Madrid with bus and train station with departures and arrivals from Madrid. The meeting point for this tour is San Lorenzo de El Escorial. However, if you want a picking up and dropping off from Madrid or private transportation I can arrange it, just send me a message with your request.
ITINERARY
We will visit this extraordinary monument really well preserved. The tour includes a visit in depth to the Monastery, The Church, The Royal Pantheon, The Library and The King's Palace. We'll also have time to have a walk in the gardens.
WHERE AND WHEN?
MEET-UP LOCATION:

San Lorenzo de El Escorial or Madrid (under request)

END OF TOUR LOCATION:

San Lorenzo de El Escorial or Madrid (under request)
about
your guide
languages :

Anglais/English, Espagnol/Spanish, Italien/Italian
Hola, welcome to Madrid! My name is Marta, and I was born and raised in Madrid, so this is my hometown. I hold a University Degree in Archaeology & History, and I'm a licensed tour guide. Why coming? Because I think it's the best way to share and promote my love and interest in our History and Heritage with visitors coming from all over the world. I've worked as an independent tour guide for more than 15 years, meeting people from all kinds of cultures, countries and backgrounds. I've also lived abroad in the US, England, and Italy to improve the languages, but all these stays have also brought me closer to their people and culture. Madrid has lots to offer to visitors. It's a place where you can experience art, history, gastronomy, shopping, nightlife… Come over and join me in one of my private tours where you'll feel like a local and discover a city that will exceed your expectations. Madrid also has amazing surroundings like Toledo, San Lorenzo del Escorial or Segovia. All of them are reachable by train, and because they're close, they are perfect for spending some time out of the city. Come with me to this fantastic UNESCO places and visit locations where time seems to have stopped. All my tours are private and customizable, so if you have any particular preference or request, just let me know.
See all tours of this guide
other tours
on the same location