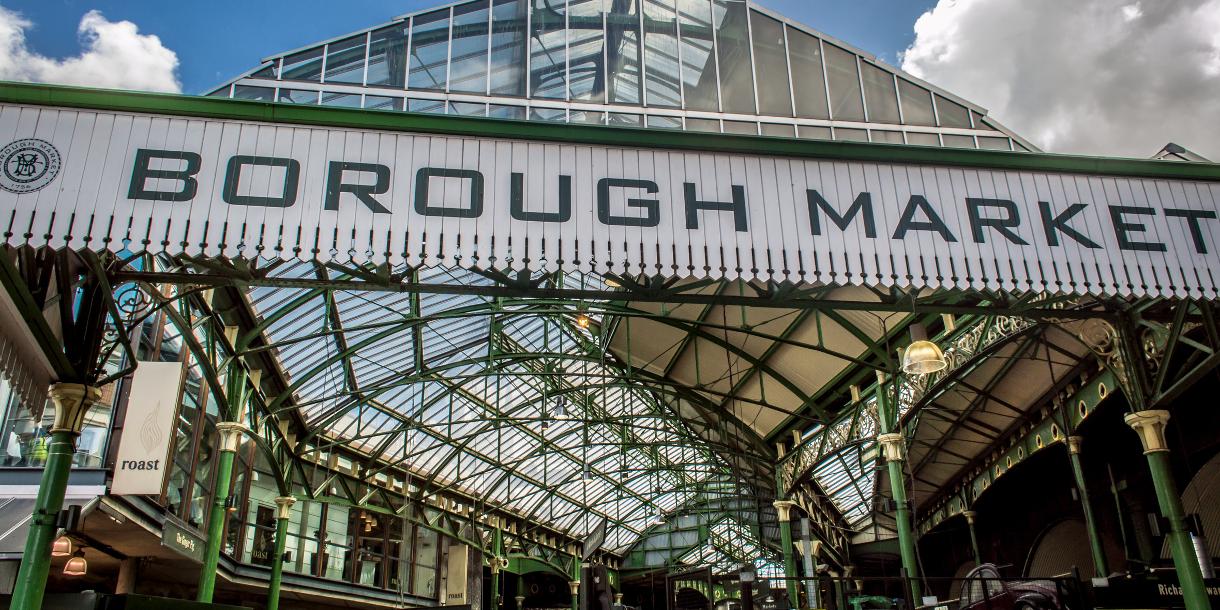 share
London markets Tour
Walking Tour in London's best markets and candy making workshop
WITH

Denisa

|

about the guide
Enjoy a day in the world of London's markets, the essence of the british capital's local life, which are not just about today's atmosphere but also what it was like in the past, from the Huguenots to the Bangladeshi. Starting from Liverpool street, you will walk through the area part of the Roman London in the 1st century, before becoming later the place where people came rest and be cured. It is today one of the well known markets in London. There is a lot of street art in this area going along with the local architecture. Located in the heart of the financial district, The City, the Liverpool Street market is surrounded by a modern architecture blending perfectly with the newly refurbished market hall from the 19th century. Then, you will continue to Borough market, a gourmet paradise where you will enjoy sampling the farmers' fresh products (cheese, bread, ham, fruits, sweets, but also mini compositions of them all) directly from the stalls. Then, you will head to Brick Lane, where you will discover plenty of unique jewelry, decoration and clothing creations, as well as lots of ancient and vintage items. In the second part of the tour, you will head to the Spun Candy shop where you will participate in a candy making workshop from watching the sugar boil to designing your own style candy.
London


United Kingdom

4 hrs


DURATION

10


MAX. No. ON TOUR
TOUR DETAILS
keywords :
transport :

By walking and by metro
ACTIVITY LEVEL :

Moderate

ACCESSIBLE TO THE DISABLED :

yes

Kid friendly :

Children are welcome
LANGUAGES:

Anglais/English (fluent)

MAX. No. OF PEOPLE :

10
INCLUDED IN THE TOUR
- 2-hour candy making workshop
NOT INCLUDED
- Shopping and pub expenses
ITINERARY
Join your guide for a delicious tour of London's best markets! Start with the Liverpool street market where you will enjoy the variety of goods on offer each day by traders, including jewelry, art, fashion, vintage accessories and food. You will admire the old buildings covered with street art along with the contemporary architecture. Then, you will hop on the tube at Aldgate east and head south of the river to visit Borough market, perfect for the food lovers who can browse through the stalls while sampling the farmers' fresh products. Your tour will continue to Brick Lane where you will visit the last market, with its large offer of goods and its lively atmosphere. Then, you will head to the Spun Candy Shop where you will enjoy a 2-hour candy making workshop.
WHERE AND WHEN?
MEET-UP LOCATION:

Liverpool Street

END OF TOUR LOCATION:

Liverpool Street
about
your guide
languages :

Anglais/English
In love with London, I moved there several years ago and completed the Blue Badge guide course which entitles me today to guide visitors through many different places and sites in London and its surroundings, including their historical and cultural facts. I have always been interested in tourism: as a little girl sitting at my desk at home, with an atlas and other various guide books around me, I tried to sell tours to family members. Then, as a teenager I found the perfect summer job as a tour guide in one of the many castles in the Czech Republic. My relationship with that castle lasted over ten years. To pick a course at University was a piece of cake, anything tourism related. After three years, I was the proud holder of a Management in Tourism degree and a National Tour Guiding certificate for the Czech Republic. Throughout my studies I have detoured a little bit, spending some years abroad working as a Flight Attendant for easyJet: still in tourism but just a different sector... I am now packed with knowledge and experience and it will be my pleasure to take you on one of my tours to show you the wonderful city of London
See all tours of this guide
other tours
on the same location