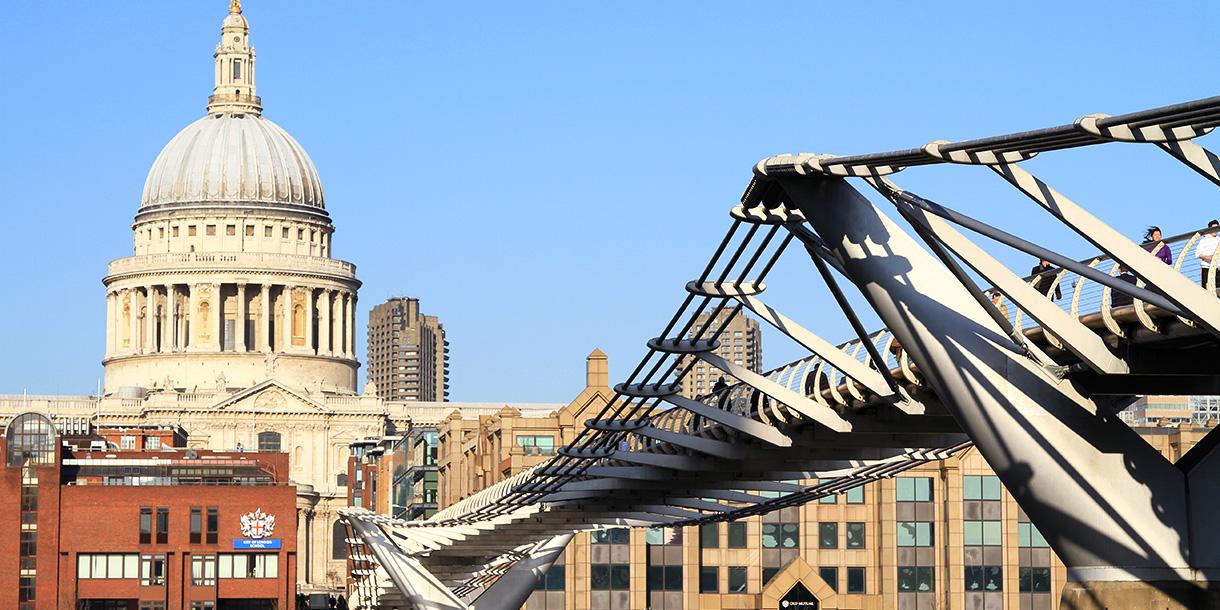 share
City of London Highlights Tour
Discover the oldest part of London where tradition and modernity blend
WITH

Denisa

|

about the guide
This half-day tour is the ideal opportunity to find out more about the history of such a vibrant and diverse city. Starting at St Paul's Cathedral, in the heart of the City of London, you'll explore the one of the oldest parts of the capital that is now a vibrant financial district. You'll be able to admire remains of a Roman wall, buildings belonging to various guilds, the Bank of England, Mansion House and the Royal Exchange. The tour then hops over the Thames River onto the South Bank via the Millennium Bridge and past the Tate Modern. You'll take look at the Globe Theatre, a reconstruction of the circular stage William Shakespeare used to perform his comedies and tragedies. You'll then walk towards the Tower of London for a perfect finishing photo. We recommend ending the tour with a boat ride back along the river to the London Eye. The tour can be adapted to your requirement and level of fitness.
London


United Kingdom

1/2 day


DURATION

8


MAX. No. ON TOUR
TOUR DETAILS
keywords :

City of London, walking tour, Globe Theatre, financial district, Bank of England, Millennium Bridge, Tower of London, Thames River, St Paul's Cathedral
transport :

By foot
ACTIVITY LEVEL :

ACCESSIBLE TO THE DISABLED :

yes

Kid friendly :

Suitable for children from the age of 6.
LANGUAGES:

Anglais/English (fluent)

MAX. No. OF PEOPLE :

8
INCLUDED IN THE TOUR
- Guided tour with a professional and qualified tourist guide of London
NOT INCLUDED
- Lunch - Personal shopping - Boat tour
ITINERARY
This half-day City of London Highlights tour starts at Paul's Cathedral from where you'll explore the oldest part of London filled with winding streets and modern skyscrapers. You'll then hop across the Millennium Bridge to take a look at the Globe Theatre, which is closely linked to the iconic English playwright William Shakespeare. From here, you'll walk along the South Bank towards the Tower of London, where the tour finishes – we highly recommend taking a boat ride along the Thames.
WHERE AND WHEN?
MEET-UP LOCATION:

St. Paul's tube station

END OF TOUR LOCATION:

Tower of London
about
your guide
languages :

Anglais/English
In love with London, I moved there several years ago and completed the Blue Badge guide course which entitles me today to guide visitors through many different places and sites in London and its surroundings, including their historical and cultural facts. I have always been interested in tourism: as a little girl sitting at my desk at home, with an atlas and other various guide books around me, I tried to sell tours to family members. Then, as a teenager I found the perfect summer job as a tour guide in one of the many castles in the Czech Republic. My relationship with that castle lasted over ten years. To pick a course at University was a piece of cake, anything tourism related. After three years, I was the proud holder of a Management in Tourism degree and a National Tour Guiding certificate for the Czech Republic. Throughout my studies I have detoured a little bit, spending some years abroad working as a Flight Attendant for easyJet: still in tourism but just a different sector... I am now packed with knowledge and experience and it will be my pleasure to take you on one of my tours to show you the wonderful city of London
See all tours of this guide
other tours
on the same location