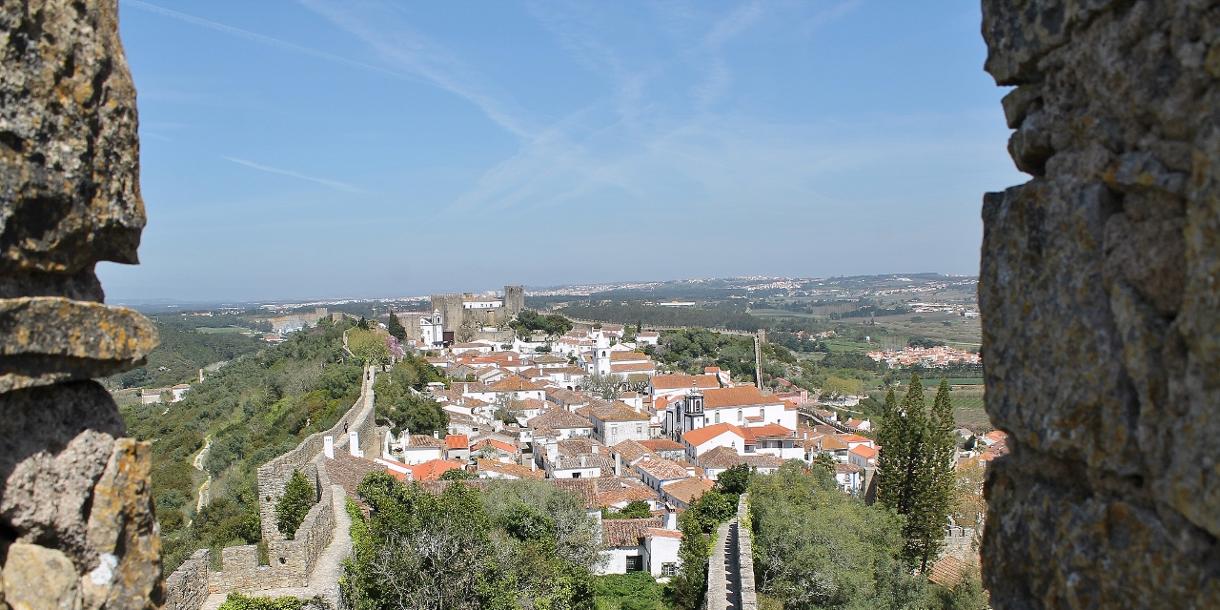 share
Óbidos and Mafra Day Tour from Lisbon
Discover Portugal's historical heritage
WITH

Joao

's TEAM

|

about the guide
On this day trip from Lisbon, experience the true flavour of the Portuguese countryside and visit some picturesque villages that retains a rich architectural heritage. Together with your guide, you will leave the centre of Lisbon and travel to Óbidos, a medieval village sitting atop a hill and entirely encircled by walls. Also called the town of the Queens for its multiple patronizations by the Queens of Portugal, the little village of Óbidos is one of the best preserved in Portugal. Today, it overflows with history that dates back to the 4th century B.C. With your expert guide, you will discover its historical remains, including the city gate whose interior is covered with blue azulejos (glazed tiles), the 16th century aqueduct, and the 12th century Castle with its labyrinth like whitewashed streets. During the month of July, you will enjoy the spectacular market recreating the medieval atmosphere from the past with its horse displays, jugglers, costumed parades, merchants, traditional handicrafts and jousting knights. Outside the Castle, you will wander through the famous Rua Direita and discover the numerous art and crafts workshops, before trying the Ginjinha, a local liqueur made with Morello cherries infused in pure brandy. After a lunch break, your guide will drive you to the charming city of Mafra located a few steps away from Óbidos. There, you will visit the outstanding Mafra Palace and monastery, masterpiece of Baroque architecture and largest palace in Portugal. With your guide, you will marvel at the opulent interior created by the most eminent architects and artists. Its 232 meters corridor is the longest ever built and covered of marble; its library is the biggest in Europe with more than 30 000 books from the 15th to the 18th century. Your day will end in the cobblestone streets of Mafra for more sightseeing before returning to Lisbon.
Lisbon


Portugal

6 hrs


DURATION

10


MAX. No. ON TOUR
TOUR DETAILS
keywords :
transport :

Car or van with air-conditioning
ACTIVITY LEVEL :

Light

ACCESSIBLE TO THE DISABLED :

no

Kid friendly :

Children are welcome
LANGUAGES:

Portuguais/Portuguese (fluent), Allemand/German (fluent), Espagnol/Spanish (fluent), Anglais/English (fluent)

MAX. No. OF PEOPLE :

10
INCLUDED IN THE TOUR
- Professional private guide service - Pick-up and drop off at your hotel or cruise port in Lisbon - Transportation by private air-conditioned vehicle - Entrance tickets to the Mafra Palace and Óbidos - Ginjinha liqueur tasting - Bottled water
NOT INCLUDED
- Entrance fee to the Medieval Market in Óbidos castle (only in July) - Lunch - Personal shopping
ITINERARY
Leaving the hustle and bustle of Lisbon behind you, spend a day in the countryside discovering two of the most beautiful villages famous for their rich architectural heritage. With your expert guide, you will travel 90km North West of Lisbon to the fortified village of Óbidos and enjoy a guided tour of the medieval village dated from the 12th century. There, you will taste the traditional liquor Ginjinha liqueur and stroll around the streets filled with local handicrafts boutiques. In July, you can also visit the medieval market within the Castle. Your day will continue with the visit of another picturesque village nearby: Mafra, famous for its magnificent National Palace that you will discover with your guide. At the end of the day, your guide will drive you back to Lisbon.
WHERE AND WHEN?
MEET-UP LOCATION:

At your hotel or cruise port in Lisbon

END OF TOUR LOCATION:

At your hotel or cruise port in Lisbon
about
your guide
languages :

Portuguais/Portuguese, Allemand/German, Espagnol/Spanish, Anglais/English
A German born in Portugal, I was raised in England, Spain and Germany before coming back to Portugal, my adopted country. Working in finance for 20 years allowed me to visit most of Portugal, and decide I wanted to live out my passion: travel. Passionate about the road and eager for new experiences and encounters, I like to get lost in a new place and find my way by making new friends and getting to know their culture. As I wanted to share my excitement for travel and discovery of remote places, I started to organise some trips for my friends, family and colleagues, focusing on the important things in life. The decision of changing career came then naturally so I created a little travel company showing the wild and unseen parts of Portugal. With my customized tours and trips, I try to give another image of Portugal, a beautiful and tolerant country opened to languages, cultures and religions, but with a strong identity and history. With my fantastic team of tour guides, I organise and polish up quality tours in Portugal, which focus on nature and culture, always far from crowded touristic paths. During my tours, you will stimulate your senses learning local tips and lifestyles: seeing wildlife, catching wild fish, going to fresh markets, eating in traditional restaurants, making your own jam, enjoying tasting liqueur and learning about its 450 years old recipe, as well as many more exclusive experiences. PS : my tours could also be guided by Paulo or Rodrigo.
See all tours of this guide
other tours
on the same location