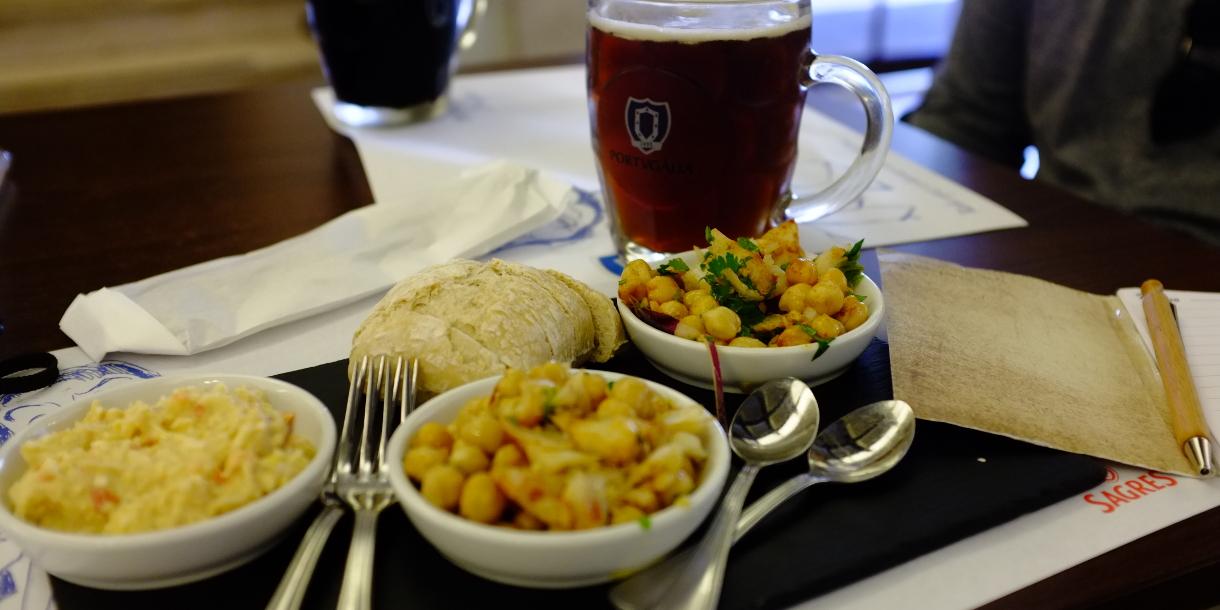 share
Lisbon Food Tour
A delicious day of Portuguese delights
WITH

Enrique

's TEAM

|

about the guide
This 6-hour food tour will take you on a unique gastronomic journey in the Portuguese capital. You'll discover where the locals eat, drink and socialize. You'll sample an array of flavors such as codfish, sardines, port, ginjinha, green wine, pastel de nata…and many more traditional foods entwined in Portuguese identity. From the center of Lisbon, you will dive into the rich culinary heritage of the Portuguese capital and discover the city's most important neighbourhoods (Alfama, Barrio Alto...). You will also visit the famous markets (Ourique, Cais do Sodré, Alfama..), riverside cafes, taverns, and warm hospitality. You'll enjoy a rich feast for your senses. All the restaurants and food artisans included in this tour have been chosen based exclusively on the quality of their produce to ensure you sample only the freshest, most authentic flavors.
Lisbon


Portugal

1 day


DURATION

6


MAX. No. ON TOUR
TOUR DETAILS
keywords :
transport :

By foot
ACTIVITY LEVEL :

Moderate

ACCESSIBLE TO THE DISABLED :

no

Kid friendly :

Kids are welcome
LANGUAGES:

Anglais/English (Bilingual), Portuguais/Portuguese (Bilingual), Espagnol/Spanish (native)

MAX. No. OF PEOPLE :

6
INCLUDED IN THE TOUR
- Private guide service - Local food tastings, drinks and interaction with city's life - A drink at the end of the tour
NOT INCLUDED
- Lunch - Personal shopping - Transport from/to your hotel
ITINERARY
Your private tour will begin in the city center. You will visit some of the city's best markets: Alfama, Bairro Alto, Baixa Chiado, Ourique and Cais do Sodré. where you will take pleasure in tasting some delicious food samples while learning more about the daily life of the Portuguese people. As you tour, you will discover various markets that are filled with fresh produce. The exact itinerary will depend on your interests and requirements.
WHERE AND WHEN?
MEET-UP LOCATION:

Your hotel

END OF TOUR LOCATION:

City center
about
your guide
languages :

Anglais/English, Portuguais/Portuguese, Espagnol/Spanish
Born and raised in Madrid, I am a professional tour guide with a degree in art history and a PHD in nineteenth century art. Passionate by tour guiding and tourism in general, I decided eight years ago to create my own company with a little team of local experienced guides, speaking English, Spanish, Portuguese, Greek, German and Russian. Also a blogger, I love to write articles about Madrid's history and legends. Little streets, hidden places, secret stories... There are a lot of unknown parts in the Spanish Capital and I enjoy bringing people there and showing them how locals live. With us, you will have a true perception of Madrid, going through the best foodie haunts during a gastronomy tour, discovering the history of Madrid sculptures, visiting the different neighborhoods, and learning how to play card games in local tavernas. We have decided to start doing tours in Lisbon as well as it is one of the major cities in the Iberian peninsula, and believe or not we consider Portugal and the Portuguese as our brothers. I have a close connection with some friends in Lisboa which I met in my tourism guiding career, so we decided to join forces and start offering in their city the concept of uniqueness that has built us! Portugal and Spain have a very close relationship in many ways, but history is the one that connects us the most, especially after the addition of Portugal to Spain in around 1580 by the king of Spain Felipe II. Also on the times of the catholic kings and through the "Tratado de Tordesillas" which divided the Atlantic Ocean and "The new world" in two parts, one for the kings Isabel y Fernando and the Other for Juan II king of Portugal. As a lover of this city for its unique feeling and the passion for our beloved Peninsula, the project began on the hands of our trusted colleagues in the Portuguese side, and here we are... trying to make visitors enjoy and love as much as our team does, the greatest corners of this amazing land called "The iberian Peninsula" NOTE : my tours could also be guided by Ignacio or Marta.
See all tours of this guide
other tours
on the same location