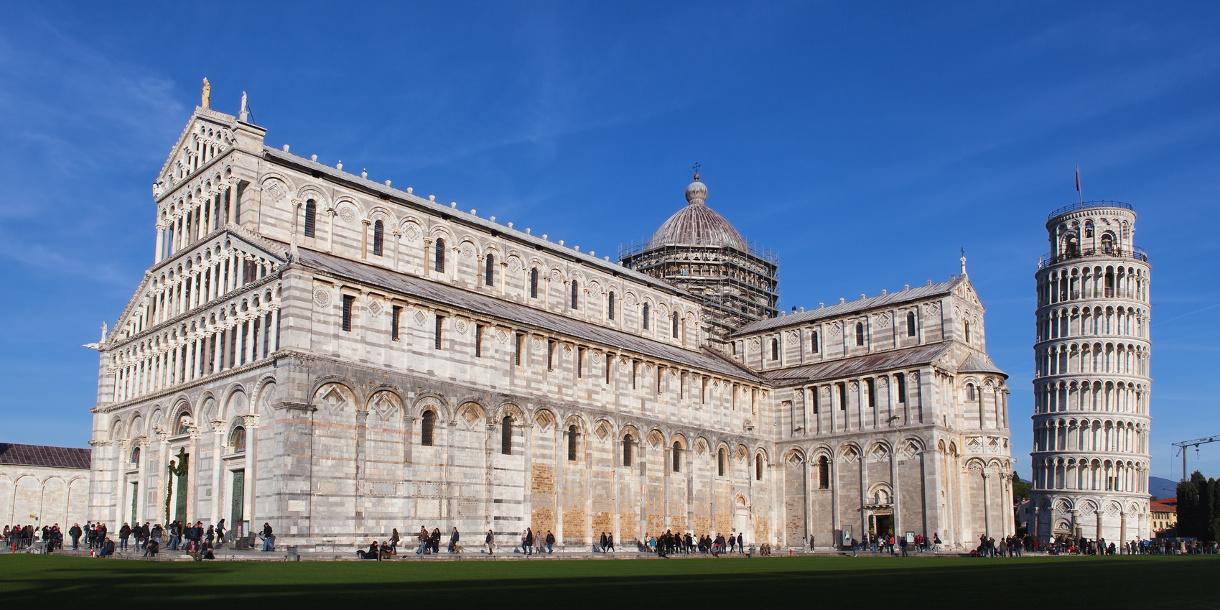 share
Pisa and Florence Day Tour
Shore Excursion Sightseeing tour from Livorno Port
WITH

Francesca

|

about the guide
On this private shore excursion day tour, you will get a perfect overview of Tuscany's best cities, visiting Pisa (free time) and Florence (guided tour) with their main highlights. After being picked up by your driver at the port of Livorno, you will head first to Florence where your private guide will be waiting for you to make you discover the most emblematic museums of Florence. Starting in the Accademia Gallery, you will enjoy a complete guided tour, marveling at Michelangelo's sculptures such as the Prisoners and the David sculpted by the artist when he was 26 Years old. Your guide will also tell you about Michelangelo's life. In Florence you will see the top sites: Signoria Square, the Santa Maria Cathedral, Ponte Vecchio, Repubblica Square and the Piglet's Market (leather market). After a break for lunch and shopping in the historic center of Florence, your driver will bring you to the beautiful city of Pisa where you will be able to visit on your own (guided tour only on request for an extra cost) the Leaning Tower, the Baptistery and the Cathedral, as well as some of its main landmarks such as the Piazza Delhi Miracoli and the Piazza della Repubblica.
Florence and Tuscany


Italy

1 day


DURATION

8


MAX. No. ON TOUR
TOUR DETAILS
keywords :

Florence, Pisa, shore excursion, Livorno, sightseeing, highlights, Ponte Vecchio, Michelangelo, basilica Santa Croce, Uffizi Gallery, Accademia Gallery, Leonardo, Botticelli, Raphael, Medici, Forte Belvedere
transport :

By walk and private driver
ACTIVITY LEVEL :

Light

ACCESSIBLE TO THE DISABLED :

yes

Kid friendly :

Children are welcome from 6 years old.
LANGUAGES:

Anglais/English (Bilingual), Italien/Italian (native)

MAX. No. OF PEOPLE :

8
INCLUDED IN THE TOUR
- Guided tour with a professional and qualified tourist guide of Florence - Transportation during the day - Free time in Pisa (guided tour upon request)
NOT INCLUDED
- Lunch - Personal shopping - Entrance fee to the Accademia Gallery - Guided tour at Pisa and entrance tickets for the monuments (upon request) (Your guide will make the bookings for you in advance)
ITINERARY
Your private driver will pick you up in the morning at the port of Livorno, heading to Florence. Once arrived, you will visit the best museums of the city, going to the Accademia Gallery, where the stunning statue of Michelangelo's David is displayed. In Florence you will see the top sites: Signoria Square, the Cathedral, Ponte Vecchio, Repubblica Square and the Piglet's Market (leather market). After a break for shopping and lunch, you will head to Pisa where you will spend the afternoon, discovering the city and its highlights such as the Piazza dei Miracoli, the Leaning Tower, the Cathedral and the Baptistery (free time, guided tour upon request). Then, your guide will pick you up at the Piazza della Repubblica to drive you back to your cruise in the port of Livorno.
WHERE AND WHEN?
MEET-UP LOCATION:

Port of Livorno

END OF TOUR LOCATION:

Port of Livorno
about
your guide
languages :

Anglais/English, Italien/Italian
I was born in the beautiful city of Florence, and I have been a qualified tourist guide since 2008. After getting a degree in Modern Cultures and Languages at the University of Florence and studying in Spain at the Universidad de Valladolid, I worked in several different fields before turning to tourism. Guiding is my full time job and my certification was issued by the Italian government once I received my tourism diploma. Every winter, I study and update my knowledge by attending refresher courses to always provide fresh, interesting and high quality tours. For me, guiding is the best way to express my love for my city and show it to people through the eyes of a local. I'm a passionate traveler as I think it is a mind-opening and enriching experience. I have a true passion for history, especially the Medici family and the Convent San Marco. Like any true Italian, I love good wine, gelato and I'd describe myself as a real foodie. I like nothing better than taking a book to the Caffetteria delle Oblate with a spectacular view of the Duomo, while savoring a good cappuccino. Designed to feed your curiosity, my tours cover a wide range of topics and monuments including Renaissance and Middle Age history, Michelangelo, Botticelli, Giotto, Medici family and much more.
See all tours of this guide
other tours
on the same location