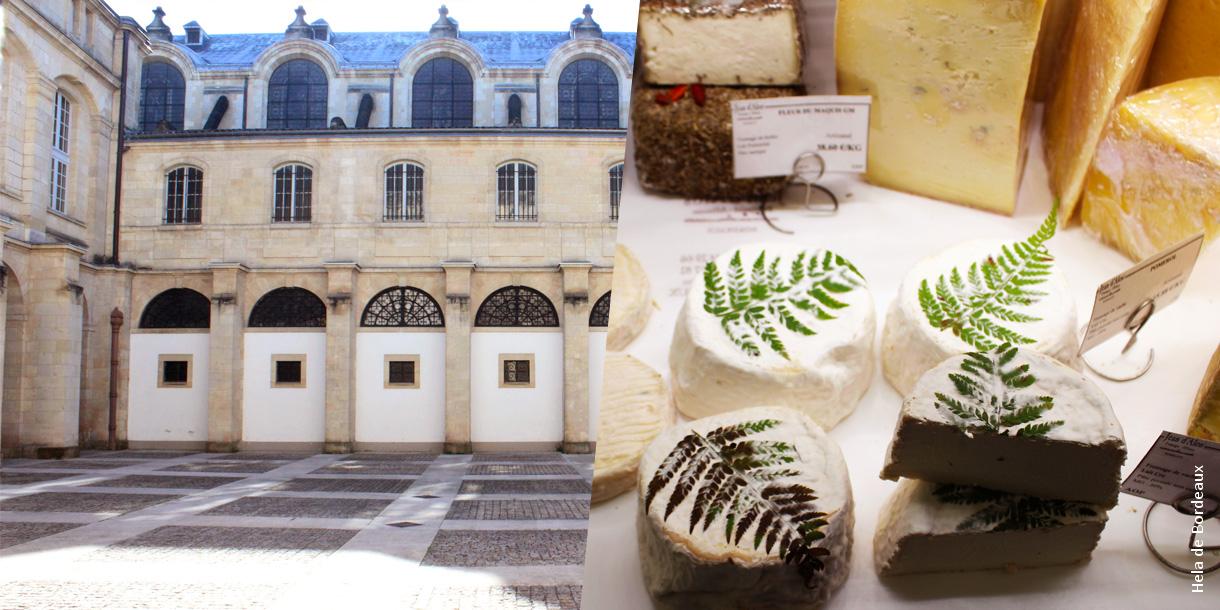 share
Bordeaux Gourmet Walking Tour
Wine and Cheese tasting in Bordeaux's best locations
WITH

Hela

's TEAM

|

about the guide
On this delicious walking tour, indulge yourself with the finest of Bordeaux gastronomy. You will follow your local guide to the city's best-kept gourmet secrets, strolling around the historical city center. Your will first stop in a cellar located beneath street level in the stone-vaulted cellar of a XVth century convent. There, you will browse the cellar's impressive supply and enjoy a tasting of 3 delicious cheeses while learning about the cheesemaking and the important cheese maturing process. Strolling through the charming cobblestone streets of the city, you will continue your tour marveling at the beautiful cityscape, mix of medieval, Gothic and Renaissance architectures. Your second stop will be in a famous pastry shop where you will enjoy an exquisite canelé, Bordeaux's emblematic soft dessert made with egg yolks, rum and Vanilla, then caramelized following a traditional process dating back to the 16th century when the nuns were preparing the little pastry for school children. Last but not least, you will enjoy a tasting of 3 Bordeaux wine in a cosy and charming wine bar where your guide will tell you about the historical bordeaux wine-making traditions and how the city became the world's wine capital. Throughout the tour, you will discover the art of pairing wine and cheese, two products complementing each other.
Bordeaux and the wine region


France

1/2 day


DURATION

5


MAX. No. ON TOUR
TOUR DETAILS
keywords :

Bordeaux, Bordeaux Gourmet, walking tour, Bordeaux wine tour, Bordeaux canelé, Bordeaux food tasting, Bordeaux cheese tasting, Bordeaux gastronomy
transport :

On foot
ACTIVITY LEVEL :

Light

ACCESSIBLE TO THE DISABLED :

no

Kid friendly :

Children are welcome
LANGUAGES:

Anglais/English (native), Français/French (fluent)

MAX. No. OF PEOPLE :

5
INCLUDED IN THE TOUR
- Private guide service - Tasting of 3 cheeses in the XV century cellars - 3 Bordeaux wine-tastings in a quaint wine bar/cellar - Bordeaux's signature dessert in a world-renowned pastry shop
NOT INCLUDED
- Lunch - Personal shopping
ITINERARY
Treat your taste buds on this private gourmet tour while seeing, smelling and tasting some of the best cheeses, dessert and wines in Bordeaux. Departing from the historic city center, you will take a stroll, following your foodie guide in one of the oldest cheese aging shops in the city where you will sample 3 cheeses before heading for a tasting in a famous Bordelaise company that makes the cannelé, a dessert whose origins date back to the 15th century. Your walking tour would not be complete without a wine tasting, so your guide will take you in a small boutique wine bar where you will enjoy a tasting of 3 local wines. NOTE: The tour could be arranged for more than 5 people for a complementary supplement. In this case, please contact your guide.
WHERE AND WHEN?
MEET-UP LOCATION:

Your hotel in Bordeaux (if centrally located) or city center (To check with your guide after reservation)

END OF TOUR LOCATION:

Your hotel in Bordeaux (if centrally located) or city center (To check with your guide after reservation)
about
your guide
Hela
Bordeaux and the wine region
languages :

Anglais/English, Français/French
Born in the United States of Egyptian parents, I was always passionate about art, history and culture. After studying french art in America and communication at the American University of Cairo, I moved to Bordeaux and studied oenology at the Chamber of Commerce. I also fell in love with Bordeaux and decided to stay to become a guide lecturer and show the city to the world. Since 2013, I am the owner of a walking tour company in this amazing city and I work with other passionate guides. My favorite topics are the wine-related tours as well as the historical tours and the Church hopping. Sharing my knowledge with people and also learning from them is what makes my job the most wonderful. Beside that, I also love running and I am also organizing some running tours for the more sporty visitors! Want a personalized itinerary? I would be happy to design a unique tour for you. Just let me know...
See all tours of this guide
other tours
on the same location