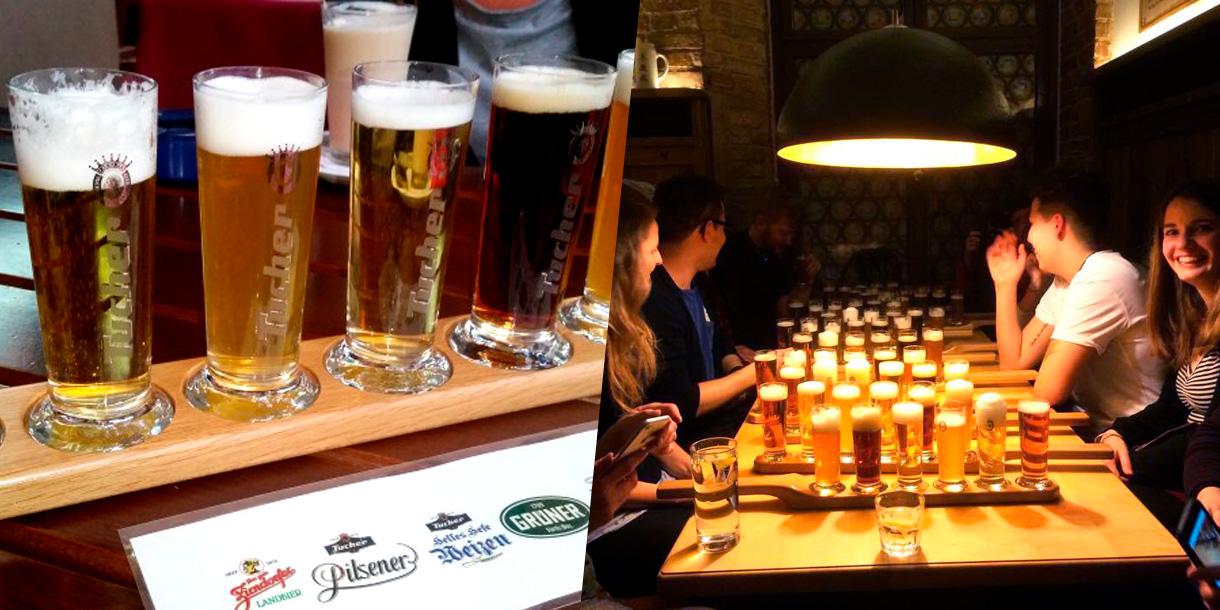 share
Berlin Craft Beer Tour
Half-day of delicious beer tastings, rich history and unexpected insights
WITH

Vanessa

's TEAM

|

about the guide
This private Berlin Craft Beer Tour is the perfect way to discover Germany's favorite drink. Want to experience the buzz surrounding Berlin´s new craft beer scene AND learn more about Germany´s amazing traditional beer culture? On this private half-day tour, you'll visit a handpicked selection of Berlin bars, brewpubs and traditional establishments to sample 11 different beers with your knowledgeable guide. At same time, you'll also get unique insights in brewing, distribution, food pairings and what makes each variety so special. Discover a brewery and brewpub that produce traditional "small-batch" Berlin beer. Try the alternatives brewed by locals and expats who are bringing their experience to the city in its cozy brewpubs and beer gardens. Visit one of the trendiest bars in the city, which boasts a huge range of IPAs, Pale Ales, Stouts, Porters, Pilsners from Germany and around the world.
Berlin


Germany

4 hrs


DURATION

10


MAX. No. ON TOUR
TOUR DETAILS
keywords :

German beer, craft beer, Berlin brewpubs, best beer in Berlin
transport :

By public transport and foot
ACTIVITY LEVEL :

Moderate

ACCESSIBLE TO THE DISABLED :

no

Kid friendly :

Not suitable for people under 18 years old
LANGUAGES:

Anglais/English (fluent), Allemand/German (native)

MAX. No. OF PEOPLE :

10
INCLUDED IN THE TOUR
- A beer at each venue (11 tastings in total); - Services of professional private guide services for 4 hours
NOT INCLUDED
- Transport; - Optional: food can be arranged at each venue for an extra
ITINERARY
This half-day private Berlin Craft Beer Tour will take you to a selection of bars, brewpubs and traditional pubs. At each of the destinations, you will sample a different beer under the supervision of your knowledgeable guide and learn more about the history of German beer. The Tour will Start at the Pfefferbräu Brewery. The second place will be a South German Restaurant followed by an Italien craft beer bar and finishes in a stoner craft beer bar with over 120 different beers.
WHERE AND WHEN?
MEET-UP LOCATION:

Pfefferbräu Restaurant

END OF TOUR LOCATION:

Monteray Bar
about
your guide
languages :

Anglais/English, Allemand/German
With a strong desire to show the vibrant artistic side of Berlin while supporting the responsible tourism, I started an alternative tours concept in 2006, offering unforgettable experiences in the underground scene of the city. With my team of local and international artists and guides, visitors can discover a unique side of the German capital and learn about the numerous community initiatives that are actively taking place. Our goal is to give you a different approach of Berlin and its creative effervescence that overtakes each corner with music, theater, painting, photography, sculpture and street art. Ready for an adventurous tour? Let my knowledgeable guides - ranging from filmmakers to Burlesque performers, art curators, band members, festival organizers and many more artists - show you the raw, truculent and dazzling Berlin thanks to their in-depth and personal understanding of the different places.
See all tours of this guide
other tours
on the same location