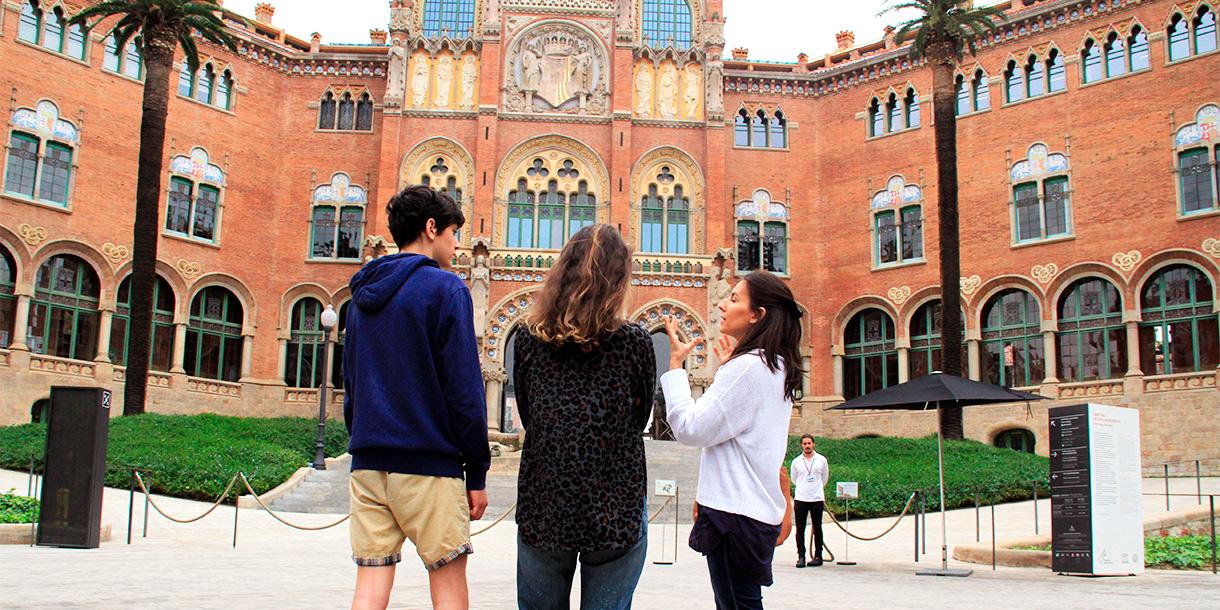 share
Barcelona Sightseeing Family Tour
A 2-hour visit of the most beloved sites including Sagrada Familia, Plaça Espanya, and Montjuïc
WITH

Magali

's TEAM

|

about the guide
Barcelona is a truly vibrant city with its festive lifestyle, historical highlights, and hidden gems! On this exclusive 2-hour family tour led by a professional guide, visit the most important buildings, avenues, and squares. Discover the main monuments and their history, such as the Sagrada Familia, the Arc de Triomf and Plaça Espanya, the districts of Ciutadella, the Villa Olimpica and Montjuïc. You will also enjoy few stops for photo opportunities. For the children, there will also be some game booklets to have fun with. This is the perfect way to please the entire family!
Barcelona


Spain

2 hrs


DURATION

6


MAX. No. ON TOUR
TOUR DETAILS
keywords :

Barcelona family tour, Barcelona sightseeing tour, Barcelona minivan tour, Barcelona Sightseeing Family Tour, Sagrada Familia, Sagrada Familia, Montjuïc, Ciutadella
transport :

Private luxurious Minivan
ACTIVITY LEVEL :

Moderate

ACCESSIBLE TO THE DISABLED :

no

Kid friendly :

Children are welcome from 6 years old
LANGUAGES:

Espagnol/Spanish (Bilingual), Anglais/English (Bilingual), Français/French (Bilingual)

MAX. No. OF PEOPLE :

6
INCLUDED IN THE TOUR
- Service of a private, fully licensed guide for 2 hours - Service of a private chauffeur and minivan for the duration of your tour - Game booklets given to each child - Hotel pickup and drop off
NOT INCLUDED
-Personal shopping
ITINERARY
Make the most of your time in Barcelona with this comprehensive 2-hour tour of the Catalonia's capital top landmarks. Aboard a comfortable and private minivan, you will enjoy a guided tour of the whole city and its history, from the Sagrada Familia to the Arc de Triomf and Plaça Espanya, as well as the more modern districts of Ciutadella Villa Olimpica and Montjuïc. To make sure the entire family is having a good time,each children will get their own game booklet.
WHERE AND WHEN?
MEET-UP LOCATION:

Hotel pick up

END OF TOUR LOCATION:

Hotel drop off
about
your guide
languages :

Espagnol/Spanish, Anglais/English, Français/French
After my business studies at HEC interspersed with abroad experiences in the luxury and fashion sector, I worked for 4 years in a consulting firm before launching my dream concept: high-end tourism for families, following a request customers had, looking for activities to do in Paris with their children. By creating my own company, I could serve all my passions at once: cooking, culture and my adopted city of Paris, whose secrets I all know. London was also part of the adventure because it is one of my host cities. Having the attention for detail and quality, I offer tailor-made tours in various European destinations such as of Paris, Loire Valley, and London, Rome and Florence for families wishing to explore these places with their children in an original way and without having to worry about logistics. With my small team of passionate professionals, we developed themed itineraries in the best places, adding for each of them some high-quality activities suitable for children of all ages and interests. Visit the Louvre Museum during a treasure hunt followed by a painting course, relapse in the novel and film The Da Vinci Code with an orientation game, discover French tradition while making the iconic baguette, visit the artistic village of Montmartre while learning french, explore Rome and learn about its history through specially-designed stories, quizzes and games or discover the life of Galileo the famous astronomer and his inventions through a visit to his museum. These are few examples of our organized family tours which allow parents to spend quality time with their children.
See all tours of this guide
other tours
on the same location