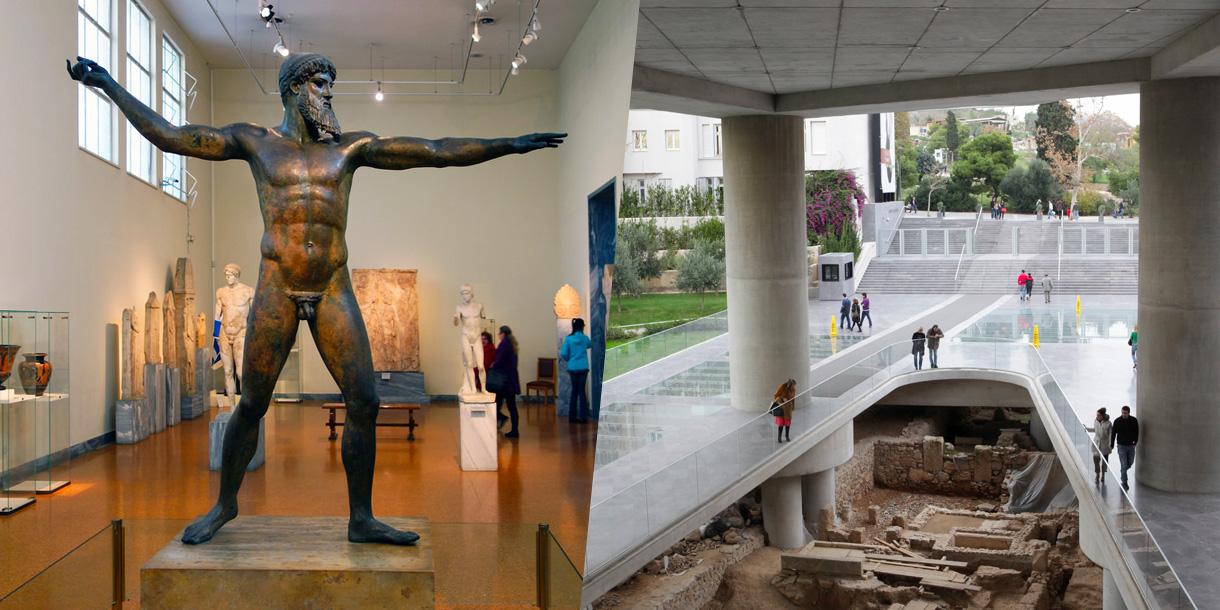 share
Athens Museum Tour
Discover the National Archeological Museum and Acropolis Museum
WITH

Elena

|

about the guide
Love history? Curious to find out more about Ancient Greece? This 5-hour private tour offers you exclusive glimpses into the city's past from the Greek Bronze Age to the Roman Greece at two of the city's most celebrated museums, the National Archeological Museum and the Acropolis Museum. At the National Archeological Museum, you'll travel through time from prehistory to late antiquity as you uncover a rich selection of artefacts collected from all over Greece. You'll admire gold funeral masks dating back to 1550-1500 BC and colorful frescoes from the Bronze Age. At the Acropolis Museum, you'll find nearly 4,000 objects unearthed from the archeological site of the Acropolis of Athens. You'll walk through the 48 columns marking the outline of the ancient temple that form a colonnade encasing the Parthenon marbles. Ready to travel back in time?
Athens


Greece

6 hrs


DURATION

10


MAX. No. ON TOUR
TOUR DETAILS
keywords :

National Archaeological Museum, Acropolis Museum, Greek history
transport :

A combination of walking and taxi or metro.
ACTIVITY LEVEL :

Light

ACCESSIBLE TO THE DISABLED :

yes

Kid friendly :

Kids friendly yes. A lot of stories and Greek mythology
LANGUAGES:

Italien/Italian (fluent), Anglais/English (Bilingual)

MAX. No. OF PEOPLE :

10
INCLUDED IN THE TOUR
- Service of professional private guide for 5 hours - Entrance fees for the two museums - Metro tickets or short taxi ride (up to 3 guests) during the tour
NOT INCLUDED
- Personal shopping - Lunch
ITINERARY
This 5-hour private tour will take you to two of Athen's most prestigious museums, the National Archeological Museum and the Acropolis Museum. You will begin at the National Archeological Museum with a 2-hour guided visit, followed by a 30-minute break to stop for coffee, have a rest or explore the museum shop. You'll then take a short taxi ride or metro to Acropolis Museum for an insightful hour-long guided tour. The tour will end here - you can then decide whether to stay longer, explore the city's historic center or go back to your hotel (accompanied by the guide).
WHERE AND WHEN?
MEET-UP LOCATION:

Your hotel, if centrally located

END OF TOUR LOCATION:

Your hotel, if centrally located
about
your guide
languages :

Italien/Italian, Anglais/English
Born and raised in Athens, I have always been passionate about the Ancient Greek civilization and mythology. As a child, travelling to different archeological sites with my parents turned my passion into a obvious vocation. Graduated in Archaeology and Art History from the National Kapodistrian University of Athens, I also attended the "Tour Guides' School of Athens" where I got my guiding license, doubled with a certificate for Translations of Literature and Humanistic Studies from EKEMEL (National Centre of Literature Translation), enabling me to guide in Greek, English and Italian. After guiding in different parts of Greece (Olympia, ancient Messene, Methoni, Koroni, Pylos, Mani), I decided to go back to my beautiful city of Athens to show its treasures to visitors coming from all around the world. Sharing my knowledge with people and immersing them in the true atmosphere of Athens is what makes my job so interesting. Athens is not only an old city living in the past. It is also a vibrant and modern capital where history and traditions blend harmoniously with contemporary innovations. If my favorite theme remains archeology, I enjoy talking as well about everything related to the Greek culture - from gastronomy to economy and everyday life. I also love meeting with children and adapting my tours to their needs using stories and games; it is truly fascinating to discover the city through their eyes.
See all tours of this guide
other tours
on the same location