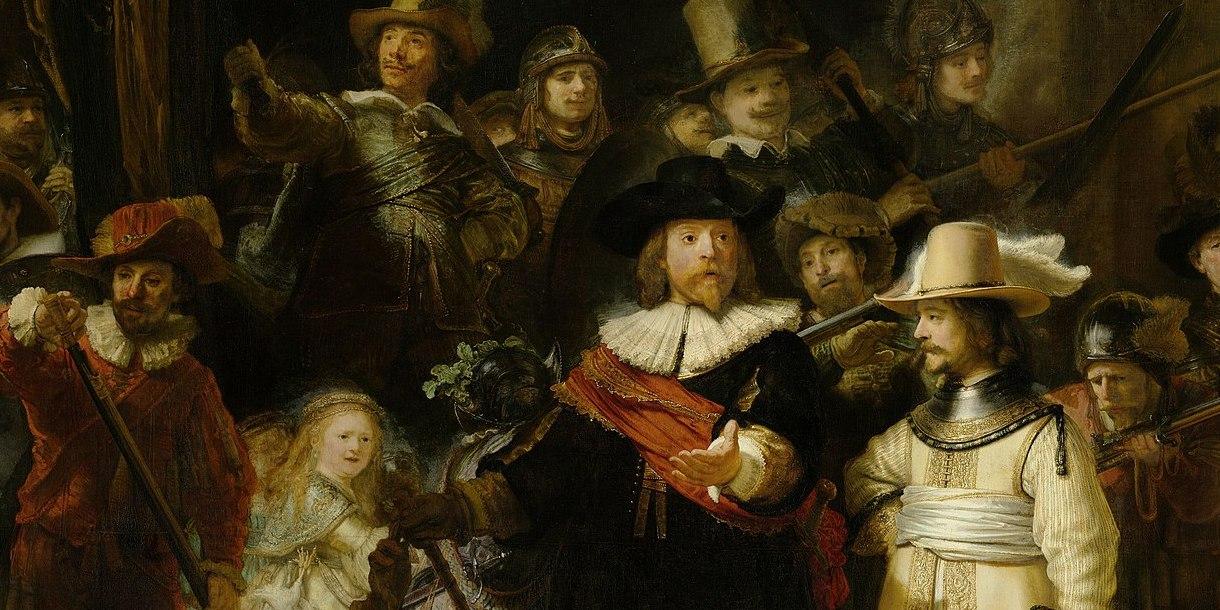 share
Dutch Golden Age art at the Rijksmuseum & Rembrandt's Amsterdam
Explore the major masterpieces of Rijksmuseum and Rembrandt's Amsterdam
WITH

Irina

|

about the guide
The tour begins at the Rijksmuseum, which holds the world's largest collection of the Dutch Golden Age painting. Among its must-sees, works by Rembrandt van Rijn (The Night Watch, The Jewish Bride, Self-Portraits, The Syndics of the Drapers Guild), Johannes Vermeer (The Milkmaid, Woman Reading a Letter, The Little Street), Frans Hals, Jan Steen, Jacob van Ruisdael, and other Dutch masters.
We will explore the major highlights of this exceptional collection in about two hours, with special attention to Rembrandt. A private tour allows you to discover the museum at your own pace. You enjoy the full attention of a professional guide and can have an engaging, intimate conversation about art.
First, we will pay a short visit to 16th-c. Flemish masters who paved the way to the Dutch Golden Age. Then we will head to the Gallery of Honour, which features major works by Rembrandt, Vermeer, and Frans Hals, among others. We will discuss their artistic challenges and innovations as we look at a great variety of portraits, landscapes, still lifes, and genre paintings. You will learn all about techniques, colors, and the way the artists worked.
We will also explore the famous Delft Blue pottery, artifacts from Dutch maritime history, and stunning dollhouses—lavish miniature replicas of Amsterdam's famous canal houses.
The Rijksmuseum's collection offers a fascinating insight into the Dutch 17th-century history and everyday life. The Golden Age was a unique time of prosperity and political greatness. We will discuss how it came into being, what everyday life was like, and how Dutch paintings of this time changed the face of European art.
After the tour of the Rijksmuseum, we will head to the old center of Amsterdam, where 17th-c. mansions and other historic buildings keep alive the memories of the Golden Age. We will take an hour-long stroll in the footsteps of Rembrandt—an adopted Amsterdammer, whose life and career are inseparable from the city. We will see where he lived and visit some of the places associated with his iconic paintings. The Golden Age shaped much of modern Amsterdam, and this walk will also provide an insight into a larger historic context. We will talk about Amsterdam's urban development, wars, trade, and social challenges.
The tour ends at the Nieuwmarkt—a stone's throw from the Red Light District and the Central Station.
Amsterdam & The Hague


Netherlands

3 hrs


DURATION

6


MAX. No. ON TOUR
TOUR DETAILS
keywords :

Rijksmuseum, Rembrandt, Golden Age
transport :

By foot
ACTIVITY LEVEL :

Moderate

ACCESSIBLE TO THE DISABLED :

no

Kid friendly :

Kids over 13 years old are welcome
LANGUAGES:

Anglais/English (Bilingual), Russe/Russian (native), Français/French (Bilingual)

MAX. No. OF PEOPLE :

6
INCLUDED IN THE TOUR
- Guide fees - Entrance tickets to the museum
NOT INCLUDED
- Personal expenses
ITINERARY
Rijksmuseum - Old Center of Amsterdam - Nieuwmarkt
WHERE AND WHEN?
MEET-UP LOCATION:

Rijksmuseum Entrance

END OF TOUR LOCATION:

Nieuwmarkt—a stone's throw from the Red Light District and the Central Station
about
your guide
languages :

Anglais/English, Russe/Russian, Français/French
A native of Moscow, I left Russia 10 years ago at the end of my journalism and French literature studies, to come and live in Paris. Passionate about the French capital, I became a State-licensed guide in Paris, France. After guiding at the Louvre, Musée d'Orsay, Versailles, Grand-Palais and other Parisian museums and exhibitions, I moved to The Netherlands for family reasons. I now continue to guide in Amsterdam and The Hague. I hold 2 Master's degrees—in French humanities and journalism, and I continuously expand my knowledge of European art history and history. I'm not a lecturer, though. I strive to provide academic-level tours in a fun and accessible way. I worked for several years in journalism and marketing before I embraced my passion for culture and became a guide. I enjoy the conversational format of a private group, and I'm always happy to adjust the tour to your interests and needs. Another of my favorite activities is hiking that I practice all over the world (Nepal, Ecuador ...). Any of my tours can be given in English, French or Russian languages.
See all tours of this guide
other tours
on the same location