Rome highlights private tours
The Coloseum, Vatican and Galleria Borghese
categories
client reviews
Ewout "We loved every minute of this superb tour of film locations of Paolo Sorrentino's Academy Award winning film. An expert and fun loving guide, the guide showed us the mysterious and superlative locations used for the film as well as ancient and historic sites. A magical way to see the splendor of Rome, highly recommended!" Robert F. A. Santa Barbara, California, March 2016 Tiziana « We booked two tours with Tiziana Gargaro, the early morning Vatican tour and the Forum/Colosseum/Palatine Hill tour. From our first email she was responsive, professional and helpful! She had a lot of helpful suggestions that really gave us the most out of our tours. She was very knowledgeable and friendly which made having our own guide even more fun. (...) The Vatican tour was especially wonderful as we were there early and off-season so we had the entire place to ourselves! We will be recommending her tours to our friends, and hope we are able to take another with her on our next trip to Rome! » TR, March 2016 Carlo « The tour was entirely wonderful. Our guide Dominique – member of Carlo's team – was extremely charming and knowledgeable about every aspect of Roman and Italian food, but also about the history of the City and the lovely neighborhood of Trastevere. She took us to numerous shops offering the very finest foods of Rome (...). She taught us so much about how to find the best establishments and ingredients, and emphasized the benefits of simple, natural and pure food- the essence of great Italian food. And the food we sampled! We were offered generous samples of the finest buffalo mozzarella, Prociutto di Parma, Pecorino Romano, Suppli, Sicilian pastries, Roman pizza, artisanal gelato (...). The tour was a joy, an education, and a tremendous value for what we paid. Our thanks to you and to Dominique! » Joann N. USA, Oct. 2016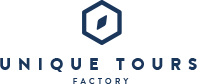 THE BEST PRIVATE TOURS IN THE WORLD'S LOVELIEST CITIES
Here at Unique Tours Factory we offer you our private tours of the highlights and hotspots of Rome.
Perched on the banks of the Tiber, the museum city of Rome offers an incredible array of architectural world wonders that witness the legacy of the past eras, as far back as the Roman Empire. Rome is also the city with the most numerous churches in the world such as the four most-known basilicas St. John Lateran, St. Peter's, St. Paul outside the Walls and St. Mary Major. As we know your time in Rome is precious, our professional guides designed for you some special itineraries enabling you to see the highlights of Rome in a day or a half-day. As Rome historical center is compact and scattered with attractions, you will enjoy our private walking tours, strolling through the antique cobblestone streets from a sight to another in few minutes only. To see even more of Rome, our guides also prepared some sightseeing tours, driving you all around the city and stopping to visit the main sights such as the Coliseum, the Pantheon or the Sistine Chapel.
Ready for an unforgettable experience? With our unique tours, venture within the Vatican Museums to see worldly renowned artworks by Raphael, Michelangelo and many other italian masters; visit the Coliseum, an architectural masterpiece symbol of the Roman supremacy and main amphitheatre where gladiators used to fight; wander through Via Appia Antica, Rome's oldest path; discover Campo di Fiori, Rome's biggest square leading to the Palazzo Farnese; enter the historical Pantheon with its oculus letting the sunshine brighten up inside; discover the enigmatic Castel Sant'Angelo, former Dungeon of Rome; put your hand in the trustful Bocca della Verità; marvel at the spectacular fountains in the Piazza Navona, throw a lucky coin at Neptune in the Trévi fountain, or climb the stairs of the Piazza di Spagna towards the romantic Villa Borghese…
And because Rome is not only a serie of monuments, let your guides show you also the Rome of today with its creamy gelati, delicious pasta and vibrant culture in the grip of modernism.