Exclusive private tours of Rome
Unique private tours in Rome
categories
client reviews
Ewout "We loved every minute of this superb tour of film locations of Paolo Sorrentino's Academy Award winning film. An expert and fun loving guide, the guide showed us the mysterious and superlative locations used for the film as well as ancient and historic sites. A magical way to see the splendor of Rome, highly recommended!" Robert F. A. Santa Barbara, California, March 2016 Tiziana « We booked two tours with Tiziana Gargaro, the early morning Vatican tour and the Forum/Colosseum/Palatine Hill tour. From our first email she was responsive, professional and helpful! She had a lot of helpful suggestions that really gave us the most out of our tours. She was very knowledgeable and friendly which made having our own guide even more fun. (...) The Vatican tour was especially wonderful as we were there early and off-season so we had the entire place to ourselves! We will be recommending her tours to our friends, and hope we are able to take another with her on our next trip to Rome! » TR, March 2016 Carlo « The tour was entirely wonderful. Our guide Dominique – member of Carlo's team – was extremely charming and knowledgeable about every aspect of Roman and Italian food, but also about the history of the City and the lovely neighborhood of Trastevere. She took us to numerous shops offering the very finest foods of Rome (...). She taught us so much about how to find the best establishments and ingredients, and emphasized the benefits of simple, natural and pure food- the essence of great Italian food. And the food we sampled! We were offered generous samples of the finest buffalo mozzarella, Prociutto di Parma, Pecorino Romano, Suppli, Sicilian pastries, Roman pizza, artisanal gelato (...). The tour was a joy, an education, and a tremendous value for what we paid. Our thanks to you and to Dominique! » Joann N. USA, Oct. 2016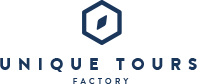 THE BEST PRIVATE TOURS IN THE WORLD'S LOVELIEST CITIES
Here at Unique Tours Factory we offer exclusive tours in Rome.
Eternal and spiritual city, Rome has an inestimable historic identity listed at the UNESCO World Heritage. Its mind-blowing architecture is reflected in every street, place, and corner. The immortal Colosseum stands proudly in the heart of the city center, surrounded by other Ancient Rome wonders such as the Roman Forum, the Palatine Hill and the Circus Maximus.
Walking through the cobblestone streets, other highlights are to be discovered, such as the Trévi Fountain with its outstanding Baroque statues, the Pantheon with its well-preserved architecture dating back to B.C, the Piazza Navona with its majestuous Bernini's Fountains, and the Vatican city with its museums and Sistine Chapel.
Perched atop on the Spanish steps, a little path leads to the enchanting Villa Borghese, a giant park home to many museums and art galleries such as the Museo Canonica, the Modern Art Museum (Galleria Nazionale d'Arte Moderna) and the Galleria Borghese.
Get the real Rome experience with our team of certified guides whose idea of guided tours goes beyond the traditional tourist paths. Whether you wish to visit the Vatican on our skip-the-line Vatican tour or discover the countryside on a day tour our guides have a large range of itineraries to provide you with the best service.
Our James Bond tour with luxury car experience or our Rome romantic tour with dinner and spa are also part of our very unique offers. And for the families, our Ancient Rome family tour will cover the city's main highlights such as the Spanish steps, the Trevi fountain, the Colosseum and all the legends that surround them. Want to personalize your tours in Rome? Do not hesitate to contact our guides to discuss with them your itinerary.