Exclusive Private Tours in Paris
categories
client reviews
Marion « Many thanks to you and Marion for two days of wonderful adventures, on short notice no less, for my son. It improved his experience and mood immeasurably. We are so relieved that he has enjoyed his trip and been exposed to more cultural opportunities.» Cathy C., July 2016 Eugénie « We enjoyed the tour today of Versailles much more than our first tour 9 years ago thanks to you and your knowledge. I will give your email to my friend Paul who will be here in March with his family. » Robert T., Nov 2016 Magali "Great from beginning to end! It was magical…" Emma, UK, March 2016 Marie-Bénédicte « The activity on Friday was great. The team really enjoyed the tour and seeing the city. A big « merci » to Marie-Bénédicte and all the Unique Tours Factory team. » Pascal M., Nov 2016 Eugénie « The tour went very well. We saw all the main sights and enjoyed short visits to the ones we wanted to see , learn about and photograph. Eugenie and the driver did a good job. The pace was just right. » Mike Q., July 2016 Fabienne « The tour was amazing! Fabienne is quite wonderful and we had a great time. She was very flexible and accommodating (...). It was a delight to tour the exhibit with her and the restaurant and lunch was lovely. I have already recommended her and the tour to several people as something very special to do in Paris. Sincerely, » Jeanne H., Nov 2016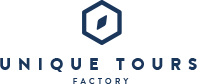 THE BEST PRIVATE TOURS IN THE WORLD'S LOVELIEST CITIES
Here at Unique Tours Factory, we offer exclusive private tours in Paris.
Creating, innovating and rejuvenating are what we do best; all the while taking you off the beaten track towards a branch of tourism that is more fulfilling and authentic. Yet we are not in search of difference for difference's sake, but rather a unique essence that will bring excitement and unforgettable memories to your trip.
Exclusivity and excellence inevitably go hand in hand, and we cannot offer you an excellent service without the support of our professional guides, who are as charming as they are knowledgeable in their respective fields of expertise. It is thanks to our partnership with them that we have developed our original guided tours in Paris.
Combining moments of discovery with moments of relaxation and enjoyment, our tours are designed to arouse the senses:
Discover French gastronomy through the ages in our exclusive tours, blending the pleasure of taste with the aesthetic pleasure of art and culture at the Louvre and in one of the flagship gourmet districts of Paris, the rue Montorgueil.
If you love performance, dance and the frivolity la Belle Époque in Paris, be sure not to miss Lisette's theatrical walking tour in Montmartre; mixing culture, poetry and mischief to create a truly electrifying evening.
When it comes to style, Paris wears the crown as the world's fashion capital. Our exclusive fashion tours can show you why Paris reigns supreme: discover iconic French brands such as Louis Vuitton, Chanel and Christian Dior, as well as the up-and-coming designers of today in their workshops.
Below you will find a selection of our unique guided tours to discover, all of which encapsulate the very best of what Paris has to offer: its art, gastronomy, fashion and culture.